Rather than bemoaning the lack of structure in even organized Ultimate, Alex suggests that we think about the advantages it provides.
For many, our sport is frustrating.Ultimate lacks structure and organization on a variety of levels. It is "not mainstream"; it's not showing up on TV everyday, the majority of Americans still get the sport confused with disc golf or something involving dogs, and ultimate resources, while growing, are still few and far between.
Perhaps the most difficult aspect of the sport, for many, is the lack of easy opportunities to play.
Compare a kid who wants to play on a basketball team, whether recreational or ultra-competitive: he or she has dozens of options available. A kid that wants to play ultimate, even at the college or club level, will have often have difficulty finding structure, especially if far away from a populated area. Most teams, leagues, or organizations are run by the members, on a volunteer basis and are often lacking the clear information, schedules, and systems of other sports.
However, what many see as disadvantages in this lack of structure can also be advantages. Ultimate, because it is often grassroots, can provide players with something that other sports can't.
1. Self-Organization:
In many other sports, schools, parents, or coaches have a great deal of say on who gets involved. Often a kids gets put into a league or on a team before he or she really gets to make a choice in the matter.
Most people stumble on to ultimate.
The reason behind this is simple: organization is often hard to find. Ultimate has grown leaps and bounds in recent years in terms of an organizing body, semi-professional teams, college and club systems, and youth opportunities — but it is still miles behind "mainstream" sports.
There are disadvantages to this, of course. Less people know about this sport, let alone play it. And youths entering the game don't have an easy set path, and often have to forge their own.
My journey to ultimate was a chaotic one; a cross-country team playing barefoot disc discovered a summer league of organized ultimate. It was a revelation, but it was up to us to get involved. No parents, no coaches, no adults were involved at all.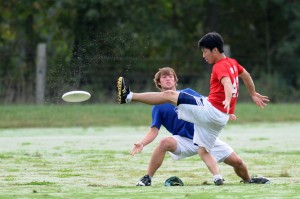 It was up to us high school kids to plan out fields, games, rides, to buy uniforms and equipment, to learn the rules and discover strategies. We learned together and we took complete ownership of our team. We were responsible for it all.
Looking back, I can say I would have benefited greatly from a coach or an organized program. Like many ultimate players, I can say "if only" I had someone to teach me, or help me, or show me the ropes.
But, on the other hand, I'm proud of what we did. Two of my friends really led the charge as we "discovered" ultimate. We went from playing barefoot on a large stretch of grass, to having gear, games, and strategy in a few short months. Without any adults, we taught ourselves the sport, and brought it to others in our school and area, until eventually we went off to college, becoming leaders there, self-organizing and planning on a higher level.
Control is also a point of interest. The UPA was an apt name because it was the Ultimate Players Association. The players controlled their destiny. Do they still? And will they in the future? Getting help/ money from big organizations (whether sponsors, sports companies, universities, or whatever) comes with a price.1
Some say these changes are what comes with legitimacy, but it seems clear that to be under organization occasionally means to conform and obey. In self-organization, conversely, there is a lot of freedom and control.
Ultimate players (especially leaders) have to struggle to plan so much themselves (everything from coordinating trips to running a game or practice to funding their addiction) and it is much harder than other sports. But, in return, they walk away with experience and confidence that is valuable in all facets of life and control (in most cases) over their own playing.
2. Opportunity:
As much as we like to complain about ultimate, the sport is growing and with it there are dozens of new fields of opportunities. This game, again largely due to a lack of structure and numbers, is desperate for people willing to give up their time.
Want to start an ultimate-related company? What about creating a tournament? Tired of the old teams and want to form your own? People have even begun their own professional leagues and had success within the last few years! Can you say that with mainstream sports?
In nearly every other "organized" sport, the competition is often too fierce for an enterprising individual, with little capital or experience, to start something new. But here, in our sport, there is opportunity. With time, energy, and a little luck, you can literally start from nothing. Look at the humble origins of most teams, tournaments, leagues and Ultimate companies. There are chances for a lot of growth and change in the chaos. In other sports, you would be facing much more competition to do any of these things, but Ultimate appears perfectly ripe for enterprising individuals.
Likewise, individuals have opportunities for themselves. A person could be a player, coach, reporter, and organizer — maybe even all in one day — if he or she wanted. The opportunity for any role is open.
Coaches are often volunteers, but how many might be paid, in some other form, in the next few years? How many stud players can be on an elite team without attending practice, without signing contracts, without joining a structure; possibly being paid in jobs, housing, or perks if the team leaders are willing? Here it takes some USAU fees (and a lot of paperwork) and a casual will to play, or spectate, or coach, and you can do what you'd like, without someone looking over your shoulder.
Ultimate is the new land of of opportunity and literally anything is possible.
3. Community:
Because ultimate is a sport with its own world and culture, often not front and center or popular, we have the chance to create tight-knit communities.
Everyone can relate to the feeling of finding out someone they know has played ultimate before. It is like learning a secret, hidden identity; connections made on the ultimate world are critical, and often last, because if you want to play, you are going to see the same people in the sport often.
Ultimate allows players to stand out, and to form close bonds. Instead of thousands of people playing baseball in your part of the state, you might only have a few hundred. Ultimate has long valued the friendship between teammates and competitors; practices and parties alike allow these relationships to thrive.
Case in point: the ultimate party scene would not exist in a truly structured world.2 And yet there are tournaments where the community- where the "fun" associated with the tournament, but not on the playing field, the shenanigans if you will- are the best part. Can the party tournament exist in the future of structured ultimate? Can the silly points, the games, the ridiculousness, and the nonsense survive?
Many people wish everyone knew about the sport, but if this fact suddenly changed, if thousands of more players began the game, if we had rules and leagues and officials, would the community be as close as it is today?
4. Competition:
My friends and I have often joked that if ultimate was as popular, or at least as prevalent, as something even as small as cross-country, we wouldn't be able to play in the way we do. Ultimate breeds competition- it allows a great outlet for athletes of all calibers. But, it is often an island of misfit toys in some sense of the word.
The majority of players have been competitive in some game or sport at some point or another. I always like to say that ultimate players like games of all types.
But, for many of us (including me, at least early in my playing days), ultimate wouldn't have been the first choice. If we were better at swimming, or volleyball, or soccer. If we had gotten that football scholarship, would we still be playing ultimate? If we hadn't gotten burned out of track, or bored with baseball, or tired of the hyper-competition or lack of sportsmanship in other games, would we be here?
The start came because ultimate was a new outlet. And it was an outlet without many people, without structure, where every player was valued because there is such a demand for people to play. It was a place where an athlete could learn and become that superstar- and anyone could do it. Most college teams still don't have cuts because getting numbers are a problem. Learning the game is a start that allows many individuals to have a second chance to be in a different competitive system and fall in love with a new world.
5. Sportsmanship (Spirit):
This aspect of the game is so often talked about, I'll only brush upon it. But yes, ultimate is self-governed and self-officiated. Fair play, for better or worse, is ingrained in the culture and that makes it unique.
With structure, our sport might gain referees or officials in nearly all organized matches. This might have many advantages, from making the game more watchable, to easier to learn or play. However, it changes the spirit aspect.
In other sports it is OK to cheat (by my definition, to break the rules to try to win). There are consequences for it: a team pays the price (in yardage, foul shots, penalties or whatever) and you move on. But it is still OK to cheat. And perhaps even encouraged, if the team is down, or if the math of the consequence breaks in your favor.
In ultimate, for better or for worse, it is NOT allowed. You learn early that you need to know the rules so you can play by them, but also so you can enforce them. Everyone can relate to a game that is competitive, but also spirited, where the system worked perfectly without any help, where a player honestly admitted to a call and agreed to a way to work it out.
And most people can relate to the extreme frustration of the opposite case, where a team is breaking the rules and there really isn't anything you can do to stop them. Sportsmanship is a requirement for ultimate and that impacts us as individuals in all aspects of our lives. I like to think it makes us better.
Is Ultimate Better Without Structure?
I honestly don't know. Currently the sport is disorganized, expensive, time-consuming, frustrating. But it is also incredibly addicting and fun, with a great community and lots of ways to grow. The game is changing, its fluid, but it also lacks a clear focus at times.
Ultimate, because of the way it is — because of the lack of structure — has taught me much, has allowed (or forced) me to grow and change, to do more, to be better, in a variety of areas. There are some advantages to the way our sport currently works and moving forward, as the sport grows and changes (and surely will) I wonder how much of it will be left behind.
---
A few years ago a nationals level mixed team from Iowa City called MethOD was forced to change their name to "Scientific Method" because of USAU sanctions. Some teams, Middlebury in the college game comes to mind, are forced to change uniforms if they wish to participate in USAU Nationals. ↩

Already, USAU has done its best to curb vulgar/inappropriate team names, cut down on drugs and alcohol use, and many people understand they need to do this as the organizing body. ↩