Tenacity and precision in executing systems are two elements frequently tied to consistent success in Ultimate. See how recent WUCC champion Seattle Riot manages to do both.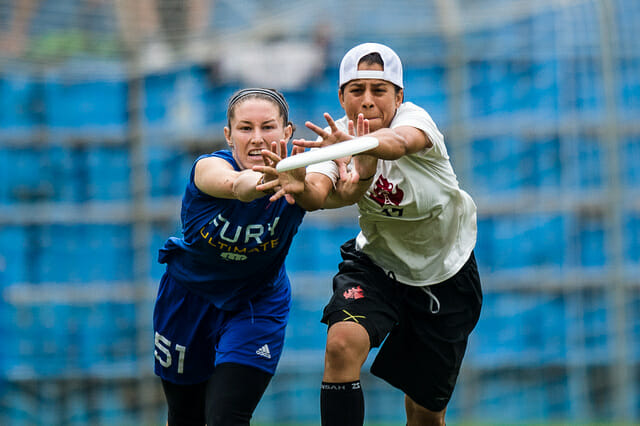 Seattle Riot has ruled the Women's Division so far this season, with convincing wins at both the US Open and the World Club Championships. Though they suffered a defeat at the hands of Boston Brute Squad in the finals of the Pro Flight Finale, Riot, like many Worlds teams, was not nearly as focused on results as they had been earlier in the year. They were also playing without their star, Sarah "Surge" Griffith, one of the best women's players in the game today.
Below, we explore how Riot has risen to the top of the women's game this year, using a combination of smart offensive goals and shifting defensive looks.
**Editor's note: The majority of this article was crafted before the Pro Flight Finale, and author Kevin Terry is currently traveling internationally.**
Aggressive Resets and Smart Goals on Offense
Riot's Red Zone Offense
Against a person-to-person defense at the elite level, most teams will be capable of creating space downfield for one or two strong cutters, and then using their superior athleticism to chew up 30 and 40 yards at a time. As a result, games are often won and lost in the red zone, where superior teams separate themselves by systematically taking higher percentage throws for goals. Focusing on break throws from near the center of the field, Riot's U.S. Open games show how valuable a reliable goal line offense can be.
As they approach the end zone, Riot consistently punches it in by staying poised and committing to keeping the disc centered. Throughout their U.S. Open games Riot refused to get pushed to the sideline — turning down open looks that would invite the mark to trap.
The goal charts below show where each of Riot's goals were thrown from during the three games caught on video at the U.S. Open (offensive goals are shown in blue, breaks in red). Overall, Riot scored relatively few huck goals, instead favoring movement to the "high" side of the field, against the force1. From that position, the majority of their goals come from a position that gives isolation cutters space to either side and creates break throw opportunities that Riot's handlers took advantage of.
Against Iceni, Riot's handlers push toward the middle of the field, looking for dumps that continue to provide angles to throw in either direction toward the end zone.
The play ends in a drop and turnover, but this is more or less the cost of doing business in committing to certain resets to create better options. Ultimately, the kinds of goal shots Riot got throughout the tournament were absolutely worth it.
Instead of taking open throws to players on the sideline, Seattle handlers sprint for dishes straight behind and play to their strength—which both Riot and opposing coaches recognize—break throws to an inviting amount of space. In these situations, Riot's throwing core of Alyssa Weatherford, Rohre Titcomb, and new pickup Kelly Johnson really shine. Below, Riot combines smart middle resets with a killer one-two punch of Johnson's inside flick and Titcomb's around backhand.
Additionally, keeping the disc off the sideline helps turnovers like these:
While many factors contributed to Riot's dropoff in the finals at the Pro Flight Finale, you can see how visibly less comfortable their endzone offense looks when trapped.
[riot v brute clip 11:39-11:54]
With less space for an around backhand, the Brute Squad mark intelligently sits on Titcomb's inside flick here (you can see how low the flick mark stays). The Riot team doesn't organize as neatly as normally; one good isolation cut is made, but, again, the mark works hard to make this option viable. The dump doesn't follow the typical Riot progression (see below) and Titcomb is forced to throw a high-stall bail out.
While it results in a score, it's not how Riot usually looks when they are clicking.
Some of this may sound like merely textbook endzone offense tips. But Riot's commitment to getting the right people in the right positions is in fact notable, even at the elite level. In this clip from their game at the Pro Flight Finale against Traffic, Riot executed a huck that landed just outside the endzone.
Quickly the players run downfield and set up in a stack, but once the fastbreak is over, Johnson and Boyden ensure that they are the handlers who will run the endzone offense. Yet again, the score is from a break throw in an area where both an inside and around break throw is viable; this is Riot's commitment to textbook endzone offense personified.
[Riot v Traffic endzone offense clip]
Resetting
Before they reach the red zone Riot's cutters are dominant, but their handlers do excellent work in maintaining possessions when things stall. Watching Riot's throwers progress through looks with the stall count rising doesn't reveal many signs of panic. In addition to the skill and experience their roster brings to the table, this lack of concern can be attributed to textbook cuts for resets by Riot's handlers.
Rather than settling for one juke to create separation, Riot's first option on a reset consistently gets open by pushing her defender three or four steps upfield, then breaking back for a dump that allows the thrower plenty of space but doesn't lose too many yards
Here, Titcomb uses the space she takes up field to draw her defender backfield with a juke and then has an easy upline cut.
Where teams faceguard in an effort to shut down Riot's resets behind, they consistently take advantage with strike cuts that open up power position:
Riot's handlers put in early work to open up space for resets. Because of this, throwers can avoid tougher throws and punts that come when teams face high stall counts (more on how Riot locks their opponents into that bind shortly).
A Couple of Extra Points
While camera work from the ESPN and NexGen crews doesn't give as much perspective on Riot's downfield offense, it is clear that Riot's cutters are excellent at clearing big chunks of the field for their athletic cutters to work on the open side.

The added bonus is that these hard clears open up the break throws that Riot's O loves.
An interesting wrinkle that only showed up once in their filmed games at the Open (but I wouldn't be surprised to see again) was an open field iso for Gwen Ambler out of a stoppage.

Ambler is one of the best throwers in the history of the game, and with that much space, she's very likely to get it. Once she does, virtually all of the space upfield is fair game for three cutters to work with.
In the beginning of the Iceni and Brute Squad games, and early in the second half of the Fury game, Riot struggled with the wind, drops, and with opposing zone. Unsurprisingly, minor mistakes are going to happen when you're playing against the best teams in the world. When opponents and the natural ebb and flow of the game forced Riot into strategic problems or execution errors, effort kept the team afloat. Plays like the Griffith clip that begins this article happen throughout Riot's games, causing one commentator during the Iceni game to remark, "It feels like Riot's day, doesn't it? Twice we've had throws that go off one Riot player's hands, but into another's." In reality, when Riot keeps up the intensity they put on at the U.S. Open, most days are going to feel like Riot's day.
Lockdown Dump Defense and Shifting Looks
On defense, aside from terrifying athleticism and effort, Riot makes life tough for opposing teams by applying consistent pressure to the first reset option and by mixing up zone and junk looks at unexpected times.
Handler Defense
Riot's defense places a strong emphasis on taking their opponent's first reset look away. Unless their defense specifically opts to allow resets for a loss—something that happens occassionally in Riot's diamond junk zone—defenders play gritty, fundamentally sound handler defense. This means that Riot's defenders use their bodies to take away upline cuts while remaining near enough to their mark to spook throwers away from resetting the disc to a first option. Because dump defenders dial in early, opposing handlers work for everything that they get and Riot generates a significant number of turns out of forced throws to primary options.
This also allows them to force tight throws to second and third options who are covered or out of position.
And, of course, the occasional good old fashioned punts.
Much of their success in generating dump turnovers can be attributed to Riot's consistency in staying dialed-in and putting in the work to consistently pressure opponents' resets. While the examples highlighted in the clips are the easiest illustration of how it rattles other teams, it's worth noting how the cumulative effect of jamming throws into tight windows (when they would ordinarily be routine passes to space) can result in frayed nerves and miscues, even among the game's elite players.
In addition to generating lots of pressure in person-to-person defenses, Riot keeps opponents off balance by using a variety of defensive looks. In just three available U.S. Open games, Seattle employed a (very effective) person-to-person defense, plus a four-man cup, and a poachy junk look that invites forces both middle and outside, depending on the situation. Effectively alternating between these three strategies (and wrinkles within each) allows Riot to take advantage of weather conditions and blunt opponents' strengths as the situation dictates.
Riot runs a classic four-in cup zone, with one force2, a tight cup, two wings, and a deep. Leveraging Gwen Ambler's height and experience in the deep position, the team dares opponents to go over the top and cross field. To do this, Riot stays compact and close to the thrower (close enough that they were issued a team misconduct foul for double-teaming, in fact). Their cup zone consistently invites small gains to open space, here pushing Brute Squad to the sideline,

and then capitalizing on one to many tight throws to crashes.
You can see the advantages of having Ambler patrolling the deep space here:
Riot's junk defense is the more interesting look. Not exactly a 1-3-3, Riot lines their defenders up at four levels on the field, with one mark, two lane poachers, a three person wall, and a deep.


In this formation, Riot is content to jam up the downfield lanes and allow the opposing offense as many resets for no yardage gains as they're willing to take. In a few cases during their filmed games at the U.S. Open, this was enough to generate turnovers due to execution errors or impatient throwers trying too hard to create something.
When Riot is able to force the disc far enough laterally, they use the sideline to further confine movement, creating a loose cup around the disc that doesn't create a lot of pressure, but only offers a reset going straight backward.


Riot has also thrown in a really clever adjustment which prevents resets attempting to crash forward for yards against the looser "cup." While they're just fine leaving a handler open for a loss of five or six yards, as soon as that handler approaches for a more lateral reset, she's met by one or Riot's defenders, who matches up with the reset until the threat of gaining yards is gone.
What might be more striking than the breadth of Riot's playbook is their willingness to break out zone and junk defenses at unexpected times. They pull this trick out against Brute Squad in the final, showing a four-in cup on the endzone line.

Because of the inherent advantage of the offense setting first out a timeout, Brute is stuck in a look best suited to person-to-person defense (a vertical stack in the back of the endzone) and has to rush players into the zone to find a viable look. Brute goes on to score this point, but on a desperation throw into traffic that requires an athletic effort by Vicky Negus.

During a hell-point later in the same game, Riot reforms into a cup mid-point after having broken out of it for several turns, with no stoppage to allow the team to set positions, talk about the force, etc.
This kind of live strategic shift requires an incredible amount of cohesion and discipline, as even matching up when a zone crumbles can give experienced teams fits.
Through the regular season and WUCCs, Riot has shown themselves to be the class of the Women's Division.  Teams have kept it close here and there, but Riot has capitalized on intensity and strategic shifts that build anxiety in opponents while relying on its own systems and structure to stay poised. As the series approaches, it will be interesting to see whether any team can bridge that gap.
---
This was especially true against Brute Squad ↩

FN: Where teams do manage to break the cup horizontally and complete a swing to the other sideline, Riot showed that they are willing to trap both sides of the field, forcing the offense to continue working in a confined space ↩