Alec Surmani takes on the wild Southwest Mixed region, where five teams will qualify to the National Championships this weekend.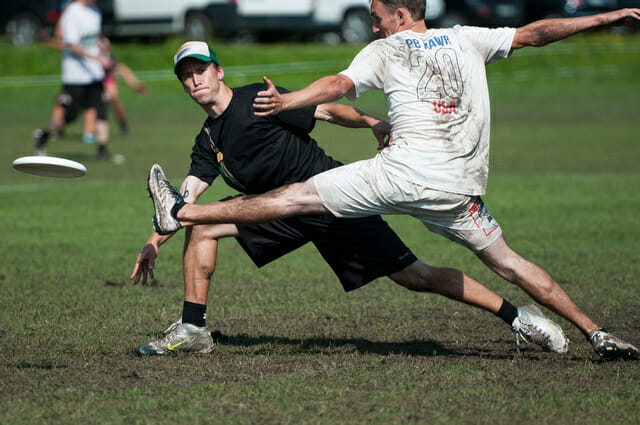 Disclosure: The author plays for San Francisco Groove.
Only two years ago, the Southwest Region dominated the mixed division with three of the four semifinalists and both of the competitors in the national title game.
With five of the top ten seeds in the country, including three of the top five, all once again finding their home in California, 2014 looks to be much of the same. The powerhouse region earned five bids this year, narrowly missing a sixth.
Set in Morgan Hill, California, this weekend in what will probably be 80+ degree heat, Southwest Regionals is sure to be a fireworks show.
While one might expect the top five seeds to easily walk away with their respective bids, such an outcome may not be the lock it appears, as three other teams in the region finished the regular season ranked in the top 30. Even if all the squads expected to qualify for Nationals do indeed advance, it's pretty unlikely that they'll all hold seed and shuffle neatly into their assigned seats.
Nailbiters are basically a guarantee.
All of the main contenders have more or less shown they can take on anybody, leaving Sunday to be a confounding mess for anyone attempting to predict results. Here's a look at the primary competitors looking to take the crown this weekend:
San Francisco Polar Bears
It's a testament to the strength of a program when it can undergo a massive roster turnover, where 13 new players are brought on in just one year, and still remain the most feared team in the country.
PBR has been the most consistently excellent program in mixed ultimate since the division's inception in 1998. They've made the Club Championships finals each of the last four years, even winning the national title in 2010 during their first year of existence.
Which is all to say that PBR come into the tournament as the clear favorites for good reason, particularly in the wake of what may be their strongest regular season to date.
San Francisco already won both the U.S. Open and Pro Flight Finale, lost in the finals to Minneapolis Drag'n Thrust at Worlds, and secured the regular season title. They'll be looking to continue their dominance this weekend in pursuit of becoming Triple Crown Tour champions.
Additionally, PBR swept through Regionals last year without much trouble, winning every game by a minimum of four points, amidst of a comparatively down year for the Southwest.
2014, though, is an entirely different beast. Between the undefeated Los Angeles 7 Figures, the surging San Francisco Mischief, the steady San Francisco Groove, and the reemergence of San Francisco Blackbird, the road to a regional title will be littered with rolling boulders looking to clear their own way to the top.
But if the ultimate world has learned anything about the Polar Bears in the last few years, it's this: they know how to show up when it counts.
Los Angeles 7 Figures
7 Figures are no stranger to the big show. The team has qualified for Nationals every year since its formation in 2011 and even managed to make it to the Club Championships the two years prior as LA Metro.
Yet, none of those years has seen the Los Angeles squad rise up as the top dog in the region.
This year, however, could very well be their best chance to do so.
Currently undefeated at 19-0 and sitting on convincing wins over three of the four other top seeds—including a 13-5 bludgeoning of Blackbird in the finals of Colorado Cup—7 Figures looks to be the team most capable of dethroning the Polar Bears as rulers of the Southwest.
Their team is filled with experienced veterans of the club scene, the core of which have been playing together on various teams in the Los Angeles area for numerous years. As a result, their chemistry is often a sight to behold.
Skilled handlers like Aaron Jacobs, Caitlin Rugg, and Dan Oettinger lead the charge, while disciplined cutters like Daniel "Peaches" Walton and Connie Wang consistently find ways to create separation, the latter of which serves as one of the toughest defensive assignments in the entire region.
Known also for their fiery defense and great patience on the turn, 7 Figures will no doubt be one of the top teams to beat at Morgan Hill. Considering they, like Polar Bears, could enjoy a comparatively lighter path to semis thanks to their high seeds, they're sure to emerge as a force on Sunday, hungry to take their first regional title.
And if opponents can't find a way to slow down their efficient offense or churning energy, Los Angeles could very well find themselves as the only team still undefeated going into Nationals.
San Francisco Mischief
As the region's team with the most experience at the elite level, Mischief is the wise veteran of the Southwest mixed scene.
Now in their 12th season, Mischief has made it the Club Championships most of those years and won a national title in 2006. They're no stranger to big stages.
Moreover, the San Francisco team might very well be entering the tournament with more momentum than any other squad. Though Polar Bears may have walked away the victors, perhaps the greatest story of the Pro Flight Finale was the emergence of Mischief.
Huge wins over Boston Wild Card, Minneapolis Drag'n Thrust, and regional rival Polar Bears demonstrated that Mischief is back among the best in the country. They wound up finishing third after losing to Iowa's Chad Larson Experience in semis, but remain primed for a strong showing in the postseason.
Mainstays like Kevin Smith, Tyler Grant, and Matt Crawford are sure to open up space all weekend long, especially with athletic targets like Brett Petersen and Sean Ham to help them.
Perhaps just as important in their run will be key pickups from this season like San Diego State standout Lucas Dillow, former Johnny Bravo defender Jon Greenberg, and Los Angeles transplant Remy Schor.
Should they be able to build upon the momentum they cultivated at the Emerald City Classic last month, Mischief could very well make a deep run on Sunday.
San Francisco Blackbird
After a brief slump in 2013, Blackbird has returned this year determined to reclaim their former glory.
Coming off of back-to-back national championships, the San Francisco team ran into some roadblocks last year at a Regionals strapped for bids and consequently failed to qualify for Nationals.
Despite initially stumbling out of the gate at Revolution in July, they re-found their focus and managed to earn the Southwest its fifth bid thanks to their strong performances at Colorado Cup and Mixed Labor Day.
Much of the credit to this sharp turnaround can be attributed to their impressive roster. Downfield cutters Mac Taylor, Nick Slovan, Adam Farren, Daniel Gillick, Aaron Caulfield, and Patrick Corneille all stand at six feet or taller and all are capable of making big plays when necessary. Wily handlers Casey Ikeda, Adam Scow, and especially Eli Janin complement these targets well with a large arsenal of break throws and big hucks.
Moreover, Blackbird have also integrated their women even better than they have in previous years, using downfield weapons like Rachel Holz and Mia Smucny particularly well when defenses direct their primary focuses on shutting down the men.
While their double game point win over Mischief indicates great potential, Blackbird have yet to prove they can beat a team like Polar Bears or 7 Figures, let alone more than one of them in the same weekend.
Still, with all their talent and drive to prove last year was a mere fluke, they should have little trouble making it back to Nationals this weekend.
San Francisco Groove
Despite being among the best in the region for the past few years, Groove has repeatedly fallen short of qualifying for Nationals.
Whether as Groove or their previous incarnation, GrasSFace, the San Francisco squad has shown they can hang with elite competition, even helping earn a bid for the region in 2012 and 2014. But they just haven't managed to emerge successful in any of their games-to-go.
With five bids this year, 2014 looks to be their best bet to break that curse.
Solid showings at Revolution and Colorado Cup point to their capability of handling business. Now they'll just need to execute when it matters most.
Unfortunately for them, however, their four losses on the year have come at the hands of two regional rivals — 7 Figures and Blackbird.
While two early victories over Mischief, who serve as the one seed in their pool, help to partially offset this, Groove will need to play some of their best ultimate of the year in order to take advantage of the bid-rich region.
At the very least, they'll have to stay focused throughout Sunday to fend off the underdogs on the fringe, hungry to sneak into that fifth spot.
The Hopefuls
The top five teams in the Southwest haven't lost to any of the lower seeds since Revolution in July, which featured a handful of surprising early season upsets.
However, considering the grueling tournament format that guarantees seven or more games for most teams, a surprise ending isn't out of the question.
In just its first year, San Diego Dorado has steadily risen up to become a threat to be respected. Led by former NexGen handler Tommy Li, the team features a number of veterans from the local scene, along with a few studs from UC San Diego.
Dorado is more than capable of putting up a fight for the last bid. The question will be whether or not they can sustain a high enough level of play for the entire weekend to get into that final game.
Also in the mix are San Francisco American BBQ and Sunnyvale BW Ultimate.
Both are missing key contributors from last year's roster. ABBQ lost Steven Chang to injury and Adrienne Baker to a move, while BW lost Lucas Young and Brandon Fein to the Men's division. Still, both squads have proven their abilities in the past and remained on the cusp of breaking through all year, despite underwhelming results.
And as history has shown, just about anything can happen in the Southwest.