The first weekend of Club Women's Regionals features the Southwest, North Central, Great Lakes, and Northwest regions fighting for a combined eight bids. Each region has its favorites and its challengers. Find out what to watch for on a season-making weekend.

The first round of Club Regionals is upon us and, in each region, there looks to be a final showdown between push and the home team, shove. While the drama appears to be in short supply, seasons lay in the balance and that sort of pressure breeds surprises. Each of this weekend's regions have a pretty heavy favorite at the front, but none is devoid of a challenger waiting in the wings to turn a couple of opportune moments into a stolen ticket to the Club Championships.
It has been a strange season across the women's division and few teams have been consistently excellent. Everyone is ramping into the big show and teams can be expected to be energetic in their last games before Texas, or if they slip up, this season.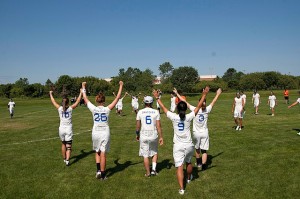 Southwest Regionals
The Favorite: San Francisco Fury
The Southwest giant, Fury, was one of the few Pro Flight teams to opt into Sectionals. They wound up in one of the most exciting Sectional finals in the division against fellow Bay Area squad Nightlock. Top-seeded Fury was in control for the majority of the game until Nightlock put together a fearsome run that came up just short, finishing with a 15-14 victory for Fury.
It makes for another oddity in the story of Fury this season. They stumbled in the early competitive season, played exceptionally in Italy, and lost a pair of games at the Pro Flight Finale and fell in quarters. Worlds by itself would make a season strange enough. Having to ramp up to a separate championship only to so soon attempt to bounce back at Emerald City Classic certainly impacted their performance.
Normalcy would be a nice turn of events for Coach Matt Tsang's team, as it means another big weekend at Regionals. With two bids at stake, the odds of Fury missing nationals are negligible, but Nightlock is no pushover. Fury, when clicking, has all the tools to crush all comers this weekend. But a victory akin to the 15-5 final from last year's Regionals would cloak Fury in a little momentum heading towards nationals.
The Challenger: Bay Area Nightlock
Nightlock has a unique role and identity as a club team. Few cities can field two elite club teams in the women's division, but the rich Ultimate culture of California has proven able to support it. Nightlock has avoided relegation to being a "little sister" team, but there's no denying that they've played second fiddle. They've lost one of their top players to Fury every year – this year, it was Andrea Romano – and eventually lost at Regionals to Fury. This year, however, they stole a recruit of their own, adding Claire Sharman to the roster.
The two seed has done well for themselves this year, compiling a 22-8 record, including wins over Ozone, Schwa, Underground, Green Means Go, and Pop. They've failed to notch a big victory against one of the elite teams, but the Sectional final and an 8-12 loss to Molly Brown says they can put up a fight. Nightlock's also firmly entrenched at this spot, fending off the Southwest's next tier of teams. Their lone threat, San Diego Wildfire, is 0-3 against Nightlock, and although one of those losses came by a score of 10-8, the other two were clean blowouts.
Nightlock's talent level may actually exceed their performance during the regular season. Sharman, Steph Lim, Marie Laurenza, and Briana Cahn are a few of their many potential playmakers. Expect them to get their shot to topple Fury and to advance to Texas for a third straight – that's qualifying every year – nationals appearance.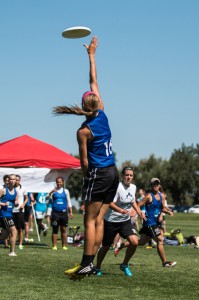 North Central Regionals
The Favorite: Madison Heist
Heist is one of the few favorites on real alert going into their Regionals. The single bid NC has belonged to the Madison squad for the past few years, but this year's model has shown enough inconsistency to give pause. Their wins over Nightlock, Nemesis, and Phoenix are solid, but all of those came by a single point. Meanwhile, BENT, Underground, and Green Means Go have all bested Heist this season.
The real scary part is how they've matched up with Pop. Twice the regional rivals clashed at Colorado Cup and Heist demonstrated a tenuous supremacy, winning 13-10 and a more comfortable 13-8. Madison won't be able to take their weekend lightly.
But Heist's lack of dominance against the Minneapolis club should be remedied by the return of the team's two star players, Georgia Bosscher and Robyn Wiseman. Neither took the field in Colorado, leaving Rachel Westgate, Kelly Wiese, and Jenny Gaynor to carry the load. Those gamechanging talents won't be sitting out at Regionals and the gritty duo can be real headaches for Pop. Look for their influence to reinvigorate Heist and allow them to cruise through the region once more.
The Challenger: Minneapolis Pop
Pop's been patiently waiting for their chance to strike. Since Heist arrived on the scene, Pop's been forced to the back row, and they've failed to register a W against the Madison collective in 11 attempts. Make no mistake about who the underdog is here.
But Pop has reason to hope. They were competitive with Heist in Colorado. On top of that, they've got a healthy dose of momentum, closing the season with an 8-2 run in their last 10 games. They beat Underground and Nightlock at Labor Day, pumping up a resume that previously had relied on a victory against Schwa and an early season win over Green Means Go. The downside is that one of their two losses was at the hands of Los Angeles Viva. For the most part, Minneapolis has wrecked the teams they were supposed to beat and struggled against higher seeded foes.
The roster features some impressive talent. Former Heist handler Rebecca Enders joins a Carleton core of playmaking throwers like Kirstie Barton, Julia Snyder, Anna Reed, and Megan Molteni. Flannery McArdle and Biz Cook give them weapons to win the deep game. And Heist wasn't the only one missing some key components the last time the two teams met: Molteni, Sarah Weeks, and Bridget Kane were all MIA in Colorado, attending WUCCs. They've known this clash was coming, so expected Pop to bring their full armament to bear in attempt to finally dethrone Heist.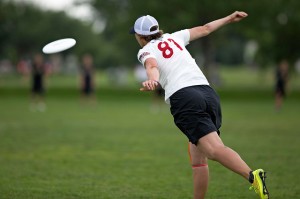 Northwest Regionals
The Favorite: Lack of Suspense
With no shortage of bids, the highly competitive region could be in for one of the less stressful regionals in the division this season. Four strong teams will vie for exactly four bids, with both Portland Schwa and Seattle Underground bringing home regional slots to the national championships during the regular season. The next seeded team after the top four is Seattle Fryz, a collection of youth stars that will probably be leading these Northwest teams to nationals years from now.
The field's contenders can be sliced into very familiar pairs: Seattle Riot and Vancouver Traffic, a pair of elite teams aiming for runs to the Championship final, and Seattle Underground and Portland Schwa, a pair of regional rivals probably happy they aren't clawing for a single bid between them, as was the case in 2013. Riot comes in the top seed and the toast of the town and is 2-0 against Traffic, both in convincing fashion. Underground and Schwa have faced off once way back in June and the Portland team won 13-12.
The Challenger: Momentum-Sapping Upsets
Of course, we play the games, and there's enough talent and pride on the line to bring out teams' fire gearing up for the Club Championships. Everyone's trying to put their best foot forward in preparation and there's some serious bragging rights up in the air. With the change to how USAU handles national seeding, the potential for seeding changes in Texas has decreased.
There's also an unusual unfamiliarity. Typically, these teams – particular in their respective tiered pairs – would have a good sense of each other, gleaned from multiple matchups throughout the regular season. However, Schwa's absence at Labor Day and the demands of the Triple Crown Tour have pulled the Northwest teams to different tournaments. Particularly between Underground and Schwa, this may be the joker in the deck that tips the odds.
Last year's tournament was a win for the upsets. Traffic took down Riot on Saturday – that loss was authoritatively avenged in the final on Sunday – and Underground opened the weekend with an upset win against Schwa. But Schwa had the last laugh in an 11-9 3rd place game win that sent them to Texas. While a game of that magnitude is likely not in the deck this season, it'll be intriguing to see how much of their hand each team is willing to tip in pursuit of the Northwest crown.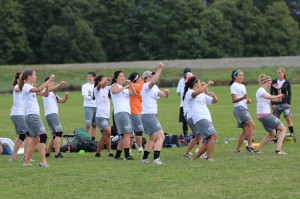 Great Lakes
The Favorite: Nemesis
No team did more for themselves at ECC than Nemesis, not even their male counterparts, Machine. The Chicago ladies came to play, and excuses be damned, went home semifinalists with wins over Riot, Traffic, and Showdown. Prior to their Seattle showing, it wasn't pretty for Nemesis: three of their four wins were too-close-for-comfort scores against Hot Metal, Backhanded, and Dish.
In Seattle, their defense was scrappy, oftentimes bending but not breaking. Emily Hadel was key in forcing turnovers that helped dodge bullets. Emilia Garcia and Sara Scott proved highly capable offensive playmakers. Their offense was devoid of grace and rarely smooth, but much like their season, those unpaved roads got them to the desire destination: the end zone.
After a rocky season, Nemesis has to be hungry too. Their road to Nationals has featured more flats and engine trouble than ever before: at their best they can beat the World Champions, but at their worst they have fallen to much weaker teams. Nemesis veterans Sara Miller and Laura Moore will drive the team's will to win all weekend, and most Great Lakes teams won't be able to contain rookies Scott and speedster Risa Umeno. This is Nemesis' region to lose, and they know it.
The Challengers: Chicago Dish
The only in region opponent to beat Nemesis this year was fellow Chicagoans, Dish. Their 9-8 Chesapeake Invite victory was one of the shockers of the season and a real gut check for the top seed. It also provided a flashpoint for Dish to believe they could win the Great Lakes. While they are lacking any other real notable wins – 10-9 over Wildfire, perhaps – they do have a loss worth mentioning: 13-8 against Chicago's third team Spicy Tuna. While they eventually lost to Nemesis at Heavyweights, they held the lead during that game too, proof that Nemesis better be on guard.
Dish plays a style very similar to Nemesis, gritting out tough points and finding ways to come up with the necessary plays. They fight to make points tough and suffer through those themselves. Jessica Ledonne is the sparkplug downfield, a cutter who can galvanize the offense's movement. Steph Knell has also taken on some of the grinding playmaking the team thrives on.
In order for Dish to pull off the momentous upset and become Nationals most unlikely attendee, they'll have to stave off the third Chicago squad in the mix, Spicy Tuna. Dish is 3-1 against Spicy Tuna, but their victories have all been extremely close: their last win was 10-9 at Sectionals. Spicy Tuna's resume is pretty underwhelming, with an early season win over Encore highlighting their year. But all they need is deliver at Regionals. Allie Fish leads Spicy Tuna (in the most name-appropriate way possible) while Sam Thompson wheels her way downfield, and those two will be key to any upsets they can manage.