The Southeast is back to two bids, and Chain Lightning and Ring of Fire look poised to take them.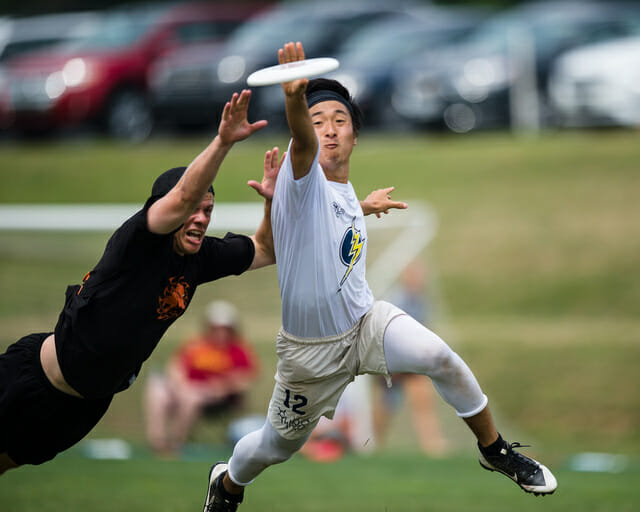 With Florida United's failure to lock in a third bid to Nationals this season, the Southeast will be a three team shootout in a two bid region.
Three teams have earned the right to call themselves elite: Atlanta's Chain Lightning, Raleigh Ring of Fire, and Florida United.
Chain and Ring are the obvious favorites, so the question here is whether Florida United is prepared to hang with the powers of the region. And for a team that hasn't played any Ultimate since August 3rd and is riddled with injuries, this could prove to be an issue.
As the Flames Get Higher
As far as rankings are concerned, North Carolina's Ring of Fire has the edge on Chain Lightning. Like Florida United, Ring has also taken quite a break to gear up for Regionals and beyond. They began their year at Chesapeake Invite, landing three wins, but falling short to Chain in the semifinals, 13-9. They were a team clearly in the midst of the development of a new system and style, with new coach Mike DeNardis having decision making powers for the first time. Their best win came against Austin Doublewide; they took losses to PoNY and GOAT. They took 3rd place after a nice revenge win over PoNY on Sunday.
Ring really showed their potential at the Elite-Select Challenge in Colorado. An expected second place in pool play set them up for a great Sunday opportunity. To make a run at the title, they would have to beat four straight top 20 opponents. They seized the opportunity and took home the Colorado Cup title over a top five-ranked Portland Rhino team. That string of play on Sunday included dominant wins over High Five and Sub Zero, and a close win over PoNY in their third meeting of the season.
Notably, that was Ring's first major tournament win in over five years. Although the competition may not have been truly elite, it was a big confidence builder for the team.
But it's now been almost two months since that tournament. They've been working hard at practice to fine tune their new systems.
"Our execution's been way better," said DeNardis. "Everyone's on the same page."
Ring will look to playmakers like Jonathan Nethercutt, Ken Porter, and new pickups Ben Dieter and Dan Kantor to drive them at Regionals. How will they stack up against a Chain team they've struggled to beat in the past? Earlier this season, execution mistakes cost them breaks.
"Athletically I think they're a little bit stronger than us," said DeNardis. "But that requires us to be a little bit more savvy. Hopefully we can be the more savvy of the two."
Can Lightning Strike Twice?
It's no secret that to win the region, Atlanta's Chain Lightning will have to go through Ring. Besides their one tournament meeting, Chain traveled to Raleigh before the Club season began for a formal scrimmage. They won that game, and managed to win the only other time they saw their regional counterparts.
"Earlier this year we really focused on all of us getting better, but now we've really brought it together as a team," Atlanta's Andrew Hollingworth said. "We're just making sure we're clicking on all fronts and that we're ready to go."
After Chain's impressive run at the Pro-Elite Challenge (Chesapeake Invite) where they lost in the finals to Chicago Machine, the team followed it up with a strong weekend at the Pro Flight Finale in Seattle. Their most impressive win was a 13-11 win over defending National champion San Francisco Revolver, one of the better wins for Chain in years. However, they fell short to Machine for the second time this season, and eventually finished with bronze.
But that third place finish shows some inconsistency. After opening the weekend with a 13-11 win over Seattle Sockeye, they stumbled in their next two games, getting blown out by Denver Johnny Bravo and then falling in a close game with Austin Doublewide. Cue another hot start Sunday over Revolver, then the Machine loss. Chain does seem to lack energy and focus at times, and that can cause them to watch games slip away. When they're sharp, they are very sharp, but they haven't brought that peak level play in every game.
Chain hopes that the consulting efforts of Martin Aguilera1, who has been helping the team all season, will continue to help them improve not just their play but their consistency. Aguilera has shown his face at numerous Chain practices and scrimmages, all with the intention of making Chain better.
"If you've seen any of his work, you know he thinks about and sees the game from a different perspective," said captain Frank Wooten earlier this year. Aguilera could push Chain over that edge, starting with their third straight Southeast regional title.
"You have to be ready to play your best game, because of the possibility of elimination," said Hollingworth.
Straight out of Orlanpahasseville
When Florida United bested Omen last year in the game-to-go, they earned the opportunity to travel to some of the nation's best tournaments. Despite that, United only has wins over four separate teams: High Five, Sub Zero, Truck Stop, and Garuda. For what it's worth, that's not the worst batch of wins to have on a schedule. They only got to see a Southeast regional competitor once this year, falling to Chain Lightning at the Chesapeake Invite.
United's most dangerous asset is their youth, sporting stars from UCF, Florida State, and Florida, all of whom made college nationals in 2014. The coaches of those three schools weren't missing out on the fun, with coaches Andrew Roca, Peter Van De Burgt, and Cyle Van Auken all helping lead Florida United this season.
Unfortunately for Florida, they have been hamstrung with injuries. Cole Sullivan remains out with a shoulder injury. Chris Gibson got hurt at Colorado Cup and only just returned to the field (he is active for Regionals). Andrew Roca redislocated his shoulder and will miss the rest of the year. It's been a tough year for Florida, and they'll be hard-pressed to find the legs and talent to take down one of the top two seeds this year. But they'll still be a tough out.
"Our expectation is to peak and nothing less than the game to go," said Roca.
The Best of the Rest
With bracket play confirmed, these next teams will hope that March Madness migrated to September.
In no particular order…
Freaks Uv Nature – The Freaks from Huntsville managed to capture their first Sectionals title in the Gulf Coast over Southern Hospitality a few weekends ago, and look poised to push for an upset. What the Freaks lack in super stars, they make up for in weekly practices and sound fundamentals.
Omen – After getting the opportunity to travel to some of the nation's better tournaments, Omen mainly disappointed against elite competition. However, after a similar 2013, they managed to make the game-to-go on sunday, so don't be surprised to find them there again.
Southern Hospitality – After making headlines with a title at Chesapeake Open, SoHo failed to defend their Gulf Coast sectionals title. However, the team from Alabama seems to be focused and full of great young talent from the Southeast. Look for Southern Hospitality to make the elite teams earn that classification.
NOTE: The final spot at Regionals will be decided tonight at 8:30 PM in a game between Six Pack and Strong Hand. The Sectionals game-to-go was rained out. Six Pack leads by one and is up a break, 4-3. If Six Pack wins, they will be seeded 15th; Shrimp Boat will be 16th. If Strong Hand wins, they will be seeded 16th.
* *
With the bracket play format assured, Sunday is bound to be electric. With two strong favorites being chased by the youth of the region, there will be dreams of an upset. But Chain and Ring are still the class of the region and should advance to Frisco.
---
Aguilera is also a video analyst for Ultiworld ↩