Pool D is vicious. Simple as that.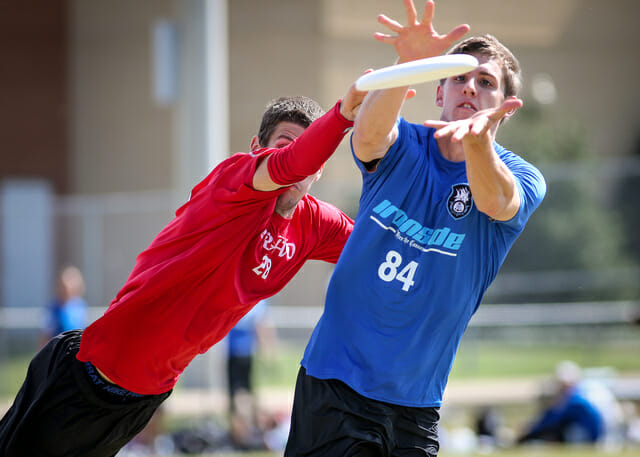 You've seen the schedule, you know the breakdown: Pool D is almost certainly this year's deepest and most intriguing pool. Boston Ironside (#4) and Denver Johnny Bravo (#5) are the one and two in this group, the closest overall seeding of any in the pools. Atlanta Chain Lightning (#9) come in third in the pool, and they have huge wins this season over San Francisco Revolver (#1), Chicago Machine (#2), and Seattle Sockeye (#3).  With the exception of Vancouver Furious George, top-of-the-pool honors could go to anyone, drawing a favorable crossover matchup against the resulting last place finisher from Pool A.
Ironside vs. Bravo: Your Guess is as Good as Ours
At the least, this game will offer a star-studded cast from both sides. While Denver made the splashy offseason additions, Boston have made their own notable tweaks — most notably their late addition of former Revolver stud defender Mark Sherwood. UMass standout big man Jeff Babbit has also found a comfortable home on Boston's defense, adding some much needed pressure to their deep coverage.
Needless to say, beyond big name additions, both teams have made headlines for mental lapses. Ironside found themselves headed home early in Italy after a surprising collapse against Japan's Buzz Bullets. Add to that their history of disappointing exits at national championships, and Ironside have a lot of emotional baggage that could fight its way into their mental toughness.
Bravo have to contend with the intense public scrutiny that their shiny new Lances, Keegans, Matzukas, and Smiths have invited. Can any team that adds that many big-gun players in one fell swoop really hope to have everything gelled mentally to take down Revolver?
The US Open hosted the only 2014 meeting for these two teams so far. In what was the first game of the tournament, Bravo dealt Ironside a 15-13 loss. While Boston kept the game close, Bravo held the lead for much of the game, exhibiting early season chemistry and sealing the deal on with their powerful new offense. The two were poised to meet in the second round of bracket play at WUCCs later in the summer, but Buzz Bullets handed Ironside the aforementioned loss and stepped in to take the quarters spot against Bravo.
After Italy, both teams competed at the Pro Flight Finale, but to vastly different results. In convincing fashion, Ironside shrugged off their letdown at Worlds by beating Austin Doublewide and Toronto GOAT to reach the final against Chicago Machine. Bravo took one on the chin in a close Saturday afternoon matchup against Sockeye, and then proceeded to lose out on Sunday, a troubling performance that ended with an 11-15 loss to Doublewide.
It was Doublewide again who would tax Bravo in the title matchup at South Central Regionals, with the top spot awarded to Denver on what amounted to a Brodie Smith huck-and-hope to Jimmy Mickle. On that same weekend in the Northeast, Ironside took the region in very convincing fashion, leaving nothing to question who was top dog on the weekend.
These squads face off for just the second time this season in the last round of play on Thursday. Though the last month and a half of history suggests Boston to be the more prepared contender, Denver's stars have all been on this stage before and a win for Ironside will be no easy task. Commence the nailbiting.
Where will Chain Lightning strike? 
A win over Machine in early pool play at Chesapeake. Wins over Sockeye and Revolver at ECC.
A double-game point loss to a D.C. Truck Stop team running open lines for tryouts at Chesapeake. A crushing early-round loss to Orlando Omen at Southeast Regionals.
Who is Atlanta Chain Lightning?
To be certain, they are a dangerous team. The issue is that they're both a danger to unwitting opponents and themselves. As many have seen, and as has been chronicled here on Ultiworld, Chain has a threatening prowess when it comes to their deep game. If you find beauty in simple execution, Chain's style is for you. This type of offense looks like a deep cutting clinic when Chain are clearing and throwing well. Talented throwers find big or speedy cutters isolated in space, all of that at the drop of a hat after opposing turnovers. Did I mention Chain Lightning is dangerous?
Unfortunately, this strategy can be a little one dimensional; at times it's too basic. On the national stage, playing to your strengths is key, but so is the ability to make adjustments. Against Johnny Bravo, Chain will need more than good isolations to overcome a defensive unit anchored by Kurt Gibson, Brodie Smith, and Nick Lance. Bravo is a big, powerful opponent for Chain, and success for the Atlanta squad will require outstanding games from downfield targets Jay Clark, Nicky Spiva, and Asa Wilson. Bravo owned the matchup in their one meeting this season, dealing Chain a 13-7 loss at the Pro Flight Finale. Still, if Bravo faces any communication issues, Chain will be poised to take advantage and quickly convert turns in transition.
Chain Lightning has not seen Ironside yet this year. Boston, dangerous themselves in the deep game, has a patience that has been absent from Atlanta's huck and run approach this year. This matchup heavily favors Ironside, who will bring a bevy of bracket experience against deeper and tougher opponents to their first meeting with Chain this year.
And yet, Atlanta Chain Lightning has beaten a few of the best this year. They are living proof that innate understanding of simple spacing concepts matched with real talent can overcome almost any cerebral strategy and team-specific preparation. Chain has shown that even when an opponent is aware of their strategy, it can take an additional level of effort to stop the much talked about long ball.
Furious George: Not the Same Monkey
Furious George is and has been a name synonymous with Club Championships for years. Vancouver's rich ultimate scene has condensed its talent on Furious season after season. This year, as the old guard left the team, the mantle has been passed on to the next generation of Vancouver players. It's safe to say that Furious is in a rebuilding year.
Though the 15-12 final score of the second place game against Rhino for the Northwest tells the story of their offense managing to remain competitive, there was no point in the game when Rhino's victory was particularly out of reach. Sockeye, Furious' rival of old, has the region underneath their thumb, and Vancouver even had trouble against Seattle's second team, Voodoo, at Sectionals.
Still, results were good enough at the end of the regular season for the Northwest to secure three bids, and Furious will fill out the competition with the 16th seed. There is not much to suggest a Furious upset in this pool, though perhaps Omen's win over Chain will provide Vancouver with the fuel they need to catch Chain sleeping. If Vancouver somehow managed to break seed in their pool, however, they would likely face a taller, stronger Austin Doublewide in prequarters.