Ironside outmatched Doublewide in an intense game.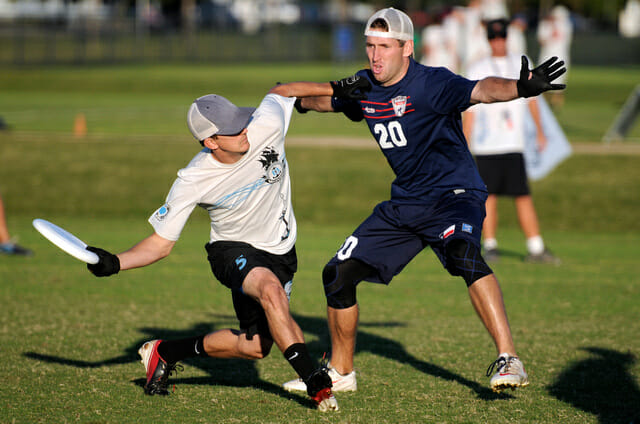 Ironside and Doublewide have a history. The two power teams have met in each of the last three Club Championships, and their games are always extremely intense. Today was no different as Boston took down Austin, 14-9, in a hard fought pre-quarter matchup.
Both teams came out of the gate playing tough and physical. There were defensive bids all over the field, tight marks, and some jawing back and forth between points. It all started on the second point of the game, when Doublewide's Max Cook caught a score and spiked the disc. You could debate whether it was intentional, but the disc hit Ironside's Christian Foster, who did not appreciate the gesture. The players were separated, but from that moment forward, the game was on.
Boston's defense was key. Coming into the game, Ironside's game plan was the same as nearly every other team who faces Doublewide: contain Will Driscoll.
Easier said than done.
Driscoll was all over the field. The former Texas star was involved heavily in the offense and some defensive points for Doublewide. He was covered most of the game by George Stubbs and, yes, this matchup was as fun to watch on the field as one would expect. The two were constantly battling for position, and both made some huge plays.
"Stubbs did a good job," said Ironside coach Josh McCarthy. "Driscoll is such a tough matchup. We tried to mix in Babbitt on him as well. He's gonna [sic] get his, we just wanted to limit his impact on the game."
Ironside's defense on Driscoll was a major factor in their win, forcing a number of mistakes from the Doublewide standout, but ultimately the play that changed the dynamic of the game was an unforced error.
Ironside had the lead 6-5, on serve, with Doublewide going downwind on offense. After a few short passes, Driscoll busted deep, and as he so often does, blew past his defender by 15 yards. As the disc was coming down, though, Driscoll attempted to go up high over a closing Stubbs instead of running out the huck. The disc popped slightly in the air and over Driscoll's outstretched hand. Stubbs picked up the disc, blasted a huck to Mark Sherwood, and eventually Boston got the upwind break. They never looked back.
Doublewide continued to battle in the second half, much to their credit. For a team that has lacked intensity and focus in many tournaments this year, they made Ironside work for every point. Boston, though, was just the better team.
"Our goal was to wear them down, to keep their offense on the field and use our deep D-line," McCarthy said. "But we really had to work for everything on both sides. Offensively, we had to mix it up. We tried to run a horizontal stack but had to move to the 'Classic Boston vert stack' that Ultiworld loves to talk about to open our offense up. Once we did that, our offense moved the disc much better."
Boston's offense was not as efficient as they were at Regionals — only broken three times on the weekend — but they got the job done. Their conversion rate on defense was the defining factor in this game. Stubbs and Sherwood were magnificent with the disc when Ironside forced a turn, and cutters Jeff Babbitt and Jack Hatchet consistently came down with big hucks that led to Boston's breaks.
Moving forward, Ironside will face Rhino — who upset Sockeye in the pre-quarters — in the quarterfinals.
For a team that has a tremendous amount of athletes, Ironside has to like this matchup against a smaller Portland. Rhino took down a Sockeye team who didn't take them seriously, something that Ironside won't do. They have been extremely focused all tournament. I would be shocked if Ironside let their guard down against Portland.
"We just need to show some swagger," McCarthy said moving on in the tournament. "If we play our best, we can compete with anybody here."
For Doublewide, their bid to win a championship ends in disappointment. The Austin club failed to find a good rhythm the entire season. Whether it was slow starts, simple mistakes or just inexperience, Doublewide could not find a way to win games they needed to.
They will have to battle their way through a tough consolation bracket — which now features Machine and Sockeye — to earn a spot in the Pro Flight next season.