There are few rivalries in ultimate as potent as Riot v. Fury.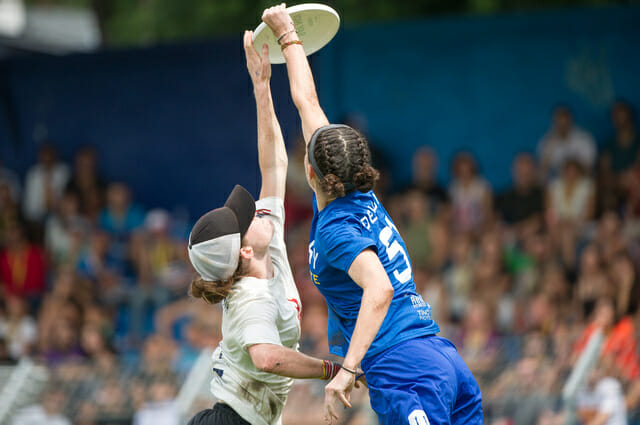 Here we are again, talking about Riot vs. Fury. The age old matchup is one of, if not the, most storied rivalries in ultimate. The pair almost always delivers intense and high quality competition. It's even better that we get to see another act in their play on the grand stage. It has been a long time since Fury was the underdog in this matchup, and, really, it is doubtful they see it that way. In fact, San Francisco is playing some of their best Ultimate at just the right time. They'll need it all to beat Riot, who has been arguably the best team at Nationals and in the division all season.
Seattle, like every semifinalist, is undefeated to this point, but the way they've done it is singular. Riot hasn't won a game by less than six points and has never trailed at any meaningful point. They were the only team to win a quarterfinal comfortably. Atlanta Ozone hung tough in the first half of their quarterfinal, but Riot blew it open to win 15-9. They crushed San Francisco Nightlock, the second seed in their pool, and beat Madison Heist 14-8 along the way. Nobody has been able to survive their efficient and smooth disc movement.
Fury comes in building momentum at just the right time. Their games have been much closer: a pair of three point wins in pool play over Texas Showdown and Vancouver Traffic come to mind. Their quarterfinal victory against Molly Brown was a game they claimed control of, but never one they got out of reach until it was complete. Offensive movement was crisp, but still edged by the aggressiveness Fury thrives on. The defense was complex, shifting, and malleable, frustrating the athletic Denver crew into turnovers.
The key for Fury might turn out to be how their offense plays defense. Riot's defensive unit has been vicious, rarely wasting an opportunity to break. Against Ozone, they converted on five of six break chances. While the potentially windy environment is probably going to shift those numbers, San Francisco can't allow Riot's post-turn offense to find the end zone that often.
"We've just done a really good job of converting our breaks," said Rohre Titcomb.
If Riot gets pushed by Fury, as expected, will they be ready to face their first tough challenge of the weekend? Every other semifinalist has had to battle at sometime this weekend, but the Seattleites have not yet had a trial by fire.
"We have had challenging games. Our opponents haven't just been rolling over," said Titcomb. She explained the benefits of their path to the semis. "The benefit that we get is legs," she said. "Riot's athleticism is, I think, the strongest in the women's division, so if we have legs over our opponents, that's huge."
The two teams displayed quite a bit of athleticism in their World Ultimate Club Championships final. Claire Desmond's improbable second effort layout score and Gwen Ambler's giant layout score past a bidding Maggie Ruden are memorable examples of how explosive the players along these rosters can be. Desmond's been a growing star for Fury. Sarah Griffith's stardom is well established, as is the big time playmaking ability of Fury's Cree Howard and Riot's Calise Cardenas, among others.
Expect plenty of sneaky defenses. Riot and Fury both love to poach and play help defense. Sure, they're both capable of tight person defense, but even sometimes that is mixed with assisting players flying into lanes and watching throwers' eyes. Fury's defensive looks proved too much for Denver to navigate; Titcomb said she expects to see something new from Fury. Coach Matt Tsang could be coaching his final game and will be opening his bag of tricks.
The two teams are incredibly familiar with each other and are almost as familiar with playing in the semifinals. Each knows all about peaking and it shows. Recent history favors Riot, who is 3-1 against Fury this season, with their only loss coming in the very early season. But how long has Riot played the background against San Francisco at Nationals? Titcomb says none of that matters now.
"The past doesn't really matter," she said. "We let that go and only look into the future."