Johnny Bravo was waiting for Revolver, now they'll get The Herd from up north.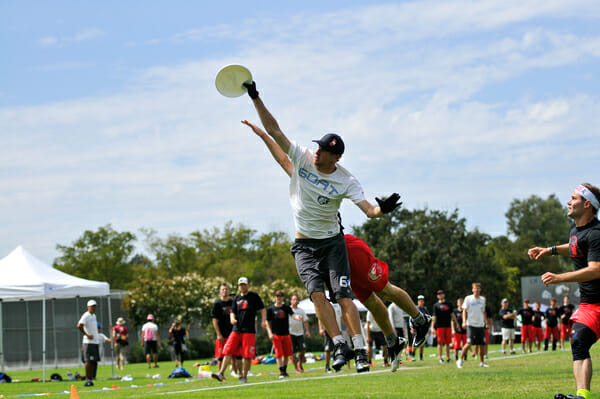 Season Series: N/A
Lifetime Record: Johnny Bravo 10-2 v. GOAT
Betting Line: Bravo -2.5
Denver Johnny Bravo will attempt to continue their undefeated run through the competition in a late semifinal matchup against GOAT tomorrow. GOAT, who knocked off reigning champs San Francisco Revolver in a nail biter, is starting to look like they could reach their full potential.
Bravo enters into the game with a +23 point differential on the weekend so far; GOAT enters with a -2.
GOAT loses out in that comparison because they went 1-2 during Thursday, losing to Seattle Sockeye and Pittsburgh Temper, and notching their only win against Raleigh Ring of Fire. Bravo dispatched Vancouver Furious George, Atlanta Chain Lightning, and Boston Ironside in that order. But that doesn't mean much now.
Still not convinced?
The winning didn't start for Toronto until Friday morning, when they beat Minneapolis Sub Zero in prequarters and then took out Revolver in quarters. That double-game point win was sparked by GOAT recovering from a deep 4-1 hole early. While Revolver may not have had their most impressive tournament performances before this quarterfinals matchup, statistics from Ultiworld suggest that Beau Kittredge and other San Francisco stars spent a lot of time on time on the bench (maybe too much?).
GOAT made key adjustments against Revolver, and they'll definitely need to do that again vs. Johnny Bravo. Bravo has done a remarkable job spreading out the wealth in goal scoring.
Bart Watson was the clear distributor for Denver early on in the tournament, but Brett Matzuka is a constant presence as well, and they both have used short throws to Jimmy Mickle liberally to open up more space downfield. Mickle has also teamed up well with Gibson — the two have traded places numerous times, each finding each other on a range of throws. On defense, Nick Lance has been the lynchpin in the backfield, though Matzuka joined him on defense numerous times later on in the weekend. Sean Keegan has also added a constant threat, though he has appeared more dangerous cutting underneath and drawing defenders than as a big scorer.
Bravo captains Jack McShane, Ryan Farrell and Josh Ackley have all made marks throughout game play as well, each contributing valuable performances. Farrell and Ackley both appeared in key scores to hang on against Truck Stop, while McShane was joined by Hylke Snieder and a few others putting in gritty defensive performances that our current stat-keeping technologies make hard to quantify.
It's a formidable cast, and GOAT have their work cut out for them.
Still, Toronto will ride the heroics of Mark Lloyd's dominant performance against Revolver into this game, and it will be interesting to see which player from Bravo draws this key matchup1.
Thomson McKnight, Derek Alexander, Anatoly Vasilyev, and other distributors will need to step up big to aid Lloyd in their effort against Bravo. The hard man defense that helped GOAT to stunt Revolver's offense in the waning moments of that upset win will certainly not be enough for GOAT's defense. They'll need some more defensive tricks — perhaps an intensified and varied version of going junk to half field — to limit the many weapons on Bravo that can move the disc and very consistently break the mark.
GOAT may very well have been the benefactors of underestimating during scouting on Revolver's behalf. There was not a whole lot of tape available of GOAT this year — a stark difference from from what was available after last year's Pro Flight Finale. Still, GOAT entered this tournament with a target on their back last year, and seems better suited to the underdog role that has allowed them to sneak into sudden contention for a finals berth.
Johnny Bravo has been among the heavy favorites all year. They have not slept on their tough matchups here at Nationals. They spent the latter half of this season with their sights set on dethroning Revolver. Can they adjust their plans to prepare for GOAT? Denver will rightly be considered the favorite, but that didn't mean much to GOAT yesterday against Revolver.
Get settled in for the most compelling matchup in the semifinal round at 8:00 PM Central. Bravo looks to return to the finals for the first time since 2007. GOAT looks to reach the final for the first time as a program.
---
Bravo used a lot of switching against key Truck Stop players around the disc to some success today, so it would not be much of a surprise to see them try to confuse Lloyd and company ↩