Seattle Mixed's easy-going, big-play style is mowing down the Nationals field.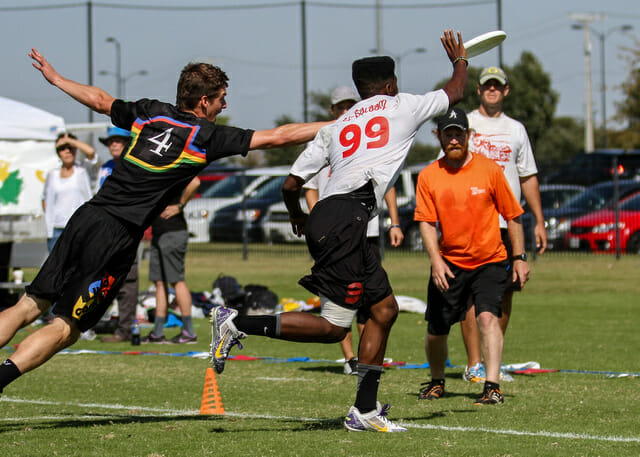 It only took a few minutes for Seattle Mixed to go from celebrating their upset victory over a team that had been killing it all weekend to resuming their game of mini.
If a random person walking by didn't know what had just happened, they probably would have assumed the shirtless youth laughing and joking around had just won some kind of consolation game and were still excited about making it to Nationals.
They'd be wrong, though. In fact, the first-year squad had just bested an undefeated Boston Wild Card in the mixed semis, 15-12, and advanced to the national title game.
Seattle Mixed will try to continue their miraculous run today, facing off against defending national and world champs Minneapolis Drag'n Thrust at 11 AM CST.
If Saturday's game is any indication, Sunday's should be smashed to the brim and overflowing with highlights.
Because if any one thing has defined Seattle Mixed's weekend, and definitely their semis match in particular, it's big time plays.
Ridiculous layouts, monster skies, huge hucks. Any game with Seattle Mixed, whether they're blowing out an opponent or trying to pull it out on double game point, whether they're playing the 16th seed or the hottest team at Nationals, is guaranteed to provide no shortage of entertainment.
They trust each other, and they're going to take their shots.
Coach Jaime "Idaho" Arambula said his team runs on a high-risk, high-yield mentality and love giving each other the opportunities to come up big.
"If you see the cookies on the shelf, you gotta reach up and take them down," Arambula said.
Nowhere was this more evident than in their exciting match against Wild Card. Any time Boston turned it over, a Seattle player could be seen immediately busting deep and more often than not being rewarded with a shot put up on trust. And more often than not, it worked out for them.
Khalif El-Salaam, Mark Burton, Drew Johnson, Jennifer Cogburn, Brad Houser, Kahyee Fong; Seattle Mixed ballers across the board took turns earning spots in the highlight reel. And what's more, and perhaps most importantly, many of these big plays helped bail out questionable decisions.
Take the final play.
Johnson puts up a same-third floater to four guys. But Fong rises up and skies the pile and continues to Burton for the win.
Maybe an even better example of their style of play could be seen in their point to take an 8-7 half.
On a routine Wild Card swing pass to the open side, Cam Bailey snatches an insane head-high layout D, then, before even getting up, throws a scoober for the score from a seated position.
A lefty scoober.
"They had a pretty aggressive style," Wild Card captain Ian Engler said. "[Seattle Mixed] made some really big plays."
It was those plays that gave Seattle Mixed the early 4-2, and then eventual 7-4 lead. When Boston made a 3-0 run to tie it at 7s, it was big plays that allowed Seattle to come out of half strong and go on a 3-0 run of their own to go up 11-8.
And when Wild Card answered with another run to tie it at 11s, their opponents didn't blink, coming up huge and jumping out to a 14-11 lead, effectively sealing the game.
To be fair, a majority of Boston's turns came in the form of miffed throws or hucks that just went too far — the kind of mistakes they rarely made this weekend.
For the second year in a row, Wild Card dropped in semis after looking almost unstoppable on Thursday and Friday.
"That's the tough part of playing big games," Engler said. "Ideally, it's the same as any other game, but it can be a little hard to think that way."
Yet, some of the credit should also go to Seattle's strategic defense.
Arambula said he wanted his team to flex in the lanes whenever one of Boston's key handlers like Engler had the disc, so that they could get it into the hands of Wild Card's less skilled throwers.
Complementing this, most of Seattle Mixed's Ds came in the form of heads-up poaches, where downfield defenders jumped in front of opponents at the last second. As a result, Wild Card often looked flustered and unsure of where the defensive threats might be coming from.
That kind of team defense mentality seemed to reflect Seattle Mixed as a whole.
Arambula said that his team had something of problem after Northwest Regionals, when the question of playing time distribution came up. He said it was decided that at Nationals everyone would get to play. It paid off. "We went deep into our bench. Our secondary players rose up," Arambula said. "I told them that all you have to do is make the play when it comes to you. And they did."
In that respect, Seattle Mixed's apparent identity all comes back to team bonding and trust and the fact that everyone just really loves playing together.
"In the end, it's us," Arambula said. "Everything outside of us is a fuzz."