Seven players who just missed the cut and seven players with bright futures.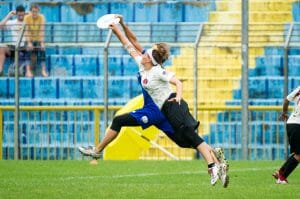 There were so many inspiring performances this season that we thought it best to include two extra lines on top of our standard 1st and 2nd team selections. We chose seven players as honorable mentions, as well as seven who we believed rose up to a new level as breakout players. Many of the players on these two lists were considered for inclusion on the second team.
Honorable Mentions
Anne Mercier (Scandal) – Incredible thrower, even better reset cutter. Expert are using her body and strength to overpower dump defenders. Complete poise, never afraid to make a big play. Only held back by lack of participation.
Catherine Hui (Traffic) – Dynamic star cutter can do anything downfield. Explosive athlete with blazing speed and good game IQ. Quality thrower and defender. Difficult matchup for even the best defenders because she's so opportunistic. Only held back by her penchant for random drops.
Allison Maddox (Scandal) – Terrifying defender. Does a lot of the things Opi Payne is famous for but without getting the attention. Lefty break-heavy skillset but can launch a few bombs. Her return was a huge get for Scandal – don't think they could have repeated without her.
Dena Slattery (Molly Brown) – Finished 9th in total assists at Nationals, had some really huge performances in big games for Molly Brown. Incredibly confident with the disc. Takes risks, but has the skill to usually back it up.
Leila Tunnell (Brute Squad) – One of the most polished and powerful handlers in the division. Wild for a player with such a cannon arm to also have such impressive touch on her throws. Versatile break thrower. Can defend well on the turn.
Angelica Boyden (Riot) – Came into her own this season on both sides of the disc. Seemed to get a huge layout catch block every time I watched. Improving game by game. Excellent break throws fit perfectly into Riot system. Only getting better.
Cree Howard (Fury) – A total package playmaker. When healthy, has good pure speed, wins frequently in the air, uses burst well. Throwing capabilities and Ultimate IQ make her also dangerous moving from backfield to downfield; Fury comfortable with her handling in the national final.
Breakout Players
Jessie O'Connor (Scandal) – Humble, quiet, unassuming, but increasingly confident and skilled. Gorgeous flick huck in final showed off she's not scared anymore. Churns with her legs, plays solid positional D, and makes good decisions with the disc.
Paige Applegate (Molly Brown) – Serious athlete who can be a bulldog on defense. Strong workhorse on O, grinds out yardage with smart spacing and good timing. Came up with big key plays for Denver against toughest competition.
Sara Scott (Nemesis) – Given a lot of responsibility with Nemesis, lived up to it. High flyer and gunslinger, but when it comes together, electrifying. Outrageous 30 goal + assist line at nationals led all players. Layouts, bombs, skies – highlight reel stuffer.
Rachel Moens (Traffic) – Really underrated versatile threat for Vancouver. Seen her do it all, but most comfortable handling or coming under. Not afraid to go deep and take to the skies, despite average size. Impressive defensive player who had a great year this year.
Sunny Harris (Showdown) – Turns out good reset cutting, armament of break throws, and well placed deep shots play well in both college and club. Wasn't quite as dominant in first round of elite club, but still found lots of holes in offenses with her high releases and hucks.
Lisa Pitcaithley (Fury) – Looked significantly more comfortable with Fury than last year. More than huge deep threat now, ate up free unders and was a much better decision maker with the disc, both in look progression and throw choices. Her game is maturing.
Fiona McKibben (Riot) – Showed a propensity for spectacular plays this season, but is actually high motor cutter. Fills in a lot of the roles Sarah Griffith also plays: moves the disc quickly, gets great yards, creates space, plays good help D.