Key things to remember to be a great captain.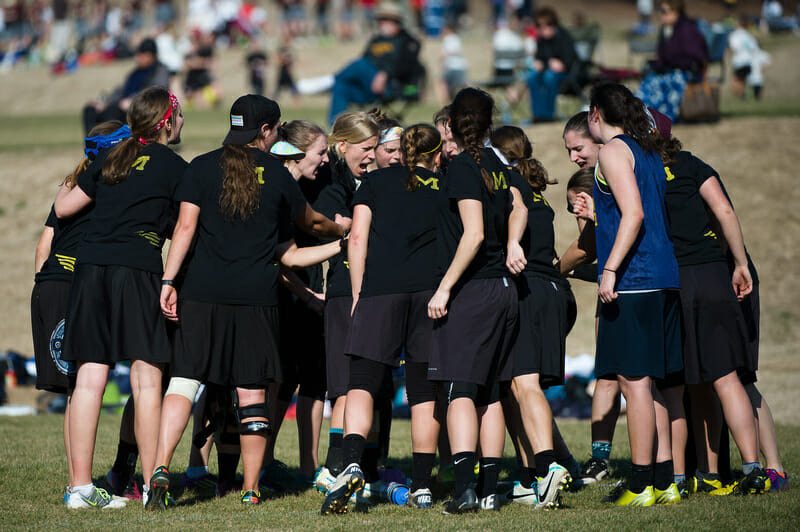 Contrary to popular belief, the captain of an ultimate team does not have to be the best player. When it comes time to vote for the following year's leadership, many players only think of the person who scores the most, or has the most layout Ds. These players are obviously important — but they don't always make the greatest captains. If you find yourself as a captain this college season, or want to captain a team next season, here is a list of things that will help you be a great captain.
1. Be Selfless
This is my number one rule as a captain and in life. Captaining is a thankless job; you are not captain to have everyone recognize you constantly for all the work you are doing. Yes, you will work very hard, and often all the work and time you put in will be disrespected because your teammates will simply forget that there is not a magical fairy that books hotels, rents cars, plans practice, orders jerseys, etc… Its tiring to constantly do work and not be thanked. Remind yourself why you are doing it. If it is to be congratulated, then you are going to have a miserable season.
2. Have Meetings
Have meetings! Emails, Facebook, and Google Drive are tools to get information to your team, but they are not a good forum for discussion. I would have a meeting at the beginning of the year with the captains, coaches, and involved returners so you can discuss what you want the team to look like and getting the season started right.
Have an informational meeting for people interested in joining the team and make sure to advertise this meeting. If you have two teams (A and B) make sure to have meetings before and after cuts are made. I don't think there can be enough meetings!
3. Set Goals
One of my favorite things was our team meeting after everyone was back from winter break and we were really gearing up for the spring. First we would go around in a circle and say our personal goals and what the team meant to us. Then everyone was invited to shout out what they wanted for the team. WRITE IT DOWN! If your team just wants to learn to play Ultimate and have fun, that is perfectly fine! If you want to be highly competitive, that's great. But you can't be a functional team if half of the team wants to win Nationals and the other half just wants to hang out.
4. Think Ahead
Doing things last minute sucks and it often takes longer than if you did it in advance. Figure out the tournament schedule so you can book hotels, rent cars, submit bids, purchase flights, etc. This also means think ahead by years. Say you don't recruit this year because only a few people graduated so you have a pretty solid squad, and then next year rolls around and half the team graduated, not such a solid squad now. Oops. (Recruiting is never a bad thing.)
5. Be Organized
Captains are responsible for a lot of logistics: tournament bids, hotels, transportation, jerseys, fundraising, end of year appreciation, practices, meetings with coaches. The job doesn't have a clear list of responsibilities; you are responsible for the team. Even for those programs with an established system captains are usually still the fulcrum and all positions are delegated from the top. You must be organized to make sure nothing falls through the cracks.
6. Be Clear
This might seem obvious, but it is important to be as clear and honest as possible. This pertains to try-outs, practice times, how the team is going to be run, who is in what position, playing time, and most other decisions. If you don't tell them, don't assume they know.
7. Hold Everyone Accountable, Including Yourself
While you need to be as clear, organized, honest, and strong as you can, you also need to hold your teammates accountable for what they have told you they will do. Require respect and demand honesty from them. If you held a team meeting (see #2) and a team goal was to arrive early to practice and be ready to jog when practice begins, then hold them to that. It is your job as the leader to lead by example. Be there early with your cleats on and when it is time for practice, begin it and remind your teammates of the commitment they are making.
8. Be Understanding
As someone who loves Ultimate so much that you want to make it your life it can be hard to remember that not everyone feels the same way. There will be players that don't come to every practice in the fall. Everyone is different and you can't expect the same amount of commitment from everyone that plays. My second rule in life is to meet people where they are. Build context for other's behaviors by talking to them.
9. Meet Problems at the Source
There will be problem players. A team spends a lot of time together and inevitably there will be drama. It is hard as a captain because you are leading your peers, but when an issue surfaces it needs to be confronted. I was guilty of saying, "I'll talk to her when we get back," but then the moment is gone and everyone has cooled off from the incident. If nothing else let them know when you get back home, you need to discuss their behavior with them. It does sound a little school teachery, but you will more likely follow through if they know.