Ultimate can provide a built-in social community, as well as substantial professional opportunities -- if you know what to look for.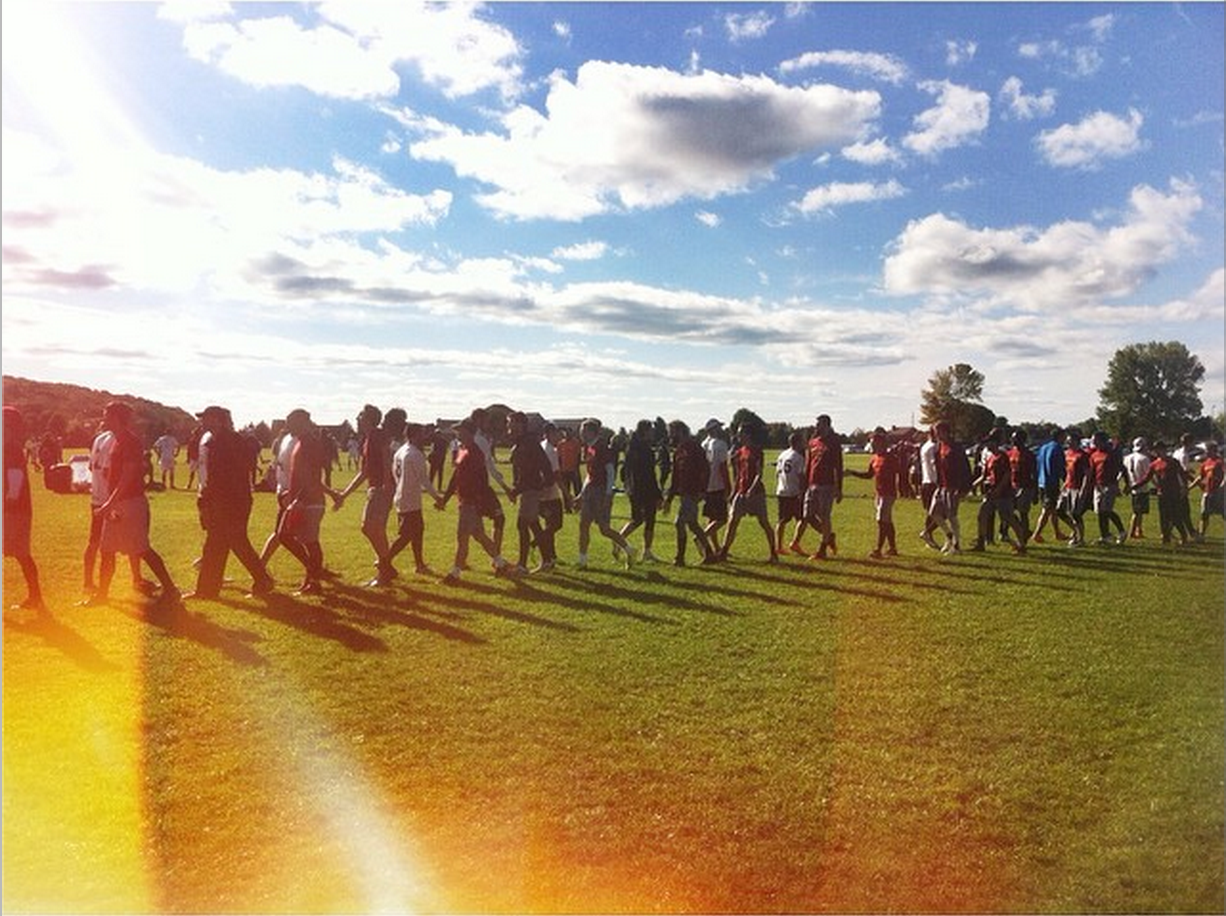 You have probably seen the network in action. Maybe you've traveled or moved and immediately connected with new people through pick-up. Perhaps you've joined a league and started dating someone you met in the league. Or maybe you've seen this article or this article or heard about the growing number of successful executives with a history in our still young sport like Sergey Brin (Google), Pete Rive (Solar City), Charlie Cheever (Quora), Brian Acton, and Jan Koum (WhatsApp). The network is real, it is powerful, and it is growing.
When I was in college, my parents liked to joke that they were paying for an extended ultimate camp. Sure I attended classes and did well enough to get my degree, but I spent the significant majority of my free time playing, practicing, or just thinking about ultimate. I attended my first cross-country tournament the weekend before my first college exam (which I ended up having to reschedule due to a canceled flight). I scheduled classes around practices. And I would have even missed my graduation for Nationals had it not been the only year that Brown didn't qualify for Nationals between 1998 and 2007 (don't think I'm not still bitter, Tufts).
But thirteen years later, it's easy to look back at the real, long-term professional and personal value my involvement with ultimate has provided me. Both of my post-college jobs were through my ultimate connections, I met my wife through the sport, and in every city I've moved post-college I've been able to plug into an accessible social group. When I first moved to Seattle, I rented a house from an ultimate playing friend whom I knew primarily from ten years of competing against each other; he charged me a very reasonable rate, and my wife and I were responsible and respectful tenants.
And I'm definitely not alone in tapping into the network. I have many friends who have married within the Ultimate scene. Among them is my wife's sister, who, after seeing my wife's success in finding a partner (wink!), joined a learning league and met her future husband. And I know of several companies that have reputations for hiring Ultimate players. Just the other day, as I was brainstorming this article, an Ultimate playing HR manager friend of mine asked me if I knew potential candidates for a job he was looking to fill.
All of this is no surprise. Of course much of life is about who you know, so any time you expand your network through any activity, you give yourself new personal and professional opportunities as well as new supporters who can vouch for your skills and character. And, like all sports, ultimate provides countless opportunities to showcase your work ethic, toughness, and resilience. But beyond most sports, ultimate also has some distinct traits that make it a particularly valuable network:
Ultimate at almost every level relies on integrity and presents opportunities to showcase fair play and conflict resolution.
Partially due to the above on field player interaction, ultimate has a particularly social dynamic where competitors often interact off the field allowing the network to grow significantly faster.
As a still marginally accepted sport, most players don't care how they are perceived for playing the sport. This attitude of self-confidence can be very valuable in the workplace.
At this point I'm probably preaching to the choir. Maybe if your parents are telling you to "quit Ultimate and focus on something to do with your life," this will give you a couple counterpoints, but most of you are probably nodding your head and wondering why you're reading this article. Here's the meat: eight ways that you, your team, and your league can tap into and make the most of the network.
For Individuals
1. Get on LinkedIn.
As a job seeker, you can use LinkedIn to figure out how you're connected to jobs and companies that you are interested in. As a hiring manager, you can hear from qualified job seekers and identify potential candidates in your network. As an amateur head-hunter, I use LinkedIn to connect people I think can benefit from knowing each other.
2. Get to Know People.
When I say "know people," I mean actually know them. Find out what they do, where they work, what they are passionate about and interested in. The more you know people, the more valuable you are. You can help your friends, teammates, and opponents make valuable connections. You can make valuable connections for yourself.
3. Be Open About Yourself.
This one's simple: If you share your interest with others in your network, they are more likely to be able to help you make useful connections. It helps to have a good sense of your skills and what types of activities give you satisfaction. Sharing these things may even help others make connections that you aren't even aware existed.
4. Be Selective With Connections.
Make sure when you connect people that there's a high chance that one or both people will find it valuable. This helps to establish the value of networking and identifies you as someone who can identify connections of value.
For Teams
5. Establish Alumni E-mail Lists.
E-mail lists are the quickest way to establish an effective and connected network. While the e-mail list can be a fun way to keep in touch or plan reunion teams, you can use it to ask professional questions or post jobs or internships that you or your company are looking to fill.
6. Create a Formal Alumni Network.
Alumni relations are about far more than just job networking: an alumni network can help your team establish a sense of history and continuity, can provide a new avenue for team fundraising, and can be a fun and meaningful way for alums to stay involved with a program they care about. Having an alum manage the alumni network provides stability to the alumni organization as well as someone who understands the interests and needs of the alums you are trying to reach.
7. Create Events for Alumni.
Events where alumni interact with each other and the undergrads can both help establish new connections while reinforcing the values that make your team yours and your new graduates of interest to your more established graduates.
Alumni teams are great, but alums move into their late 20s, tournaments become less of a draw. Creating a more robust and mature alumni event that offers more than the basic activities of playing and drinking can keep even the oldest alums coming back. Carleton College is well known for their alumni weekend.
For Leagues
8. Create a job/services board.
Leagues can do more than just connect players to teams and teams to other teams. Creating a job or classifieds board, particularly if your league already has message boards, can be a great way to provide an additional service to your league members at virtually no cost.
While it's true that most of us won't ever get paid significantly to play ultimate, that doesn't mean that we can't all use ultimate to add significant value to our professional and personal lives.