Keith Raynor and Charlie Eisenhood run down the Player of the Year field at the start of the 2015 season.
See our 2014 College Player of the Year selections and other awards here.
With the 2015 college regular season now getting rolling, Ultiworld analyzes the early favorites for Player of the Year in both the Men's and Women's Divisions. These players have distinguished themselves over the course of 2014, the 2015 fall season, and early tournaments this year.
We encourage discussion and debate in the comments.
Men's Division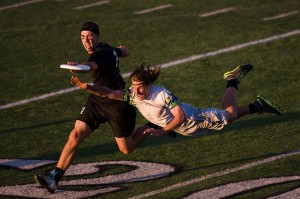 Jon Nethercutt (UNC)
Jon Nethercutt was good enough last season for us to consider him the MVP on North Carolina, despite playing alongside their eventual Callahan award nominee Christian Johnson. But he was never going to surpass 2014 POTY Jimmy Mickle.
He comes into 2015 as one of the big favorites to walk away with Player of the Year honors. He's one of the most visible players in the Division, has already made the best throw of 2015, and is a truly game-changing player.
Nethercutt's throwing prowess is unmatched right now in the College Division — his second half performance against UNC-Wilmington in last year's National semifinal is a testament to just how good he can be.
He's also the through-and-through leader of one of the best college teams in the country.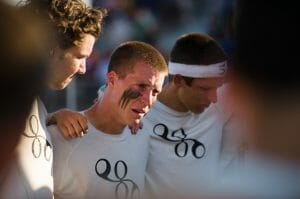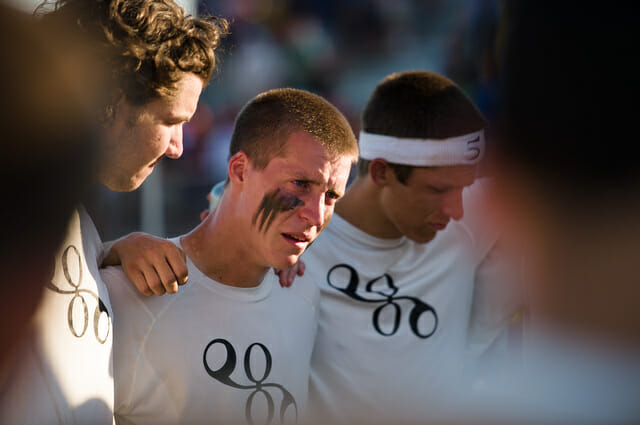 Dylan Freechild (Oregon)
Freechild was already named a Callahan award winner in 2013. There's good reason to believe he will be even better this season.
With another two years of elite experience and a successful campaign leading the Portland Rhino offense during this past club season, Freechild is poised for a brilliant year in the College Division. With Oregon missing out on Simon Higgins and not returning Aaron Honn after all, it will put even more weight on Spikezilla's shoulders. But he shouldn't be worried.
Probably the slipperiest handler in the college game, Freechild is a nightmare for defenders. He will continue to find new ways to beat his defender up the line and has the maturity to make the best decision with the disc in his hands.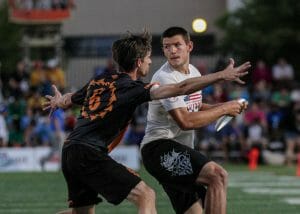 Jeff Babbitt (UMass)
Jeff Babbitt ended up missing the spotlight during last college season because UMass didn't end up at many top tournaments. That's going to change this year.
The strongest pure cutter in this year's POTY field, Babbitt was an instant defensive presence for Boston Ironside this past club season in his first year with the team. Imagine that athleticism at the college level. Scary.
He's going to be this year's most dominant deep, and teams are going to have to game plan specifically around him. He has great natural field sense and uses his big frame to full effect. Good luck getting a suitable matchup for him.
In a year dominated by top handlers, Babbitt will be the highlight reel monster as the country's top cutter.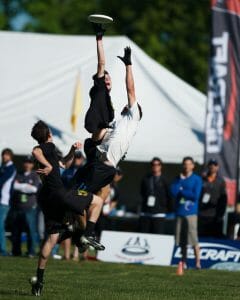 Stanley Peterson (Colorado)
Last year's Defensive Player of the Year, Stanley Peterson is back for Mamabird and will be asked to step into a more central role on the team. Expect to see him on offense more often, showcasing his throwing ability (which is better than you might think).
One of the best young athletes in all of ultimate right now, Peterson has made a name for himself simply with spectacular defensive efforts. If he can translate that into offense and is comfortable playing with a much increased usage rate, he's going to become an even bigger star.
He may end up playing both ways quite a bit, as it's hard to imagine leaving such a great defensive talent just to play on offense. His specific role could be what propels him towards a strong POTY candidacy — or not.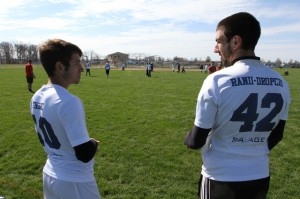 Max Thorne/Trent Dillon/Pat Earles/Marcus Ranii-Dropcho (Pittsburgh)
Trying to figure out who from Pittsburgh will shine as their most dominant player is pretty tough to handicap. From what we saw in the fall, Max Thorne was the best on the field, with Trent Dillon a close second. But you can't overlook Earles (2014 Breakout POTY) or Ranii-Dropcho (2014 POTY runner-up), obviously.
They all do different things. Thorne has blossomed as a handler and all-around beast, able to score just as easily as assist for the offense. Dillon is the best defensive player on the team, and perhaps in the Division. Earles is a lefty sniper with huge throwing ability. And Ranii-Dropcho has great size, athleticism, and field sense — he was their takeover player last season.
If he can stay healthy, we expect Thorne to be the leading POTY candidate for Pittsburgh. He was sensational playing for Pittsburgh Temper this club season. His downfield skill has improved immensely and he remains an excellent thrower.
But don't count out his teammates — the depth of top-end talent may make any one player's case for POTY a challenge.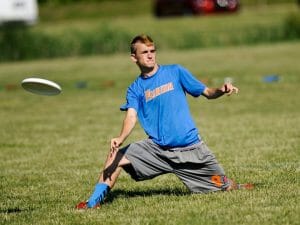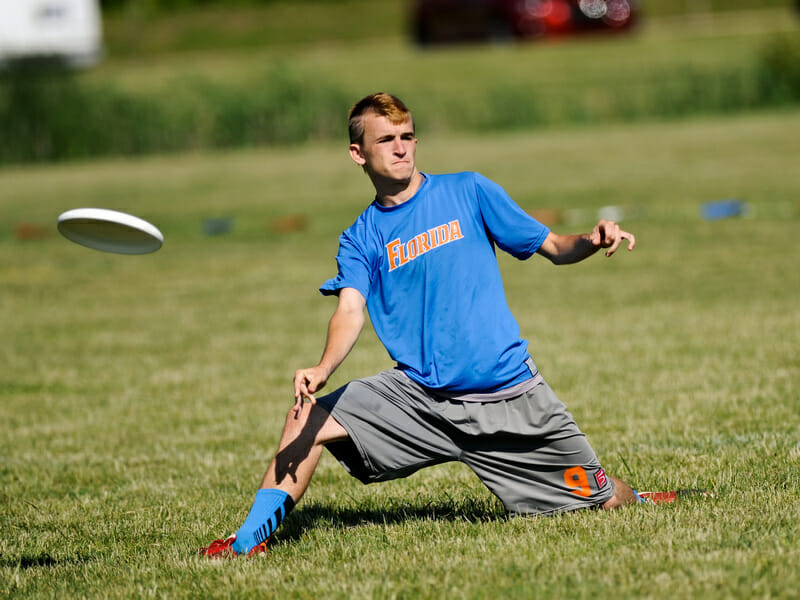 Bobby Ley (Florida)
He's been hurt to start the year, but if Bobby Ley gets back to playing by Warm Up in mid-February, he will be able to build quite a campaign for himself. He is both the most talented player and the biggest workhorse for the Florida offense. He earned a spot on the U23 team just from a video submission (as he was hurt for tryouts).
He has superior power on both the backhand and forehand sides and consistently finds room to get open and deliver his big throws. Few players in college play as many points as he does (that's a reflection of the Florida system), yet he still manages to stay extremely effective even deep into games.
Ley can flat out ball, and if he can carry Florida to a deep Nationals run, he'll be on the POTY shortlist.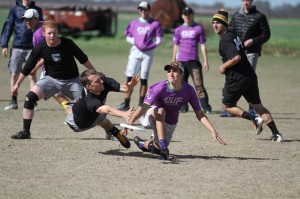 Chris LaRocque (Florida State)
It's hard to believe Chris LaRocque is still at Florida State. He was playing like a grizzled veteran two years ago for the team and had a real breakout campaign last year (but then missed Nationals!). We should expect to see him playing at a very high level again in 2015.
LaRocque is one of the most well-rounded players in the Division: great hucks, breaks, general handling, hops, and defense. He can hurt you from a center handler role just as easily as he can down in the endzone as a cutter.
He's a big part of the reason FSU has gone from little discussed Regionals competitor to now a perennial Nationals contender.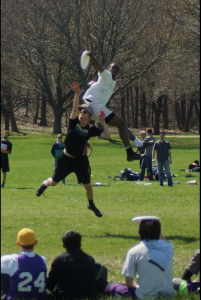 Jesse Bolton (Carleton)
Jesse Bolton has had buzz for years, but this seems like the year he's really going to blow up as a takeover player for CUT.
He missed time as a freshman due to academic eligibility issues. Last season was overshadowed by tragedy. 2015 is his season.
One of the best athletes in the game, he can make game-changing plays at any time, on offense or defense. He has plus speed and plus-plus hops.
He'll be a leader for CUT this season. A stumbling block for his candidacy could be Carleton's general lack of interest in winning games early in the season, but if he is getting lots of field time, he'll be making plays.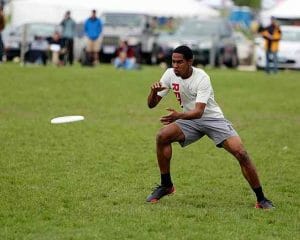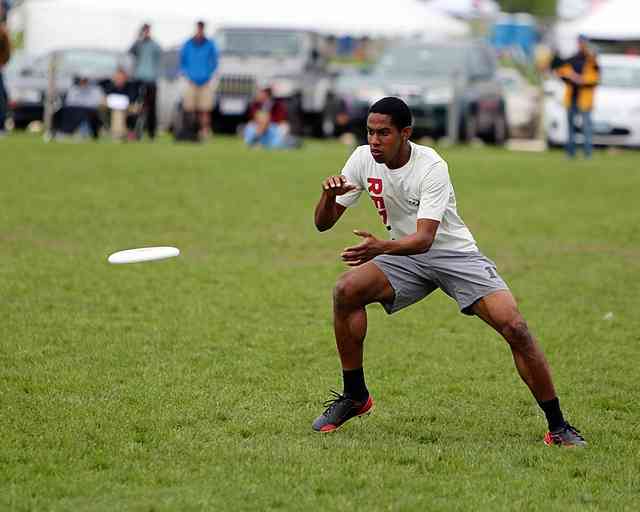 Jeremy Nixon (Harvard)
There are reasonable questions about Jeremy Nixon's health (he's had persistent wrist injuries), but the New England POTY last season is back for his senior season with Harvard. The rangy cutter has been working to get healthy for this college season since the summer, when he decided against playing with Ironside despite having a spot on the team.
Nixon is the offensive jumpstart for the Harvard offense — he's got great quickness and often initiates with the first cut. Like every POTY candidate, he's got skills in all facets of the game.
If he can consistently take over games this year, he can improve his POTY outlook.
On The Radar
– Hunter Corbett (UC Santa Barbara)
– Elliott Erickson (Georgia)
– Ben Snell (UNC)
– Danny Bellissimo (Arizona State)
– Jeremy Langdon (Central Florida)
– Xavier Maxstadt (UNC Wilmington)
– Khalif El-Salaam (Washington)
– Ryan Landry (Auburn)
– Travis Carpenter (Indiana Wesleyan)
Women's Division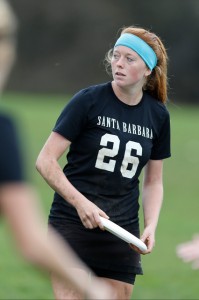 Lisa Pitcaithley (UCSB)
Pitcaithley is the only finalist – or even top 10 votegetter – returning to the college women's game this year, having finished 5th in the voting last year, a good reason to make her one of the names to watch this coming season. But Lisa P is pretty noticeable on the field, making crazy plays and being very very involved for the Burning Skirts, helping her earn Ultiworld's 2014 Offensive Player of the Year honors. Her game seemed noticeably more mature with Fury this club season, a positive omen for her productivity this coming spring. Her 41 combined goals and assists last year in Ohio set a high bar, but she's capable of using her explosive playmaking and varying angles of attack to clear it.
But the package isn't perfect, in the voters eyes. While Pitcaithley's talents have answered most of the questions about ability, last year's Callahan process showed some members of the community had doubts about her ability to be the representative of Ultimate the Callahan seeks to highlight. It's wild that Pitcaithley can completely dominate one point and literally walk for the majority of the next. She shows her emotions, is plenty happy to spike in celebration, and her team's central focus on her and a few teammates gives the impression that their team lacks leadership. These criticisms may seem harsh, but voter perception is everything, and even Pitcaithley's impressive highlight reel did not overcome how voters saw her.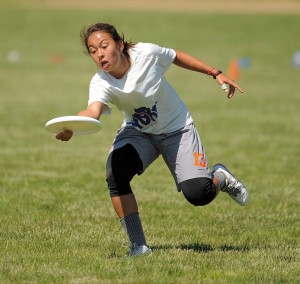 Alika Johnston (Virginia)
Johnston's career has been spent coming from outside the spotlight to steal the show. It began with being selected as an alternate to the 2010 WJUC team. Then she joined a Virginia squad that was coming off a return to Nationals after a six year hiatus, but went winless at the tournament. Johnston helped them get back the next year and score a trio of  Ws. As she grew, so did Virginia's influence over the college game's elite tier; Johnston finished 8th in assists at Nationals while getting Hydra to the quarterfinals in 2013, 2nd in assists in 2014 with the same finish.
But it wasn't just Johnston's distribution and defense that pushed Hydra forward. She brought her teammates with her. And it wasn't just in college.
Scandal wasn't expected to be the big winner, let alone twice in a row. Johnston quickly became an asset who could make plays against the top tier club threats. Devastatingly quick, intelligent, and efficient, the bite-size wrecking ball is going to leave some serious holes in opponents all year long, whether they see her coming or not.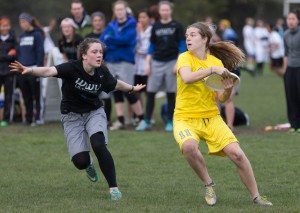 Bethany Kaylor/Jesse Shofner (Oregon)
Two of the division's most talented seniors both will be taking the field flying the Fugue banner again this season. Whichever one is given the greenlight as the team's Callahan candidate is likely to factor into the award's results.
Shofner really broke through this past season. Not only did the Nashville product chop her turns by almost 60% at Natties from 2013 to 2014, but she had significantly more goals, assists, and Ds; in '13, she posted a 5-12-6-19 line versus 14-23-9-8 in'14 (G-A-D-T). She's more than a volume scorer, but has honed herself into player that can stuff both statsheets and highlight reels. Plus, she's a passionate, tough player, evidenced by her efforts during the semis and final in Ohio last year, where she took the field despite pretty severe pain and contributed when her team needed her.
Unfortunately, Kaylor was not able to play through her pain last year, after being sidelined during the Series with a broken foot. But prior to her injury, Kaylor was perhaps the best player on Fugue. She's a true five-tool player, the type of unique talent that, because she can impact the game is so many ways, is a factor whenever she steps on the field. Kaylor's a fierce defender and a natural instinctive player with and without the disc. Expect her to focal point of Oregon's attack this season.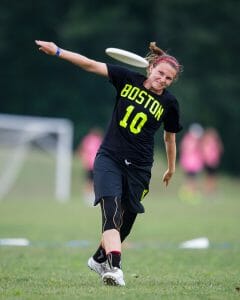 Qxhna Titcomb (Tufts)
The final child of the Titcomb royal family is ready to show everyone what she can do. The Tufts handler brings a lot to the table with her powerful throws, good size, and impressive field vision. She shares a lot of similarities with former Callahan finalist and teammate Claudia Tajima and is likely to be in the conversation in the same way.
A big factor in such high expectations for Titcomb is her growth this club season with Brute Squad. She never looked out of sorts or out of her depth, and performed better against elite club competition than she did during her last college season. That's saying a lot: Titcomb lead Tufts in assists at Nationals and was tied for second in goals, despite a deep class above her. Another key factor is that class's departure. Emily Shields, Michaela Fallon, Mia Greenwald, and Alex Earle are all gone, and Titcomb's touches and already expansive role both are likely to grow.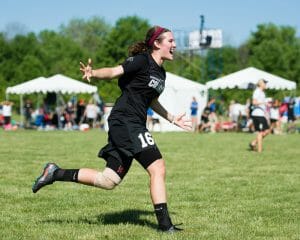 Megan Cousins (Colorado)
Cousins doesn't appear to the most vocal player, but her game is quite loud. Through her time with Kali, Molly Brown, and the U-23 Women's team, Cousins has developed into a bombastic playmaker. She'll rejoin the U-23 Women's team in London this year. She's likely to slide into a leadership position, much as she will be doing with Kali as they try to make a deep push.
The 5th year Colorado star's specialty is on the defensive end, an unusual calling card for a premier player. Cousin's was awarded a Runner-Up spot as Ultiworld's 2014 Defense Player of the Year for her ability to change games with impactful defensive positioning, aggression, and instinct. She's distinctly athletic with size and quickness to match up with nearly any offensive role, but "Cuz" plays D with a natural hunter's eye.
That's not to discount her offensive capabilities. Her athleticism makes her a dangerous cutter and her developed thrower's touch has made Cousins a threat underneath. She'll initiate many Colorado scoring possessions this season, potentially in Milwaukee.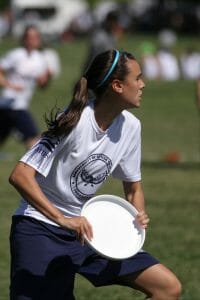 Mira Donaldson (British Columbia)
Push may come to shove to Donaldson this year, who wears her talent and confidence on her sleeve every time she takes the field. When you watch Donaldson, her ability to manipulate the defense and the game is evident right away. Few players in the women's division can reliably get open for downfield gainers and then use their downfield targeting to launch a perfectly spaced continue huck. The Ultiworld All-American remains as dangerous as ever.
But for all of her considerable talent, her team's have not quite delivered on that promise yet. She's been thrust into the spotlight from a young age and that's created a lot of pressure. She's grown into a seasoned vet and is surrounded by players not unlike her – young stars who have been playing the game at a high level for some time – who would benefit greatly from her guidance.
Donaldson's ability to perform as a leader will mean a lot. Player of the Year, Callahan, all the accolades are within her reach. If she rises to the occasion – and brings her team with her – she might land the real trophy: a national title.
Other Key Players to Watch
Steph Lim/Michela Meister (Stanford)
Eva Petzinger (Dartmouth)
Ari Lozano (Whitman)
Cami Nelson (Iowa State)
Hannah Leathers (Georgia)
Erynn Schroeder (St. Benedict)
Sarah Edwards (Washington)
Clare Frantz (Kansas)
Kirstie Barton (Carleton)