Oregon took home the Pres Day title on Monday without Dylan Freechild in the biggest games of the weekend.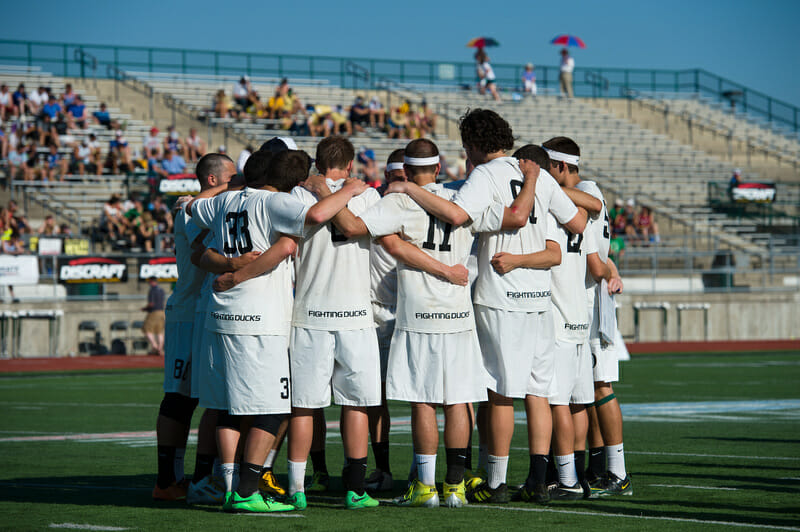 SAN DIEGO — It's the last game of a three-day tournament in February, the score is knotted at 10-10, and both teams are beginning to show some real signs of fatigue. In what's become the longest point of the second half, Oregon and Washington each struggle to score, knowing how crucial any late-game momentum would be.
Oregon opt to rip a floaty huck upwind. The defender's there to knock the disc away, but the Oregon receiver's body language indicates there's going to be a call.
The certainty of an impending heated discussion temporarily serves as a distraction before Eric Normen streaks out of nowhere and lays out to make the saving grab off the tipped pass in the endzone. All potential debate becomes null and void, as Ego notches the critical late upwind break to go up 11-10.
Oregon would break again on the following point with a layout D and bookends score by Connor Matthews and ride that momentum to a 15-12 victory over the Washington Sundodgers in the Presidents' Day Invite final on Monday.
What's most impressive is that they would do it all without star centerpiece Dylan Freechild, who injured his heel the day before and played only a few points in Ego's semis match before de-cleating and rallying his team from the sidelines for the final two rounds of bracket play.
Watching Oregon's excellent play in both games, one would hardly notice anything missing.
With his lethal speed and leaping ability, Matthews demonstrated all weekend why, despite being only a sophomore, he's already one of the most dangerous deep threats in the nation, racking up five goals and two assists in the final.
Handlers Trevor Smith and Chris Strub distributed and repeatedly broke the mark against even the most suffocating of defenses.
Cutters Adam Rees and Mario Bundy consistently found space underneath, while also routinely sacrificing their bodies on the other end for huge layout Ds.
Despite the big losses from 2014 — like Gabe Fruchter, Ian Campbell, and Brian Penner — this year's Oregon squad reaffirmed the fact that one of the defining elements of the Ego identity is the ability make big plays when it matters most.
Freechild cited this as one of the chief reasons why Oregon came out on top in the final, saying "we just made more plays than them."
For most of the game, however, Washington seemed to be making just as many highlight reel moves as Oregon.
Recent Seattle Cascades signee Jonny Stacey, in particular, seemed to be all over the field, notching all of his three goals in the first half. Steven Benaloh, who had two goals and two assists of his own, could also be seen coming down with huge skies.
Kyle Steen, who was a force deep all weekend, and U-23 baller Khalif El-Salaam also turned in strong contributions.
Thanks in large part to the exceptional play from these key pieces, the Sundodgers managed to impose their will offensively for much of the contest. As a result, the match remained tight for most of its duration, with no team amassing a lead of more than a single break until the closing points.
With the exception of a grueling point at 3-2 and the sloppy final point before the half, both teams laregely succeeded in executing their attack, with many points coming as clean, no-turnover offensive holds.
Smith attributed this to both squads' defenses trying to get a feel for what the other team wanted to do. Though they originate from the same region and play each other often, Smith said that both Ego and the Sundodgers have much different teams this year, and thus needed to get an initial read on their new iterations in order to figure out how to best strategize, mostly on a matchup level.
"Our adjustments were more on an individual basis," Smith said. "We eventually got more comfortable instead of biting on everything."
These adjustments would take time, however, and Washington would be the ones to open up the game first.
The Sundodgers earned the first break when a floaty Ego huck got batted away, and Washington displayed strong patience to work it upwind for the 6-4 lead.
Oregon would break back only two points later though, and trade scores into halftime.
The start of the second half would signal a shift, with a number of multiple-turnover points and each squad struggling to maintain focus amidst growing winds and tired legs.
Though Washington seemed to hold a slight advantage in energy for most of the game — perhaps due to their larger roster of 23, compared to that of Oregon's 18 — it would be Normen's break-saving layout snag that would shift the momentum in Ego's favor.
Oregon would not turn it over again for the remainder of the game, even securing an additional break to go up 14-11 en route to their tournament victory.
Part of the Ego's success derived from their stifling pressure on the Sundodgers' resets, resulting in a number of turns on the dump.
Washington coach Alex Wells said that his team has been working on honing in their reset system since Santa Barbara Invite. Although they made great strides since then, including in earlier rounds of this weekend, he said that the imprint has yet to solidify.
Wells remained positive though, remarking on how Washington came into the weekend seeking something of a litmus test against some of the nation's elite squads for a confirmation of how the Sundodgers stack up.
"The biggest theme for us was that we thought we might be good, but we didn't know," Wells said. "The belief in how good we are was evident in our disappointment at not winning the whole thing."
Indeed, the Sundodgers' impressive win over defending champions Colorado Mamabird in semis, along with their strong performance against Ego in the final, helped ratify their status as one of the nation's best teams.
Both Washington and Oregon will receive their next chance to climb even higher at Stanford Invite on March 7-8, where they'll face off against other top contenders like #1 Pittsburgh, #4 Florida State, and #9 Carleton.