The DIII Midwestern Invite is the first major DIII tournament of the year.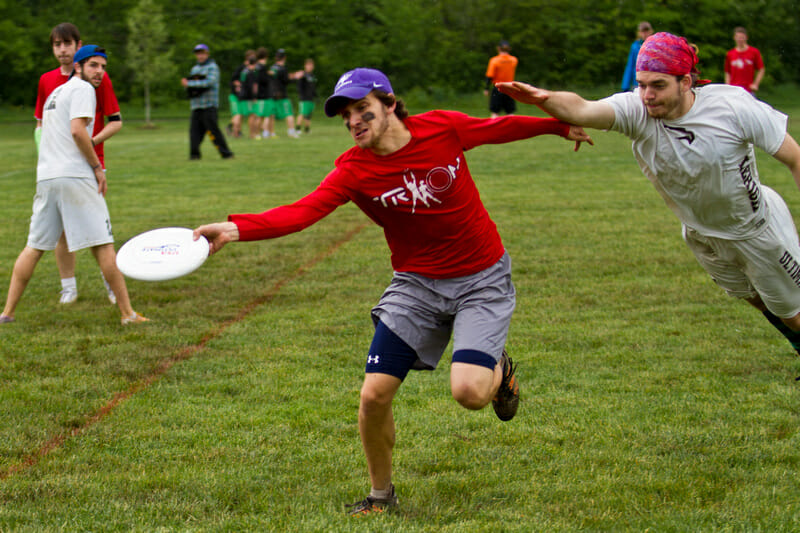 This weekend, 18 Division III teams will arrive in Marion, Indiana, looking to showcase their skills at the DIII Midwestern Invite. For many teams, this tournament will be the first time they have played outside in the spring. Nevertheless, each team will undoubtedly put their best effort forward as they try to make their presence felt on the national DIII ultimate scene. With eight of Ultiworld's top 25 DIII teams set to take the field, this tournament has the potential to be one of the most competitive DIII tournaments yet.
Ultiworld takes a look at the field.
Pool A
Teams (overall seeds): Brandeis (1), Indiana Wesleyan (8), Oberlin (9), Johnson (16)
Brandeis, ranked number 10 overall in Ultiworld's top 25, will look to prove they deserve to be seeded first overall in the tournament. TRON returns a large core from last year's squad that finished fifth at nationals, including senior captains Noah Newberger and Clarence Lee, as well as seniors Sam Zuckernik, Rohan Narayanan, and Daniel Moskowitz. Brandeis' strengths lie in their depth, especially at the cutter position, and their willingness to follow their offensive and defensive systems. One question mark will be how TRON matches up against taller players as they give up some height to most teams.
Indiana Wesleyan, the host team of the tournament, will probably give Brandeis the best game in this pool. IWU returns 2014 Ultiworld DIII Defensive POTY & Overall DIII POTY runner-up Travis Carpenter; he combines with D-line handler Clint Carson to form a formidable one-two punch. IWU is in their third year as a program, and the team has grown to 25 A-team players. Perhaps the biggest addition to this year's team though is a coach in Joey Cari, a teammate of Carpenter's from the AUDL's Indianapolis Alley Cats. Having Cari as a coach will especially benefit Carpenter as he can focus more on his individual play and less on strategy and substitutions.
"The way [Cari] analyzes the game is extremely intelligent and can break concepts down into a way that is easily drawn up and explained," Carpenter said. "Joey gives our team the organization that we have been looking for in the past two years.  This takes a lot of pressure off me as a captain and allows me to play harder and focus more on the game and my matchup."
Though Oberlin comes in as the ninth overall seed, they are feeling confident that they can place higher. Captain Evan Holliday is proud of the team's depth, and hopes they can stay healthy, an issue that plagued them at the end of last season. "Right now, we have every single missing piece back in place," Holliday said. "Ben Garbus and Robby Lewis-Nash, two powerhouse second-year handlers, are both back after missing the majority of the fall season. After losing a bit of our deep game at the end of last year, we picked up junior Henry Rice, an ex-baseball turned frisbee player who has literally jumped over my head in the past."
The fourth seed in this pool, Johnson, should be a fun, spirited game for any team. As a first-year ultimate program, Johnson will just be looking to make an impression on DIII ultimate. Though the team's core is young and comprised of mostly sophomores, graduate student Erik Hayes will serve as a player-coach and provide some guidance for this Tennessee-based squad.
Prediction: Before the crossover matchup with Pool B, this pool goes to seed: 1) Brandeis 2) Indiana Wesleyan 3) Oberlin 4) Johnson
Pool B
St. John's (2), Franciscan (7), Olivet Nazerene (10), Drake (15)
It will be interesting to see how this pool shakes out. While St. John's is seeded first in the pool and number two overall for the tournament, they will be missing nine players due to the tournament falling on the first weekend of their spring break. Despite losing a fairly large senior class from last year, including North Central player of the year Nihal Bhakta, St. John's should still have enough skill to make an impact this weekend. Senior handler Matt Berthiaume leads BAM*'s offense along with freshman Colton Motschenbacher, and the athletic Jeffrey McGurran will make his presence known on defense.
Franciscan is a team that could make some noise this weekend too. They return 2014 Ultiworld DIII second runner-up rookie of the year John Paul Bort and second team all-region player Tom Koch. Though Franciscan did not qualify for Nationals this year, they will look to move up from 13 in Ultiworld's DIII top 25 rankings this weekend.
Olivet Nazerene has the potential to steal one of the top two seeds in this pool. They are a spirited team (received a perfect 5 at DIII nationals last year for spirit), though their key players will look different this season compared to last season. They lost six of their top players from last year's squad, but seniors Zac Carlton and John Gargiulo should provide enough speed for their quick, fast-paced offense to lead to a few victories this weekend. Carlton is making the transition from handler to cutter this season and will most likely be the primary player both days as the team will be missing five starters on Saturday and four on Sunday.
"Our goal for this tournament is to figure out what we need to work on for the future tournaments," Carlton said. "There is going to be very tough competition all day, so holding our own and winning a few games would be a huge plus."
A new team to the DIII national ultimate scene is Drake. DUC reached regionals for the first time last year and only graduated three seniors from that team. They have a solid handler core that includes seniors Dan Hansen and Neal Patel and junior Eric Olson. Hansen will miss the tournament due to a wedding, so Patel and Olson will look to step up their games in his place.
Prediction: Before the crossover matchup with Pool A, Franciscan comes out on top: 1) Franciscan 2) St. John's 3) Olivet Nazerene 4) Drake
Pool C
John Brown (3), Cedarville (6), North Park (11), Grinnell (14), Cornell College (17)
This is perhaps the toughest pool of the tournament. John Brown comes in ready to prove they are a program. Last year JBU relied on their top eight or so players to win them games. This year, as team President Matt Hardwick said, the team is focusing on depth.
"This year we had the numbers to prepare O and D lines, but what we did differently was focus on specialization. Instead of trying to train every player to play both ways with whatever personnel they're on with, we really tried to create and maintain consistent lines in order to build chemistry and understanding of position." Hardwick said.
This weekend that depth will be tested more than ever as John Brown will be bringing a more depleted roster due to player conflicts with the date of the tournament and distance from school.
Cedarville finished ninth last year at DIII nationals, but lost nine players from that team. This year the team is sporting a younger look, with 11 rookies on the team. While last year Cedarville relied on its athleticism to win games, this year they are focused on implementing more strategy to come away with victories. They are led by handlers Tony Donato, Trevor Marshall and Zach Hixon as well as captains and cutters Kyle Bradley and Andrew Wiebe.
A team that will most likely break seed is North Park. The Lost Boys enter 2015 primed to prove themselves after a disappointing 2014 campaign that left them short of DIII nationals. North Park has eight seniors that carry the load for the team, including cutter Timmy Krumland and handler Tom Williams. With a number of Great Lakes teams in attendance this weekend, North Park is looking to use this tournament to measure where they stand in the region.
Grinnell could also turn some heads this weekend. UCF transfer student and captain Caleb Leedy and captain Jacob Salzman lead the team. This year, as opposed to years past, Grinnell will be focusing on simply having fun, instead of the results. "We aren't overly focusing on results this year because we believe that with fun and hard work the results will come on their own," captain Benyamin Elias said. If Grinnell's players can demonstrate their chemistry early on, they might be able to sneak into the championship bracket on Sunday.
Cornell College's C-team is comprised of 16 players, 13 of which are freshmen. This is their first ever sanctioned tournament and they will simply be looking to gain some experience playing.
Prediction: North Park steals the second spot in this pool: 1) John Brown 2) North Park 3) Cedarville 4) Grinnell 5) Cornell College
Pool D
Amherst (4), St. Olaf (5), Missouri S&T (12), Kalamazoo (13), Trine (18)
Like North Park, Amherst comes into 2015 with a chip on their shoulder. After reaching the semifinals at DIII nationals in 2013, Army of Darkness failed to qualify for nationals in 2014. They return a strong core of players in 2014 in second-team all-region Andrew Edelman, Juleon Robinson and Giaco Corsiglia. Amherst will most likely come out with fire on Saturday and are a real threat to win the tournament.
St. Olaf will look to take the top seed in the pool away from Amherst. To do so, they will have to prove they can overcome the loss of 12 seniors from last year's team. Senior captains Ben Liska and Andrew Hoisington lead the team that is young and, as Liska put it, "untested." They will need their young players to step up their games to fill the shoes that the graduating seniors left.
Missouri S&T is fairly unknown on the national level. They graduated second-team all-region player Jeremy Covey from last year's team and might steal St. Olaf's spot should St. Olaf take them lightly.
Kalamazoo has the best name in the tournament. If that is not enough for them to break seed then they will look to junior Drew Harper who has returned from his study abroad last year, as well as various sophomore products of their B-team to provide a core. Captain Theodore Cambert said the team is eager to prove itself against some top DIII teams. "We have a short team but a smart team and hope to come out with a win or two this weekend to prove our worth to the DIII community," Cambert said. "We have some surprise zones that hopefully will cause some turns and keep us competing throughout this cold weekend."
Another young team in its second year is Trine. They are fairly inexperienced but "are ready to prove [they] can be competitive," said captain Chase Hardebeck.
Prediction: Amherst takes the top spot as this pool holds seed. 1) Amherst 2) St. Olaf 3) Missouri S&T 4) Kalamazoo 5) Trine
***
Overall this tournament should provide an early glimpse into the DIII ultimate season. Ultiworld will have coverage throughout the weekend on Twitter along a post-tournament recap. With the tournament ranging from teams without experience playing at all to teams playing at the top level of DIII, this weekend is sure to be fun.