The Stanford Invite opened up some thrilling new storylines headed into the later part of the regular season.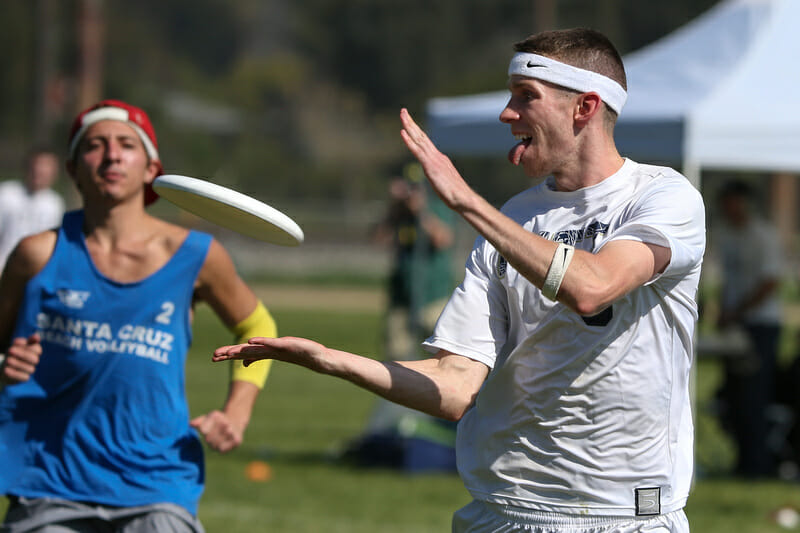 FREMONT — Unlike last year's extremely windy and embarrassing-for-everyone snoozefest in Stevinson, CA, this year's iteration of Stanford Invite in Fremont, CA, provided sunny skies and no more than mild wind, ensuring exciting action all weekend.
Pittsburgh may have walked away with a clean title, only really being challenged in the final against Oregon, but there were plenty of other great stories to follow throughout the tournament.
Pitt Dominates On Every Level
It's hard to say what was the most impressive thing about Pitt's performance in Fremont this weekend: the resolve they showed to not ease up in games with low stakes; their tireless, smothering defense (especially on the resets); their ability to close out a tight game against their toughest opponent when the stakes mattered the most; or their equanimous focus no matter the momentum of the game.
One thing is for certain: watch out.
While it's tempting to say Pitt rode their stars on their way to winning Stanford Invite, such a statement would be false. True, Max Thorne is one of the most difficult players in the college game to guard in space, and other top players like Trent Dillon and Pat Earles made huge plays in critical situations, but Pitt's success is just as much in debt to the next man up as it is to having 'The Man' (or several, in their case).
Even Pitt's bottom roster players plays good fundamental defense. Although, like any team, Pitt loads occasional defensive kill lines, they do so less often than most others. They don't seem to need to. Their team defense was the biggest difference in the Washington game, with Washington having to work very hard for normally easy unders and resets.
Pitt's O line, meanwhile, is beyond lethal. Thorne truly is one of the most dangerous players in isolation, his quickness and ultimate IQ are at this point instinctual. Thorne was the epicenter of their pull plays in the final against Oregon, as Pitt often ate up two-thirds of the field before Ego really even dug in their feet.
The O line was only broken once each in the Washington and Oregon game. Even Oregon's coach Jay Janin admitted after the game, "If they can play at that level consistently, they will be tough to beat." Indeed.
Oregon's Small Roster Still Improving
The theme with Oregon's offense this year seems to be that when Ego decides they're the best team on the field, they can't be stopped. Ego worked hard for big unders, drawing poaches on their deep cuts, and Dylan Freechild and Connor Matthews gutted Colorado's many attempts to switch and stick with them on their endzone handler sets in semis.
Oregon gets a lot of flak for not "turning it on" until the end of games, but also, isn't that when it matters? That said, their games against Texas, Arizona State, and Auburn were all much closer than they should have been. Even though their confidence and chemistry propelled them through those games, Ego's going to need to find a way to ramp up their defensive pressure and consistency.
The fire that lights up their offense was missing when matching up on Pitt's offense during the finals. But it is understandable at this point in the season, as Freechild admitted, "We were punished in the finals when we were feeling those extra Saturday points."
Although the bottom of the Ego roster might not have the experience the top does, the one break they did get against Pitt was scored by a hungry young line with no Freechild, Matthews, Trevor Smith, Chris Strub, Adam Rees, or Mario Bundy. As Freechild put it, "It's exciting because it's a giant learning curve that Oregon teams in the past haven't had. It's fun to think about where this team can go."
For better or for worse, the thing that is going to define Oregon's season is how they learn to play with their small roster. This year more than ever Ego is the embodiment of the "players, not plays" philosophy. Not that Oregon can't throw a set defense or run pull plays (things coach Jay Janin emphasized they need to work on moving forward), but what it comes down to is they force teams to beat them through winning matchups one-on-one, player v. player. When a contested disc is in the air and, for the moment, doesn't belong to anybody, don't be surprised if Ego is the team you see coming down with it.
If they figure out an effective way to cycle their roster while maintaining leads, there won't be a lot of teams who can keep up with them.
Mamabird Clawing Their Way Back
The defending champs are back. Bouncing back from their uninspiring Pres Day performance, Colorado made a statement this weekend by finishing third and doing so in strong fashion.
Though they began the weekend with a curious 11-13 scare by Western Washington, Colorado would steadily rise and finish Saturday with a convincing 13-10 victory over Florida State that looked over shortly after halftime. They followed it up Sunday with a clean 15-11 win over UC Santa Barbara before falling to Oregon 10-15 in semis.
"They played a fantastic game and we played one of our worst of the tournament," coach Brent Zionic said after the loss.
Indeed, Ego nabbed two early breaks in the first four points and would tally another two in the second half, leaving little room for a Mamabird comeback. But even in that contest, Colorado looked to be closer to their 2014 form than the mere quarterfinals hopeful status one might have pegged them for after Pres Day.
Like in their win over Florida State, Mamabird repeatedly broke the mark both around and inside, successfully executed numerous pull plays, and found ways to score some easy goals to inspire confidence and keep their legs fresh.
When those pull plays didn't work, however, Colorado ran into some roadblocks. Trying to find flow out of a stopped disc proved to be much more challenging for Mamabird and resulted in the majority of their turnovers. They'll need to work on generating flow from nothing for the rest of the season if they want to continue growing back toward championship form.
Similarly, on defense, though Colorado would apply good pressure on Oregon's cutters and came close on a number of layout bids, they fell short on most and would proceed to get burned by those cutters while the defenders got back onto their feet. Ego's wily handlers also shredded Mamabird on the goal line with quick give-gos, despite Colorado's attempts to utilize switches (which somehow only made things worse).
Though considering the strides Colorado has made since February, there's good reason to believe they'll be right back in the thick of it in May — especially if they walk away with another Centex title this weekend.
Washington Nearing Upper Echelon
While taking fourth at one of the biggest tournaments of the season is a significant achievement, Washington's deserved 10-15 loss to Pitt in the semis highlighted how far the Sundodgers still have to go if they want to be title contenders. Strong wins over Carleton, UC Santa Barbara, and Wisconsin do well to ratify their status as a team likely to make quarters and have a shot at semis at Nationals. The particular way Washington lost to Pitt, however, indicates their crucial weaknesses that will require ironing out by May.
As noted in the write-ups for Santa Barbara Invite and Presidents' Day Invite, one of the Sundodgers' weaker points is their resets. When their first or second options are shut down — which happened a troubling amount of times against the tenacious Pitt defense — Washington is too frequently left with trying to hit a bailout to the break side, punting it, or simply getting stalled.
Too often the Sundodgers got stuck in high-stall situations with not much open downfield. If they didn't manage to connect on some of the high-stall bailouts, the margin could've been much wider, particularly since Washington struggled to find defensive looks that effectively slowed down Pitt's chugging offense.
To be fair, though, these problems have been mostly minor when Washington has played anyone not named Pitt or Oregon. Even their 14-16 loss to Colorado in the third place game seems like something not worth reading too much into, as it offered little incentive to either party.
Nevertheless, the Sundodgers will still have to figure out ways to get open more easily and quicker on their resets in order to break through into the upper echelon of the top five or so teams. With the added benefit of a healthy Zane Rankin now cleating up for them, and an ever-growing chemistry between their other athletic cutters, such an occurrence seems like a legitimate possibility.
Florida State Falls Hard
If Florida State's results this weekend don't exactly prove that their spectacular Warm Up performance was a fluke, then their ninth place finish at least indicates that DUF is one of the streakiest teams in the nation. The range between their best game and their lowest game is cause for some trouble, especially since it's tough to know with much certainty which team is going to show up.
Suspiciously tight games with British Columbia, Western Washington, and Stanford don't inspire much confidence. Neither does a 10-15 loss to a Wisconsin team that FSU clobbered 13-8 only a month earlier.
Perhaps the main question mark about DUF is their mental game. Maybe it was easier for them in Tampa, when everything seemed to be going their way up until finals.
But in their games against Colorado and Wisconsin, when their opponents stayed hungry and focused, FSU couldn't muster enough poise. They took numerous bad looks into tight spaces, difficult angles, or double coverage and racked up a number of odd execution errors like drops or throwaways on simple unders or swings.
Moreover, DUF would often play into their negativity by staring at the ground after getting broken or remaining quiet on the sidelines. Coach Peter Van De Burgt could be heard yelling at his squad in huddles, trying to pump them up and get them back into an aggressive mentality.
Considering they still have all the athletic weapons on both offense and defense, if FSU can take this poor showing and use it as fuel to explode again this weekend at the Tally Classic, they just might be able to ride that momentum into the postseason and return to their early season glory.
Auburn Steps Onto The National Stage
For a few points it looked like it might be possible. Auburn, the darling of this year's Stanford Invite, was up a break on Pitt. Their hard D forced a few Pitt errors and they were taking what Pitt was giving them, working up their unders through the fog of Sunday morning.
One is tempted to say that Pitt's Callahan to put them up 4-3 was one of those lightning strike plays; the turning point that made them finally wake up and flip the switch. The reality is Pitt simply and relentlessly played better every point than the one before. Auburn couldn't keep up with Pitt's set plays or their stacked deck of players, the Tigers' scrappiness no match for the poise and 'Not Enough' mentality of Pitt.
Going on to lose to a vengeance-fueled Wisconsin, Auburn ended the weekend with a win over a streaky but talented Texas team to finish seventh, quite an achievement for the 15th-seeded Tigers. They showed a confidence rare in a team with so little top level experience. Auburn never seemed to get down on themselves and valued the disc near the endzone, scoring frequently via swings and the occasional cheeky hammer. If Auburn can play at Easterns with the same tenacity they did this weekend they most assuredly will lock up a staggering fifth bid for the Southeast.
Hodags Offense Dialing It In
There was a moment against Auburn where a Wisconsin player, after his team had just given up another break close to hard cap to make the game unreachable, yelled out, more to himself than anybody else, "We gotta start having fun!"
From there Wisconsin burst to life, as they launched an all-out aerial assault on FSU, drowning them in a storm cloud of deep hucks. Although they would lose their quarters matchup to a more polished Washington team, the Hodags were pointing up as the weekend progressed. Their offense looked much better than it did at Warm Up, their deep ho stack fueled by their handlers' frequent swings.
Craig Cox was a workhorse for the Hodags all weekend, at varying times being their go-to deep threat or a reliable handler as necessary. In fact, one of the most tantalizing plays of the weekend came on a floaty huck to Cox as he was being guarded by Washington's Zane Rankin. Rankin tried to box out Cox, but the tall (6'6") and wide Cox didn't so much as flinch as Rankin lost his balance and Cox cleaned up the garbage. One hopes that these two get to go at it again come Nationals (and that Rankin gets a clean jump next time).
As suffocating as the Hodags' man-defense was all weekend, their defensive O consistently sputtered, often coughing up the disc on the first throw. Even though they defeated FSU handily, that win was more about grit and perseverance than it was about the Hodags outgunning DUF. That was something they weren't able to do against the resilient Sundodgers in quarters.
Wisconsin proved they can pick themselves up and focus on the next game — an important if not essential trait — but they're going to need to be able to execute better in the heat of pressure situations if they're going to want to make a deep Nationals run.
UCSB Steps Up Big
In their first out-of-region tournament of the season, UC Santa Barbara stepped up and proved that they are a true nationals contender. Wins over Carleton, Tufts, and most notably, Texas, bode well for a team that had previously been somewhat on the cusp of such talks, after mostly only besting regionals or bottom-Nationals level squads.
Finishing sixth at a major tournament like Stanford Invite sends a fairly clear message that Black Tide has the potential to not only make Nationals, but also potentially do some damage if they do.
The main obstacles to the actualization of their potential remain the same ones they displayed earlier in the season, albeit to a diminishing degree. UCSB still succumbs to the pitfalls of taking questionable looks into tight spaces or multiple coverage and not staying disciplined enough when their flow runs into bumps.
While they showed marked improvement in those areas since Pres Day, they could still work on becoming more efficient against weaker opponents, as they continue to let those weaker teams play Black Tide closer than they maybe should. Their tight matches with Stanford and Tufts illustrated this.
Should they figure out how to accept a greater level of accountability across the board and start blowing out teams like they could be, however, ASU may not remain the Southwest king for long.
Texas Rides Emotional Currents
Texas' fix of choice is the deep ball. Chase Cunningham leads his team with panache; his left arm a trebuchet of hammers and well-placed hucks, and paired with his dangerous deep game he shifts the field Tuff's direction every point he plays. However, sometimes their offense is one-dimensional in its reliance on the huck. Their defense could use some tuning and play more cohesively as a unit, but they persistently contest throws and like to jugular on the turn which can be especially effective in the college game.
Although Texas has the athleticism to run with anybody, they're a very mercurial team. After their heartwrenching loss to Oregon — a game they were leading late — Tuff had to wrangle several players back into their huddle as they lay shaking their heads off to the side. Texas lacks emotional discipline. Their inability to focus and have the internal fortitude to push through low points in games cost them this weekend. While they managed to beat Carleton on double game point in prequarters, they lost tight games to the aforementioned Oregon, UCSB, and Auburn to close out their weekend on a disappointing note.
Texas needs to stop tying their swagger and self-confidence to ups and downs of individual games. Guns out, Tuff is dangerous. Holstered, they collapse. They cannot allow themselves to be OK with riding momentum and having their attitude dictated by their opponents.
There's still a lot of season left and Texas has the privilege of being able to host Centex, one of the most competitive tournaments of the year. So look for them to use that as an opportunity to improve and come together as a more dynamic and consistent team.
Arizona State, Carleton Stumble All Weekend
Much like FSU, Arizona State and Carleton both followed up their strong Warm Up performances with a big fallout, finishing eleventh and fifteenth respectively.
After beating Texas and Florida in Tampa, ASU went 0-3 in pool play in Fremont, losing to Oregon, Wisconsin, and Auburn by a combined total of five points. Despite besting Carleton and Western Washington in close games on Sunday, Prime also fell to regional rival Stanford.
Yet, considering that their wins over Florida and Georgia Tech at Warm Up were also by slim margins, perhaps this weekend's results could at least partially be chalked up to just coming out on the other end of the coin flip.
The structural problems Prime encountered, however, could not be attributed to poor luck. Stacks of turns on the goal line, numerous failed break opportunities, and the unfortunate cropping up of various other miscues at crucial points prevented them from pulling out those close contests and frequently sapped their momentum.
Star handler Nate Bridges sat out all of the Auburn game and parts of the following matches with nagging knee and ankle injuries. This plagued the Prime offense and severely diminished their ability to convert breaks, as Bridges directs the flow and has the throws to bail his team when they get stuck. Having him back at full health should propel ASU back into Southwest frontrunners, but the questions will remain about how they stack up against the rest of the nation.
Carleton, too, floundered terribly this weekend, despite playing close in most of their games. They lost to UCSB and Texas on double game point on Saturday, then fell to ASU 10-12 the following day.
Unfortunately for them, however, there were a few parts of those games, particularly against Black Tide, where CUT just looked plain bad. The cuts were too late and confused, players couldn't hit simple 15-yard throws, and they seemed to be taking turns dropping easy unders. While Carleton would eventually clean up some of the more embarrassing mistakes, they never really seemed to get their swagger back.
Coach Phil Bowen said after their opening round loss to UCSB that his team needed to figure out how to score with fewer passes. This proved to be an observation of great prescience.
In their prequarters match against Texas, for instance, CUT would often require 10-25 or so passes — many of them for zero or negative yards — to find the endzone, often with multiple turns. While this may sometimes be viewed as patience and discipline, and it frequently was in Carleton's case, it was almost as frequently just inefficiency.
Though they occasionally found cutters like John Raynolds or Sef Van Kan deep, CUT rarely managed to assert a strong huck game in their matches, making their unders and general flow that much more difficult. Part of this may be due to the fact that although Carleton is stacked with a large number of great ultimate players, they don't have too many supremely athletic cutters who can dominate in the air or win speed matchups.
That's not to say that a team filled with as much talent and experience as CUT won't still be able to go far. Only that they'll need to adjust their offensive sets in ways that will make deep shots, preferably off power position, easier, so that their overall flow will open up a bit and reach a greater dynamism.
Quick Hits
– Stanford had a decent, if quiet showing at their home tournament. They played Pitt to 10-13 — the closest of anyone except Oregon all weekend — and UCSB to 13-14, before beating UBC and ASU in tight matches to finish tenth. Bloodthirsty does a great job of maximizing their tools and have a real shot of edging out both Prime and Black Tide at Regionals.
– Despite coming into the tournament without much outside expectation, Western Washington nearly put together a stunner of a weekend. Upsetting regional rival UBC in pool play and putting up close calls with Colorado, Auburn, FSU, and ASU may not be enough to get the Northwest a third or fourth bid. But if Dirt can continue growing, Regionals might not be the done deal it seems like.
– Much like ASU, Tufts lost their three pool play games by a combined total of five points, just missing plenty of chances to surprise some higher-ranked squads. Tyler Chan dominated all weekend. But the E-Men will need to figure out how to break the mark more efficiently and value the disc better to make their offensive possessions easier if they want to make it out of a tough New England regionals, which may come with just one bid.
– Although their top end often looked unstoppable at times, UBC just wasn't able to put it together for a full game at really any point in the weekend. Moreover, a vast majority of their turns came from that same top end either trying to do too much or simply failing to execute. The Thunderbirds blew leads on FSU and Western Washington in pool play, dooming them to the consolation bracket, where they only managed to beat Carleton.
– If there was one team that looked like a Sesame Street "Which One of These Is Not Like the Other?" segment, it was last year's Metro East qualifier Rutgers. They averaged less than four goals scored in their six games, and their single highest score in any one match was six against Texas. Brutal.