Miraculously, there was ultimate played at Midwest Throwdown, unhampered by cold weather and wind. The results were just as surprising as the weather.


ST. LOUIS — Upon first glance, this year's Midwest Throwdown seemed to be history repeating itself. Four Tier II teams upset Tier I teams during crossover games to break into the championship bracket, sending the disgraced Tier I teams into bitter consolation play… much like 2013, when four Tier II teams upset Tier I teams to earn a spot in the bracket.
Except this year is different. And the reasons why will make all the difference in Midwest ultimate.
In 2013, Tier I teams played three games to 15 points, while Tier II teams played games to 13. At the end of Saturday, Tier I and II teams would then play their crossover game, pitting exhausted Tier I teams who had played close games against the best Tier II teams who had won blow out games. The upsets were bound to happen.
This year, every team played the same number of games, and all games went to 15 points. Crossover games were played on Sunday morning, giving each team the opportunity to rest their legs. When four Tier II teams pulled themselves into the bracket, there were no excuses to be made.
Grinnell, Nebraska, Northwestern, and University of Chicago earned their places in the bracket. When their respective opponents lost, it wasn't because they were exhausted; it was because they were genuinely bested.
When the sun is allowed to shine, and the wind is allowed to be still, Midwest Throwdown reveals its secret: teams across the board are getting much better, and the line between Tier I and Tier II is shrinking faster than Without Limits can rearrange their seedings.
The Great Lakes Makes History
The Great Lakes region made history on Sunday when University of Chicago and Notre Dame met in the final. While Notre Dame left St. Louis with the crown, the game itself was a victory for both teams and for the region.
Notre Dame Womb (USAU #8, UW #22) has long existed as a low-profile yet dangerous team in the Great Lakes region. They don't travel for many tournaments, so their moments of glory typically come through upsets at Regionals.
Not anymore.
Notre Dame surprised contenders at Missouri Loves Company in November, and their follow up at MWTD did not disappoint. Womb's style is surprisingly aggressive without being reckless: every player will bid for discs, attack their vertical space, and boost the disc if opportunity calls. Captain Kelsey Fink is undeniably the star of the team, but Womb's starting seven are all talented and consistent, including Amalia Carmona, Kristen Collins, Heather Fredrickson, and Julia Butterfield.
This team will take names at Regionals in April. The region may not earn another bid, but Michigan's ticket to Milwaukee hasn't looked this chancy in several seasons.
University of Chicago Supersnatch (USAU #38) also had a banner weekend, upsetting their way to the final. Last year, Supersnatch had promise but little coordination. This year, their playmakers are singing the same tune, and it shows on field.
"We have so much experience," captain Jesse Handler said after their upset over Texas Melee. "We have 12 seniors on the team, so everyone knows this is our year. We want it so badly, and we've been working for this."
Handler moved into a cutting role this season, giving Supersnatch a weapon downfield other teams have to heed. Co-captain Amanda Dobbyn complements Handler's height and throws with her speed and field awareness.
Chicago's downfall throughout the weekend was how much they had to utilize these two; by the final, it was clear how fatigued Chicago's top players were. They're headed to Centex next week, and they will need to exercise their depth if they want to survive another long weekend.
Northwestern Gungho also broke seed on the weekend, rising out of Tier II to face Chicago in the quarterfinals. Gungho played calculated clamp-down handler defense all weekend, and on offense focused play earned them an upset over Illinois Menace and a double-game point game with Kansas. Gungho knows how to play smart, and when the pieces fall in line, they've proven to be a solid contender.
What Happened to the South Central?
Four of Kansas Betty's (USAU #23, UW #16) seven games went to double-game point. They played a total of 166 points over two days. These close games can reveal either an elite team unable to close out against weaker teams, or it can show a team with the mental strength to hang in when they're behind and push to win the point when it matters. For Kansas, this weekend's performance may prove to be both.
Kansas Betty came into the weekend at a disadvantage. They were already missing Clare Frantz, Kelsey Akin, and Kate Eshelman. They knew it would be tough, and players would be taxed. Of the aforementioned 166 points, handlers Jenni Corcoran and Caitlin Fitzgerald likely played 160 points together.
Betty's best moments occurred when their offense moved fast: a quick give and go between Corcoran and Fitzgerald before finding Kailee Karr or Grace Roth downfield for a 20 yard gain, and then a crossfield look. The system broke down when teams pressured Betty's handler sets, and their game narrowed to hasty resets and same third hucks.
Kansas should not have lost to Notre Dame 8-15. They should not have lost to Minnesota 9-13. They should not have gone to double-game point four times. Each of these down to the wire games was a harsh lesson, but each game also showed Kansas' elite mentality. They refused to let go, whether they were losing badly or fiercely trading points. They'll have another shot at redemption in Texas, and another at South Central Regionals. Betty is broken, but they're not beat.
Texas Melee (USAU #27, UW #24), on the other hand, had a very different weekend. They enjoyed a quiet pool sweep on Saturday, while Pool A was a frenzy on the next field over. Sunday morning they easily handled their prequarters game against Pacific Lutheran, 15-3. Their first challenge was Kansas in quarterfinals.
Betty and Melee – the tournament's lone ranked teams entering the weekend – was one of the best matchups to watch all weekend. Both teams peaked during the game, bringing the best out in their South Central counterparts. Melee's main guns were Kelly Lavine and Shiru Liu, both versatile handlers who punished the break side more than anyone all weekend.
Melee was able to finesse a close win over Kansas, but they seemed mentally unprepared to face University of Chicago, who arrived at the semifinals jubilant after their second upset of the morning. Chicago converted nearly every mistake Texas made while Texas seemed unsure how to strategically contain Handler and Dobbyn. Melee was down for most of the game, but they couldn't muster the momentum to fix their own execution errors and turn the tides.
Texas needs bigger wins to their name before the season ends, and the season is ending soon. They're on their home turf next weekend, giving them a prime chance to land an upset like last year.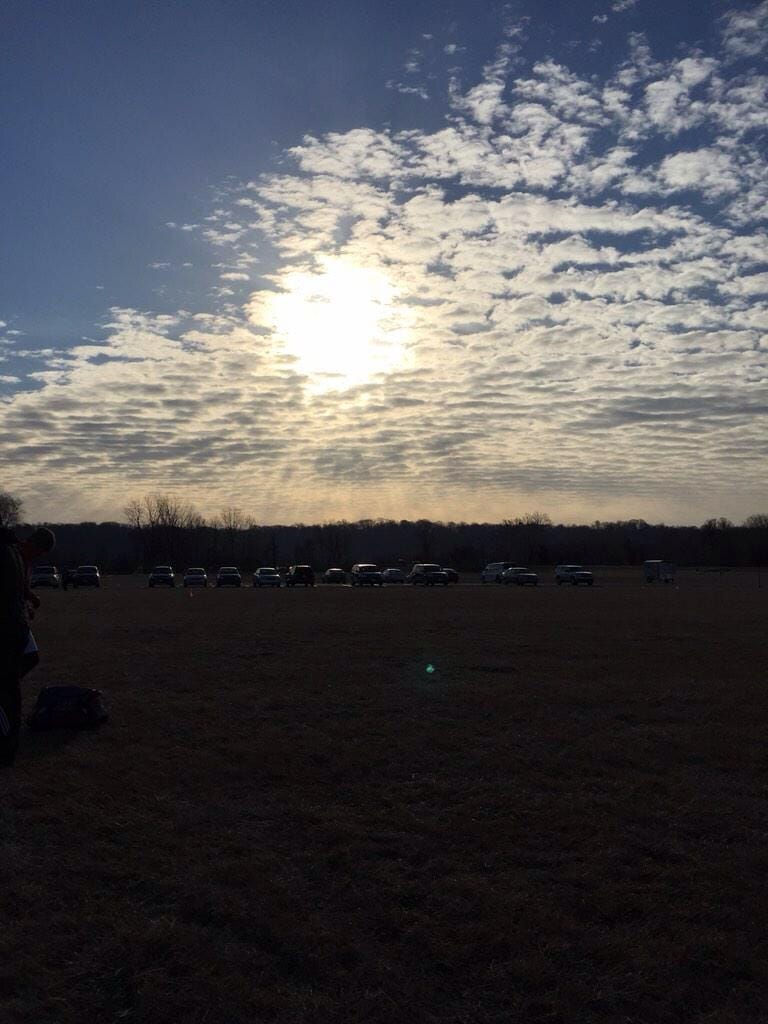 North Central Finds Their Stride
Iowa State Woman Scorned spent most of this season patiently rebuilding. When asked about their season's progress, the answer was always that they were training new players in new roles, and they were still warming up. On Saturday, they were that team. They were solid, but they weren't remarkable, going 2-1 in pool play. Sunday morning they eked past Northern Iowa to reach quarterfinals.
They faced the Nebraska Cuddle Raptors, a team who had already demolished St. Benedict's and Iowa Saucy Nancy with their huge zone and their seemingly 10 foot tall deep receiver, Elizabeth Diffy. Iowa State responded smartly by setting a zone of their own, slotting Cami Nelson in the backfield to deter deep looks and forcing Nebraska to throw more passes than they wanted to.
This tailored defense alongside polished conversion offense won Woman Scorned the game. At the same time, it showed a level of strategic maturity and execution Iowa State hadn't yet achieved this season and struggled to find last year. They would go on to the semifinals to face Notre Dame.
…and Iowa State played their faces off.
Woman Scorned saw Notre Dame's aggressive playing style, and they raised them 40. From the first pull, they contested every pass. The quickly melting winter snow made the field a mud pit, and both teams reveled in it. Cami Nelson was on each end of most plays, whether she was launching the disc, running down a huck, or sprinting into the endzone to throw her body at a Notre Dame pass. She was joined by fiery defensive play from Sarah Stuedemann and Janani Ragothaman, as well as ever steady handling from Sam Sauerbrei.
Notre Dame would break repeatedly late in the game to pull out four points in a row, winning 14-10. But that game uncovered a new identity for Woman Scorned, as raw, dirty, and powerful as it may be. If they bring that game to Centex and to their region, they could seriously hurt some teams' records.
Iowa Saucy Nancy built a promising resume on Saturday, only to see it taken down on Sunday by Nebraska. Nevertheless, they have plenty of veteran talent lining their roster. Liz Gronert can and will make plays on every point, while Nicole Havel and Rachel Bradley are able to use the midfield space to their advantage.
Minnesota Ninjas also displayed surprising depth and consistency throughout the weekend. They stole an upset of their own on Saturday over Kansas, stemming from exceptional play from Sarah Anciaux, Sarah Helm, and Kalli Perrano.
All three of these North Central teams will have another shot at glory in Austin next weekend. They will get the chance to face strong out of region competition, and reclaim the North Central's former glory.
Hot Takes
– Truman State is the real deal. The combination of Emilie Willingham, Stephanie Sherman, and Samantha Daugherty produces a humming offensive engine that propelled them through the weekend. Their only real loss was one point in the 13-14 loss to Kansas. There are a lot of teams in D-I who should be very grateful that TSUnami isn't in their division.
– St. Benedict Rapture was upset by the Cuddle Raptors on Saturday, but they threw the most sophisticated zone I saw all weekend. Rapture consistently set a wide four-person cup with a single mark, creating a formidable and flexible wall that could deny handler swings and upfield opportunities.
– Speaking of Nebraska, Emily Lander (Heist) had one of the best grabs of the tournament over Iowa's Liz Gronert in the endzone. On the sidelines, players and spectators asked how tall her teammate Liz Diffy was at least 10 times, while she caught most of the Nebraska goals.
– Throws looked better across the board. I saw finessed inside breaks from teams deep in Tier II, and fewer teams seemed to rely on one player to move the disc.