Carleton GOP's depth is unrivaled; can it carry them to a national title?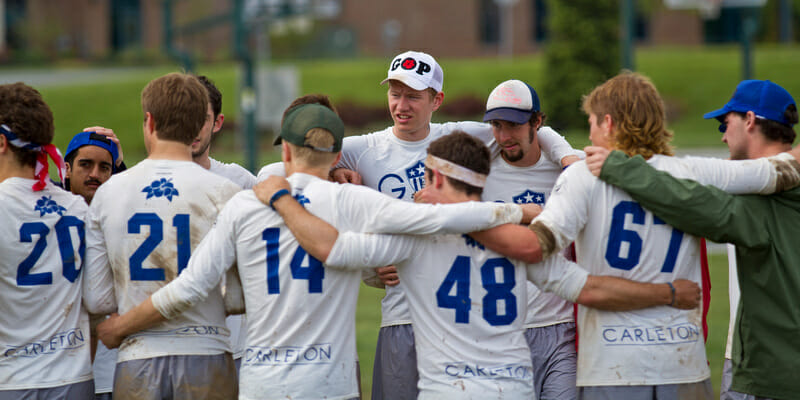 No ifs, ands, or buts about it, Carleton GOP is far and away the best DIII team in the North Central Region right now. Although they lose the incredibly athletic and 1st team All-Region Brandon Taitt (a Wisconsin Hodag now), handler Charlie Cross, and captain Daniel Barter, they return 1st team AR captains Matt Godfrey and Anders Berglund, as well as Jake Yanoviak. They are extremely deep (as always), well spirited (as always), and flush with plenty of top-level playmakers.
GOP in a Nutshell
– 2nd at 2014 NC Regionals
– Seeded 12th at 2014 DIII Nationals, finished T-3rd
Positives:
Return playmakers Matt Godfrey, Jake Yanoviak, and Anders Berglund
Proven system that emphasizes early season growth rather than results
Incredibly deep
Relentlessly positive
Concerns:
Growth-over-results strategy isn't conducive to earning regional strength bids
Playing Style
GOP has always relied on their depth. While they often have talented stars (Rhys Lindmark, Brandon Taitt), their faceless majority makes them competitive every year. GOP's bottom line is higher than pretty much every other DIII team, which lets them go deep into tournaments while remaining well-rested. I know from experience how it feels when your legs are gone during a Sunday game, standing on the line and watching GOP trot out seven fresh players for a D point. It's soul-crushing.
Godfrey has played both O and D in previous seasons, but he should play mostly offense this year as the team's best handler. Berglund and Yanoviak are big athletic cutters that will most likely also play O, providing large targets for Godfrey. Meanwhile, GOP's D-line will cycle athletic players regularly to keep them fresh.
Historically, much like their D-I counterpart CUT, GOP has sacrificed early season results for development. While this certainly pays dividends once the series rolls around, it doesn't do the NC region any favors. 2013 saw just one bid for the region (claimed by GOP), while last year saw two (St. John's and GOP). While this means absolutely nothing if GOP can continue to claim one of the coveted bids to nationals, it would certainly make their lives easier were they to win a few more regular season games.
Likely Ceiling: National Champs. GOP has no glaring flaws, and is the deepest DIII team in the country. That translates to late season success.
Likely Floor: Quarterfinals. GOP is going to make nationals; it's simply a matter of their matchups how far they make it. They're too talented and deep to exit any earlier.