DIII Easterns is the most important Division III tournament of the Spring. Here's what to watch for.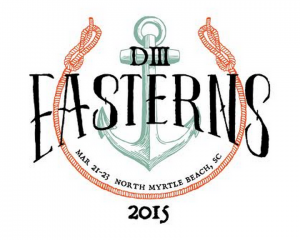 With 17 of the best DIII teams from around the country in attendance, DIII Easterns should be the conference's most competitive tournament of the spring. Some teams are seeing their first action of the season while others are looking to improve on past results. Given the current landscape of the DIII scene, this cross-regional battle will weigh heavily on the allocation of bids to Nationals. Let's take a look at some of the key storylines for the weekend.
Who's going to take that next step?
Last season, Elon and Richmond used Easterns as coming out parties, establishing themselves as true DIII contenders. Both teams kept up steam throughout the season and flourished at Nationals.
This weekend, Myrtle Beach will feature six of the seven teams from #11 through #17 in Ultiworld's power rankings. While these six squads (Amherst, North Park, Cedarville, Indiana Wesleyan, Richmond, and UNC-A) are all tough competitors, none have established that they're a bonafide contender to be a National champ. Watch for who makes the leap, who stays steady, and who regresses against top talent.
What are we going to get from Indiana Wesleyan?
We know that Travis Carpenter is one of the best players in the country, regardless of conference. He can neutralize your best offensive player and dominate the air, plus he has the throws to match. He's in excellent shape, which allows him to play most points, and impact every one of them.
However, Huck Dynasty's past results have been average, especially considering Carpenter's level of dominance. Their two games against Brandeis at Midwestern Invite, though swayed by the conditions, are an indication of the level that this team can play at. Still, their 2014 results, plus getting torched by Franciscan at Midwestern, leave a lot to be desired.
T-Carp will make plays but unless Clint Carson and the rest of the IWU squad can find their stride, IWU may falter. Luckily for the team, the region isn't the strongest. Let's hope for an IWU-North Park matchup in what very well may be the Great Lakes finals.
Will the Atlantic Coast step up for a second season?
2014 was the year of the Atlantic Coast and Easterns was the springboard. Elon took down Richmond in the finals while Davidson made the semifinals and UNC-A played quality ultimate. With the same four teams in attendance, plus Wake Forest and High Point, anything can happen for the AC.
Davidson has already had some of the most interesting results of the spring. At Queen City, DUFF went 1-5 but played Georgia (D-I #18) to three points and lost close ones to Boston College and Tennessee. However, at Woodside Invite the team failed to win a game against much worse competition.
Elon dropped one to Geneseo at Woodside, but also played a quality Maryland team to 10-12 twice. Don't be surprised to see a Elon-Geneseo rematch on Sunday.
Richmond also has some odd results, notably their showing at Rip Tide last weekend. The Spidermonkeys took for eventual champs, Minnesota-Duluth, but lost to Kentucky and twice to Grinnell.
UNC-Asheville finds themselves at 2-9 on the season as well, but played close games with Michigan and Indiana back at Cat Fight. A streaky Bulldogs team can get hot at any point and win some tough games.
With a handful of really quality teams, earning bids will be critical for the Atlantic Coast. They could use another big weekend if they hope to earn multiple strength bids. Regionals will be a dogfight regardless, but UNC-A, Davidson, and Wake Forest could help their cause by beating up on other regions.
How will New England and the Metro East play as they emerge from hibernation?
If you haven't heard, it's been snowing a lot in the Northeast. This has severely hindered the ability for NE and ME teams to get outside and practice. This won't stop some top teams from getting down south and playing at Myrtle Beach. Geneseo, Fredonia, Hartford, and RPI make up the Metro East teams in attendance while Amherst and Middlebury compose the New England contingent.
After being crowned National champs in 2013, Middlebury failed to qualify for Nationals in 2014. Watch out for which version of the Pranksters we get this weekend. If they return to top form, the region could have its hands full. With Bentley and Brandeis playing elite-level ultimate and Amherst and Bryant in the mix, the region can be as deep as it's been in years.
As for the Metro East, we can only hope for a Geneseo-Fredonia battle at some point during the weekend. Playing in upstate New York, these two teams are very familiar with one another and always have great contests. Ultiworld's own Pat Stegemoeller has returned to Snail for the spring semester to join a healthy Dave Abbott and Mickey Rybak on one of the nation's best DIII squads.
If the Northeast teams come out flat, they could be looking at big hole to dig themselves out of when the bids start coming in.