DIII Easterns gave us a glimpse of many of the country's best DIII programs before Nationals.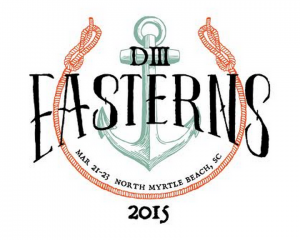 DIII Easterns continues to be a top flight tournament late in the season for Men's Division III competition. Here's a look at the tournament by region.
Atlantic Coast
While Elon and Richmond again proved they had the quality and disposition to reach the top of a grueling tournament, on the whole, the Atlantic Coast did not have the same banner weekend they had at Easterns in 2014.
After the two finalists, Davidson was definitely the third best AC team, but they couldn't quite put it all together. A solid Saturday that saw them finish second in Pool C and lock up a bye to quarters was marred by a second half breakdown against Fredonia in pool play. After establishing a four break lead they were unable to get across the finish line when Fredonia's big players started to step up and put pressure on DUFF's offense.
The team ran a steady rotation that allowed them to mix and match their personal into different zone and man D looks, but a smaller roster seemed to cost them down the stretch. They were able to put away inferior teams with ease, but when games got close they faltered, losing on double game point to both Fredonia and Richmond.
The other AC teams had disappointing weekends, as none of Wake Forest, High Point, or UNC-Asheville managed to make bracket play. Last year at Easterns, Asheville was probably the best team to not make the quarterfinals, and ended up just missing out on earning a third bid for the region. After this weekend, they have lost any shot of doing so this year, as the team failed to reach double digits in any of their games.
New England
It was a very good weekend for New England teams as both Amherst and Middlebury were outstanding.
Amherst came into the weekend looking to prove that last season's collapse at Regionals was an aberration. They did just that on Saturday, stomping all over Pool C and winning their games by an average margin of 7 points. Army of Darkness's D-line was absolutely smothering, hounding their opponents all over the field and making even the simplest actions uncomfortable. While their offense wasn't as effective, their big athletic cutters were able to make plays that bailed out stagnant handler flow.
On Sunday, Amherst lost a double game point slugfest against eventual champs Elon, in what was a very tough quarterfinal matchup for a team that had just won their pool. That game was one of the best of the weekend, and Amherst would surely be excited by the prospect of getting a rematch with Elon at Nationals.
For the Middlebury Pranksters, Easterns last season was an "Emperor's new clothes moment," when it became apparent that the personnel losses suffered from the year before would be too much for the defending champs to overcome. This year's tournament marks a revival for the champs and a wakeup call to their opponents. Coming in seeded 14th, the Pranksters stormed to a semifinal appearance. The new blood has energized the handful of returners from the championship squad, and shown the world that Middlebury is back on the national scene.
Showcasing a deadly deep game all weekend, Middlebury was able to take care of business on Saturday and earn a spot in the pre-quarters with a convincing win over Cedarville. Saturday was just a prelude of the team's potential though, as they really turned it on in the elimination rounds on Sunday morning.
After spotting Fredonia an 8-4 lead at halftime, the team dialed up the intensity in the second half and stopped the Turtles in their tracks. With smoothing D that forced Fredonia into hasty throws, Middlebury was able to get the disk back time and time again, and converted several debilitating kill shot hucks that enabled them to take the game 13-12. They would then go on to fight off another Metro East opponent in the quarterfinals, taking down the top seeded SUNY-Geneseo 14-12.
Those tight games took a heavy toll on the Pranksters, as they were unable to summon the effort to seriously challenge Elon in the semifinal and fell 15-6. Coming out of this weekend we learned that Middlebury's top players can ball with just about anybody, but their depth and endurance will be a key factor in determining how far they go this season.
Metro East
It wasn't the weekend many in the Metro East hoped it would be, as none of the three teams in attendance managed to reach the semifinals. After last year's one bid bloodbath at regionals, the teams from NY, NY, and CT were all hoping that positive results this weekend would provide some breathing room at Regionals. It didn't.
SUNY-Fredonia had quality wins over Davidson and IWU, and close losses to some good teams. When their O-line was rolling smoothly, the team's aggressive style made them look unstoppable as it was the D-line taking, and usually converting on, deep shots. But when the O-line faltered and the pressure ratcheted up, the team was unable to adjust and hucked themselves out of games.
This has been the line on Fredonia for the past three years, as the team has perhaps been the squad closest to making Nationals without getting over the hump. They will need to be able to react better to adversity if they want to finally reach the promised land.
While failing to make semifinals is not what top seeded SUNY-Geneseo was hoping for, but they did finish sixth in the DIII rankings after a strong Friday and Saturday performance at Easterns. After taking down Elon in the showcase game and then toppling Richmond and Oberlin in pool play, Snail managed to defeat 3 of the 4 eventual semifinalists.
David Abbott showed why he is in contention for Player of the Year, not only with his skill, but for the gutsy performance on Friday night in which he lead Geneseo over Elon even though he was suffering from what turned out to be a stomach virus that was spreading through the team.
By the end of the game Elon was running a box and one zone in an attempt to keep the disc out of his hands, but that could not stop Snail and Abbott from claiming a second win over Elon in two weekends.
Sunday brought frustration for Geneseo when they fell to Middlebury in quarterfinals, unable to keep up the pace they had set the day before. Geneseo had been running open lines and then relying on their studs to win games late all weekend, including a four point run that closed out a comeback victory over Oberlin. Saving legs for the end of the game can work in theory, but it didn't pay off when they were only able to manage a single break against Middlebury, which was not enough for them to complete the comeback.
Ohio Valley
It was a standout weekend for Oberlin, who will hope to use the momentum from their semis appearance to stake their claim as the top team in the tumultuous Ohio Valley region. With Lehigh deciding to go D-I, the region is up for grabs, and Oberlin's performance this weekend shows that they might be one of the teams to take the crown.
Oberlin's play wasn't necessarily pretty – they never scored more than 12 points in any of their games – but it was definitely effective. Even though the conditions never got particularly windy, the Horsecows threw out an aggressive 4 man cup that frustrated offenses all weekend. Their defense was able to force lots of turnovers, but wasn't as efficient as it could have been at converting those breaks, which left some points on the board.
This allowed teams to stick around and either comeback or force closer games than the Horsecows needed to play, and conversion efficiency will surely be a point of emphasis for Oberlin going forward.
On the whole, they have to be happy with their results this weekend, however, as they not only broke seed in a big way, but were able to take down regional rival Messiah in the quarterfinals, whose unexpected run to the top of Pool B could foreshadow another important meeting for the two teams down the road.
Messiah did not finish in the top half of team's at Ohio Valley regionals last year, but after the way they played on Saturday, they could certainly be a team that breaks out on the national scene during the series this year. They came into the weekend as a relative unknown, but have emerged with a bit more notoriety and a target on their back. If they had been able to take down Oberlin in the quarterfinal then they could have really made some headlines, but for now they will have to wait until regionals to stake their claim atop the region.
Other
From Pool A, both Indiana Wesleyan and Hartford showed that their best players will need more help to make nationals. Both Travis Carpenter and Luke DiOrio passed the eye test, making spectacular plays and showcasing the all-around capabilities necessary for players who are leading their teams. But IWU and Hartford relied too much on their respective studs to do everything, and without more capable, balanced approaches, they could come up short again at Regionals.
It seems the rebuilding efforts from former national contenders RPI and Wake Forest are still ongoing. While both teams were challengers at the top of the division a few years ago, this weekend's results show that they still have a ways to go before they get back to that level.