Elon and Richmond met for the second straight year in the DIII Easterns final.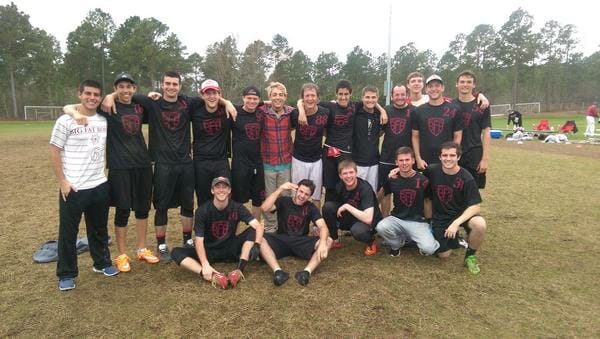 Disclosure: The author is a player on Richmond.
Deja Vu.
In its second active season, DIII Easterns has now played host to two Richmond-Elon finals and back-to-back Elon victories.
It was all smiles heading into the final game as both teams realized that the Atlantic Coast had once again taken over Easterns and the Richmond-Elon rivalry was back. The two teams saw each other four times last year and every game was decided by no more than three points. This heated final was no different.
The game began as the Richmond defensive line quickly accomplished what they were mostly unable to last season: beat the Elon zone after the turn. Henry Babcock had an excellent game, utilizing his excellent throws to help break the zone. Richmond grabbed another break to take an early 3-1 lead.
However, Elon continued to work the zone and Brian Szymanski connected on a huck to Jeremy Lonnman to bring the score to 3-2 and right the ship.
Both offenses were able to remain calm and find the end zone for the next few points. The rain and the zone seemed to slowly get to Richmond as the Big Fat Bomb defense put pressure on the Spidermonkey throwers and generated an important late break to bring the game back on serve. Both teams traded points until Richmond broke for half, up 8-6.
Elon regrouped during half time and came out very strong, grabbing three of four straight break opportunities and regaining control of the contest. Paul Kantlehner came up big for Bomb during this run, catching two quick goals. The run swung the score from 6-8 to 12-10.
Richmond scored on offense with a hammer from Jason Andresen and threw a quick zone that generated a break and brought the score back to 12-12.
After an easy O point from each team, Elon's defensive line found themselves pinned up against the Richmond goal-line. Big Fat Bomb was able to crack down and force a stall nine hammer that fell unsuccessfully, then worked it back down the field to take a 14-13 lead in a game to 15. Richmond converted on offense to force double game point.
The Spidermonkeys again came out in a zone look and forced a deep throw out of bounds. However, as they'd done all game, the Elon zone stifled any up-field movement and forced a huck of their own. A great lay out by Szymanski regained possession of the disc for Bomb and it was all they would need to take home the victory. Elon worked it down the field with unders and resets and won with a pretty break side throw into space to win 15-14.
"Playing Richmond is always a treat because we matchup so well against them," said Elon's Zander Taylor after the victory. "We both have deep teams so everyone on the field is needed to win points. We also have played each other over seven times in the past two years so we know practically everyone on each other's teams. It is the perfect rivalry."
This is likely not the last time these two teams will meet this season, so stay tuned for one of DIII's best match ups as we approach the series.
How They Got There
For the second straight year, Elon came into Easterns and was able to temper the strong field of DIII teams. After finishing in second place at Nationals last year they came into this year as one of the early favorites to make a deep run once again on Sunday at the Championships. They have been able to remain consistent in part due to their system and strong coaching from Matthew Rushing.
They run a tight zone that adapts to a team's strengths and frustrates even the strongest of handlers. They have a skilled cast of players including Andrew Manca, Jordan August, and Devon LaFrance, whose grit and determination lead the team by example. DIII Easterns has been the place for Elon to showcase this talent and show that they must be considered an early favorite to avenge their losses in the Atlantic Coast and National finals.
Starting in Pool B meant that Elon would have to play 5 games on Saturday. They went 4-1, falling to a Messiah team that may have been the surprise of the tournament. They started the day strong with two victories over UNC-Asheville and Cedarville, 13-6 and 14-12 respectively. After losing to Messiah, they picked their heads up and won the last two pool play games 13-5 and 13-9 against High Point and Middlebury.
They then started Sunday with another strong performance against Indiana Wesleyan. While they started the game with sloppy play, they picked up their performance and managed to capitalize on the turns that their D-line generated to finish the game 12-9.
In the quarterfinals, they matched up against an undefeated Amherst team who had earned the morning bye and was coming into the game with fresh legs. AoD matched up well against Elon and forced Elon to play a nearly flawless game in order to win. Amherst was not incredibly tall but they were quick and they loved moving the disc early in the stall and hit quick break throws that kept the disc moving close to the endzone.
Elon was able to rely on their depth — one of their greatest strengths this season — to pull out the win. Sophomore Connor Scofield was a huge factor in the game and came up with a few highlight reel plays that helped give them the edge over Amherst.
Big Fat Bomb then found themselves against Middlebury who had just upset the No. 1 seed in the tournament, SUNY-Geneseo. Middlebury played well throughout the weekend, led by Jason Milan, who guided an efficient offense, and handler Nick Caminiti, who had no turns all weekend.
In typical Prankster fashion, they credit their success to not letting the upsets in their March Madness brackets get to their heads. All jokes aside, they went into the semis with the energy and skill to take on a hot Elon team. Unfortunately they met an Elon team that had been clicking on all cylinders. Elon had their most complete game of the weekend against Middlebury.
The 2-2-2-1 zone that Elon has become famous for shut down the Middlebury offense and gave BFB the early edge. They controlled the tempo of the game and were able to stick to their strengths in order to take half 8-2. Throughout the weekend, Elon took advantage of the fact that they can beat teams with a D-line that keeps offenses guessing and an O line that can punch it in without relying on any particular player. Alexander Taylor anchors their O line but knows that he can trust anyone on the field to make the smart throws. Middlebury, like most teams, was simply not able to force Elon to make many mistakes. After half, Elon came out even stronger to show their ability to control the momentum throughout the game and practice finishing games stronger than they stated them. They ended 15-6 and moved on to the second straight championship game against Richmond.
*
Richmond once again came into Easterns with a lot to prove. Many assumed that losing DIII Player of the Year James Robb was going to make this a tough rebuilding year for Richmond. An up and down weekend at Rip Tide put the Spidermonkeys outside of a strength bid for Nationals and left others with doubts about Richmond coming into Easterns. However, coach Matt Graves seems to have helped create a program that should never be counted out. For the second year in a row, they used Easterns as a chance to showcase their talents.
Losing two games by two points total shows that they should be thought of as nothing less than a team with the tools to make Nationals. They spent most of Saturday pool play in the lead and only faltered when a tough Geneseo team rattled off back to back breaks to win on double game point. Carried by Babcock, who had about seven assists in the finals, Richmond's offense looked like they could handle anything thrown at them.
Sophomore Joey Cullison stepped into the primary cutting role and helped Richmond find their new offensive identity. They were able to defeat Oberlin, IWU, and Hartford with efficient offense and few turns.
Richmond picked up where they left on Sunday with a strong victory against Cedarville. They started the game with three quick breaks and went on to win without giving up a single break on offense. They turned the disc over a few times but relied on their hard man defense and deep lines to generate turns and take advantage of a team with tired legs later in the game. They won 15-9 and moved on to the quarters.
The quarterfinals put Richmond against an always tough Davidson team in another Atlantic Coast battle. Davidson jumped out to an early lead and kept a two break lead for the first half of the game. Even without star player Mikei Reiland, Davidson was able to run their extremely efficient ho-stack and went four points before even turning the disc over.
Chris Peek, with a summer of experience with Medicine Men, helped keep their offense moving quickly and conservatively down the field without much effort. Fortunately for Richmond, their D line stepped up when it counted. Seniors Brian Dwyer and Nick Spurlock were able to come up with huge layout Ds throughout the weekend and made it tough for any team's star cutters to get open. In the end, it came down to the D-line to come up with one last stop on double game point to push them into the semis. Richmond came out in a zone look, forced a turnover on the goal line, and punched it in for the victory.
The D line kept rolling with two breaks to start the semis against Oberlin. Horsecow Captains Evan Holliday and Jason Freedman led their team to a victory on double game point against Messiah and carried that same energy into the game against Richmond. Their sideline was active the whole game and helped Oberlin keep the energy high when it was clear that both teams were drained after long quarter final matchups.
Oberlin came out in a zone look but was unable to generate many turns. They seemed unable to prevent handler swings, which gave Babcock the ability to utilize his through-throws and over the tops. Richmond won 10-8.