Could fresh-faced Notre Dame take the Great Lakes bid for the first time ever?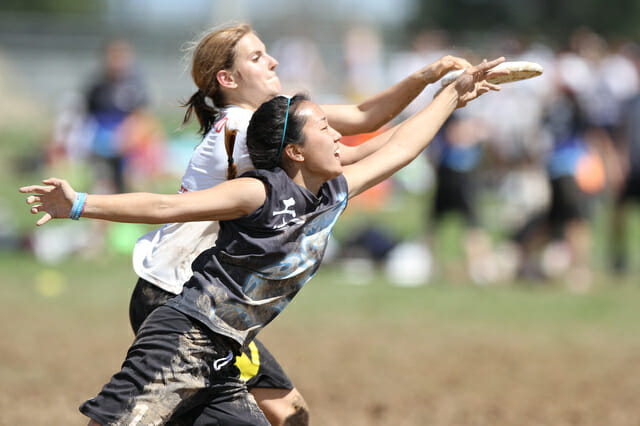 When a team goes to Nationals often enough, winning the region begins to feel like an important yet easy milestone. You show up, punch your ticket, disappoint contenders, and return to practice. Many of these elite teams travel for most of their season, so playing Conference Championships and Regionals can feel like coming home to visit the neighbors.
The Great Lakes has never been that region. Michigan Flywheel started to ease back onto their laurels, and they were promptly dethroned. A strength bid remains elusive, but that doesn't mean the automatic bid is safe. Ever.
For the first time in over a decade, the Great Lakes bid will likely be taken by a team that's not Michigan, Northwestern, or Illinois. Instead, a team from Indiana could take the one bid to go, unheard of since before Facebook began. While much of the region has gone to chalk this season, the rise of Notre Dame and the relative decline of Flywheel make this year a wildcard unlike ever before.
Tournament Profile
Date: April 25-26
Location: Rockford, IL
Bids Available: 1
Notre Dame Remains Unchallenged
When Notre Dame rocked Colorado in November, others made excuses for them: they played tighter lines than other teams, Colorado was still trying out players, etc. Now headed into Regionals undefeated, nobody is making excuses for Notre Dame's success.
It's hard to say what Notre Dame's weakness as a team is, because nobody has been able to touch them. They haven't been to elite tournaments, true, but they have taken down elite teams with the ease and confidence of champions. They used their underdog status to motivate themselves, but in the span of a season they've had to shed the title.
"We're seeded at the top, and we've never had that opportunity before," said captain Kelsey Fink, "So this is definitely special for us. Being the 1-seed and knowing we're not the underdogs any more… it's a different mindset for everyone."
Notre Dame is a young, deep, and mentally dangerous team. A lot of factors have to align to stress Notre Dame out, and it hasn't affected them yet. They are a notoriously loose, fun-loving team, and this year that energy has been focused into the laser beam that is Kelsey Fink's throws. Yet this fifth-year handler is far from their only weapon. Teams have struggled all season to shut down Notre Dame's handlers, their deep game, and the break side.
Notre Dame likely won't face big challenges until Sunday at Regionals. They have yet to face Illinois or Michigan, both of whom are in the other pool, but each team will have to play their best games to match Notre Dame's median. They could make history this weekend.
Michigan Faces An Uphill Battle
Flywheel ended last season tied for fifth in the country. This weekend, they're ranked fifth in their region. Flywheel has had a much quieter season, staying closer to home with their tournaments and producing a mixed bag of results. They likely played more elite teams this season than Notre Dame has seen in the past two seasons, but they nevertheless come into Regionals the unlikely pick.
Earlier this season, Flywheel captain Tracey Lo noted that yes, they lost a lot of their strength, but turnover happens every year: "Flywheel is still Flywheel." She's right. The team still showcases their elite heritage in their disciplined play and their effort. They are probably one of the more dangerous 3-seeds in the country, and they only need two strong games against Illinois and University of Chicago to reclaim the top spot.
But Flywheel does have different players in their roles this year, and it shows. They are young this year, and their lack of veteran experience shows in their play. They are also unfortunately a much less physically imposing team this season: without the aggressive play of Jacqueline JJ Jarik, Theresa Zettner, and Becky Tots Moore, it's easier for other teams take control of the game on offense.
Expect a few upsets from the Flywheel women; they could even return to the finals. But the crown probably isn't returning to Ann Arbor this year.
Illinois Menace Peaking At The Right Time
Illinois established themselves as kings of the pile at Conference Championships, beating local rivals Northwestern and Chicago to win the conference and the weekend 63-15. Menace has been putting together pieces for several seasons now, always putting in the hours and the sweat but not always earning the wins.
Allie Fish, a huge presence for Menace last year, decided to return for a fifth year this spring, giving the team a valuable layer of veteran experience. Yet this year, the helm has really been carried by handlers Ariel Choi and Jean Huang. Both women are skilled throwers who can create options in their downfield, even when the cutters aren't. If they play composed and don't indulge the waving arms of covered cutters, Menace will be able to convert more of their offensive opportunities.
Will Chicago Have The Legs For Sunday?
Besides Notre Dame, University of Chicago can boast the best season in the region. They quietly put together an impressive rap sheet, including losses to Stanford, Colorado College, and Fryz Ultimate, as well as wins against Texas, Rice, and Maryland.
Despite losing to Illinois in the final of Conference Championships, Chicago has the talent and the strategy to upset the pool this weekend. The real challenge will be if they have the legs to make it to the final on Sunday. Young teams can go far on talent, but in order to win, Chicago will need the composure that comes with big game experience.
They have to trust all their talented players to deliver. Supersnatch can play smart, possession offense, but they often revert to their comfort zone in closer games, and their comfort zone consists of Jesse Handler. Handler is tall, fast, and skilled, but she can't carry the team's weight as far as they want to go.
Northwestern Playing with Heart 
Northwestern's performance at Conferences showed the discipline this team can have: close out the games you should win, and closely battle the tougher opponents. This hasn't been Gungho's pattern all season, but a 10-11 loss to Chicago and an 8-10 loss to Illinois bode well for their weekend. Their mental game delivered, even when their execution faltered.
Smart and structured are trademarks of the Gungho game, but they aren't the only adjectives they will need this weekend: the team will need to execute on their game plan and maintain their intensity to earn upsets. Aggressive defense will give them a chance against the faltering Purdue team… and maniacal, out-of-your-head play on both sides of the disc will give them a close game against Notre Dame.
At the end of the day, however, Gungho's goals are less focused on the scoresheet and more focused on the journey. "I 100% believe if we execute in our end zone, do our jobs, and play with heart, we have what it takes," says coach and alum Carol Li.
Purdue Still Hasn't Reached Their Potential
Purdue AMOC began the season as one of the most promising storylines in the region. They had fought their way to the regional final in 2014; what could they do this year?
The answer is not much, so far. Outside of the post-season they have only made a showing at Centex, where they went 3-3. AMOC spent much of the year taking the training wheels off their rookies and second-year players, exposing them to big game scenarios. The chemistry and experience may be Purdue's biggest strength, but it has also been their flaw.
"I don't think we've played to our potential yet," says captain Jackie Lai, "We get a little too comfortable, chemistry wise, and we resort to bad habits we used to get by on." When AMOC got comfortable, they stopped converting their possessions, giving the team longer fights than they want or need.
Purdue suffered a considerable setback at Conferences when one of their stars Emily Beasley seriously injured her knee during their game against Notre Dame. Beasley won't be joining AMOC for Regionals, pushing the rest of the team into bigger roles. They still have big goals, but what Purdue can accomplish is yet to be seen.