Cincinnati is a tough defensive team. Can they defend the second bid they've taken so much heat for?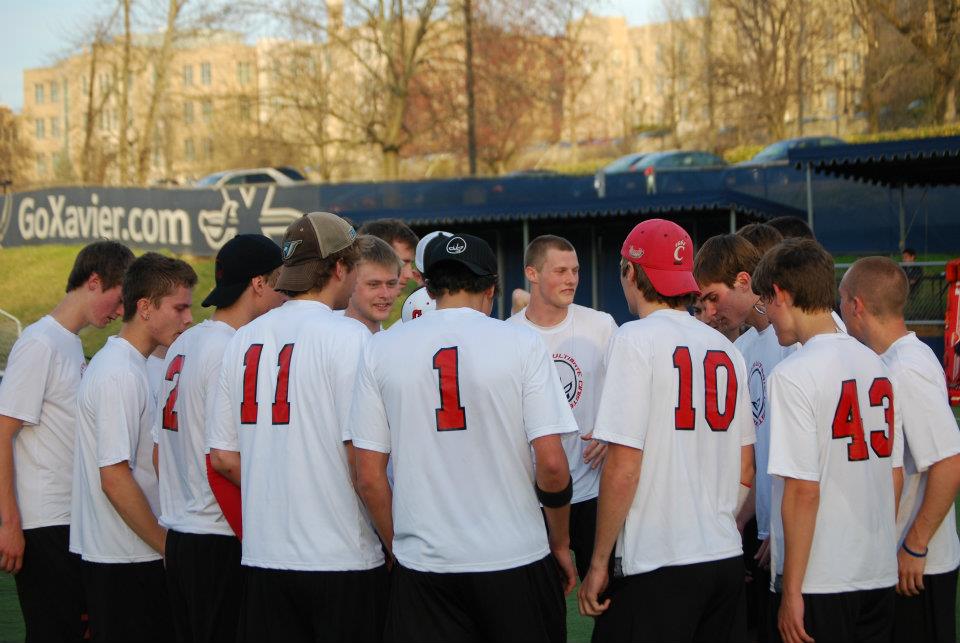 The field has been set and with two bids there should be some serious excitement in the air in Happy Valley on Sunday afternoon.
Only Pittsburgh and Ohio have ever qualified for Nationals from the Ohio Valley Region since it was created five years ago but this year looks primed for some new blood near the top.
Pittsburgh will certainly qualify. Who will join them?
Obligatory Pitt Mention
The University of Pittsburgh has come a long way since their first trip to Nationals in 2005 when one of their players donned a shirt that said something like Metro East: Just happy to be here! at the captains' meeting.
True story.
With two teams qualifying there are a couple certainties for the Ohio Valley this year. Pitt will advance for the 11th straight time, and, with a second bid in play, no one gives them a game.
There will be plenty of time to bore you to tears with Pitt talk before Nationals.
Cincinnati, USAU's 2015 College Ultimate Pariah of the Year
Cincy did the Ohio Valley region the solid of all solids and found a way, albeit controversial, to get another bid.
Kidnapping. Impersonating a police officer. Home invasion.
Those are just a few criminal acts a 22 year-old version on myself would have eagerly agreed to commit if it in any way improved my team's chances of getting to Nationals. But Cincy didn't have to commit any felonies to get a second bid. All they had to do was play well at the beginning of the year, do a little bit of math, and bail on a tournament.
The table is set, and with a veteran heavy team, 2015 looks like a "natties or bust" year for the winner of the Ohio Conference.
"Really all of the seniors have been playing extremely well this year," fifth year captain Dan Latz told Ultiworld. "I think it's the fact that we have all of these leaders on the team playing well on both sides of the disc. It's kind of elevating the younger guys' game up a little bit more than in year's past."
This is a fierce defensive team. Latz and co-captain Kieran Kelly put their bodies on the line with big bids and lead by example.
Often times in sports we see teams adopt a misplaced "us against the world" mentality. This team doesn't have have to fake anything there. With a big red target placed squarely between their shoulder blades, Cincinnati won't have many fans in on-looking regions this weekend but they have a great shot at making their first trip to Nationals.
Penn State: Now or Never
State College is the front runner for underdog hero for everyone who is rooting against Cincy.
Spank has been a bridesmaid at Regionals twice in the last four years ('11 and '14). Both were seasons when the Ohio Valley had only one bid.
A little history, from the days when Pennsylvania was in the Metro East…
After qualifying for Nationals in 2003, Penn State was once again showing a lot of promise to make it back – or at least compete – in 2005. But after some local fields were destroyed during their home tournament that spring, the university came down with a two year club suspension on the team the Wednesday before West Penn Sectionals. In those two years Pitt's program started to go up, and Penn State…went in a different direction. State College would not compete in Sectionals again until 2007 and would not qualify for Regionals again until 2008.
Over the last five years, the program has stabilized. With two bids and no clear cut number two team like Ohio in 2012 and 2013, this is Spank's best chance to get back to the promised land since, well, the Wednesday before Sectionals in 2005.
Captain and returning All Region selection Marcus Thaw will have to bear most of the burden if this team is to advance. Spank has other great players like Codi Wood and Mason Strawser to keep an eye out for.
It was tough sledding for Spank in the early part of the season. After experiencing some major overhaul at the handler position, they had to put young players and veteran cutters back behind the disc. There were some growing pains — Penn State didn't get a win until their eighth game of the spring — but there was also some growth. Spank rounded into form at Florida Warm Up and beat the teams they were supposed to beat. At West Penn Conferences, their only losses came to Pittsburgh. They don't have to beat Pitt. They just have to beat everyone else. Penn State knows what's at stake.
With two bids, the tournament in Happy Valley, and with their season being closely documented by a lock for All Region Videographer, if not this year for State College…when?
Never Scared: The Lehigh Ultimate Story
Even before the region had a second bid, Lehigh announced they would be competing in Division I. Captain Nick "Falcore" Mathison assures that the move to play against bigger schools will be permanent.
"The best teams are in the D-I region and we really want to be one of those teams," Mathison said. "We understand that this is a process. We're going to stick with it and we're going through with it until the end. We're going to stay in D-I."
Mathison stressed the word "program" several times in a conversation about his team's systemic approach to playing up. Each year Lehigh promotes several players from the B squad, treating it as a true developmental team rather than a bunch of dudes that aren't on the A team.
"A big reason for Lehigh A going D-I was for our B team to go to D-3 and just play better competition that way," explained Mathison. "The move to D-I was just as much for the A team as it was for the B team. We want our B team to play the best competition they can."
Chartered in 1975, Lehigh Ultimate has been around for a long time. Only Carnegie Mellon (also '75) and Bucknell ('75) can claim similar histories.
Due to some particularly unlucky weather, there isn't a lot to gather from Lehigh's results, though one stat does stand out: Lehigh is 1-1 against Penn State this spring.
Are they underseeded? Their 2 PM game against Cincinnati should answer that question, and determine Pool B.
Case Western: Older and Wiser
Last season they came to the tournament with a strong team and a real chance to make some noise but it proved too much. The Fighting Gobies turned in a bad performance against a more seasoned Ohio University team and got a little unlucky drawing Cincinnati in quarters.
Big man thrower Eli Stoever, as well as handler Jacob Lunn, have a chance to show off some veteran savvy of their own this year. Chemistry will be paramount. This Case team is still dangerous.
Also, their score reporter page has a sweet gif on it, so, that's probably also an advantage.
Ohio and Dayton: Round 3
There should be no love loss between these two teams when they meet in the last round of pool play on Saturday.
OU was 2-0 with a slim +3 point diff against Ghetto Force at conferences. Get your popcorn ready.
Ghetto Force finished third in a competitive and deep Ohio Conference. Last year in Toledo, Alan Huels made some spectacular plays and out-pulled every other team at Regionals.
Experience matters in college Ultimate and Ohio has plenty of that. They took back to back trips to Nationals in 2012 and 2013. Many guys on this roster have played important games at Regionals. OU also has a ton of games this year – over 25. Those are huge advantages.
If you're spectating at State College this weekend be sure to check out this last round game on Saturday.
Same Old Edinboro
The Boro has a proud and storied tradition of lacking any real depth. This year is no different. Haggis will rely heavily on do-it-all workhorses Steve Mogielski and Max Sheppard. If the rest of the starters can turn in solid performances Edinboro could be playing meaningful games on Sunday for the first time in a long time.
UPenn Leads Questionable East Penn
Void is once again the class of an East Penn section that has been down for a long time. Since the redraw and creation of the Ohio Valley in 2011, Millersville is the only East Penn team to finish in the top five. Void almost pulled off the upset of the regional tournament last year when they had the disc against Ohio State on double game point in quarters. There are lots of good things being said about the job head coach Darryl Stanley has done with this team.
'Zat you, Ohio State?
After taking the fifth and final bid at Ohio Conferences, 2015 might be the first time in a few decades Leadbelly almost didn't make it to Regionals. Tormented with injuries, Ohio State was reportedly down to 13 players on Sunday of the conference tournament.
"I expect to see a very different Ohio State Leadbelly than what we saw at conferences," coach Phil Cherosky told Ultiworld via email. "They have had a very up and down season but have shown the potential to be able to hang with anyone. Come Sunday when push comes to shove, I expect them to be in conversation for a bid to Nationals."
Stars win games in college Ultimate and Ohio State has two of those in Paul Arters and Ben Krumplemen. If those guys have a great weekend Leadbelly may be able to find some of that old magic.
*
Now last year's Regionals in Toledo seems like a dress rehearsal for a two bid 2015.
The loser of the backdoor game to go will be haunted by lost opportunity, while the winner will have the burden of proving to the rest of the Nationals field that they do indeed belong with the rest of college Ultimate's elite.