Can anyone stop Wisconsin and Carleton?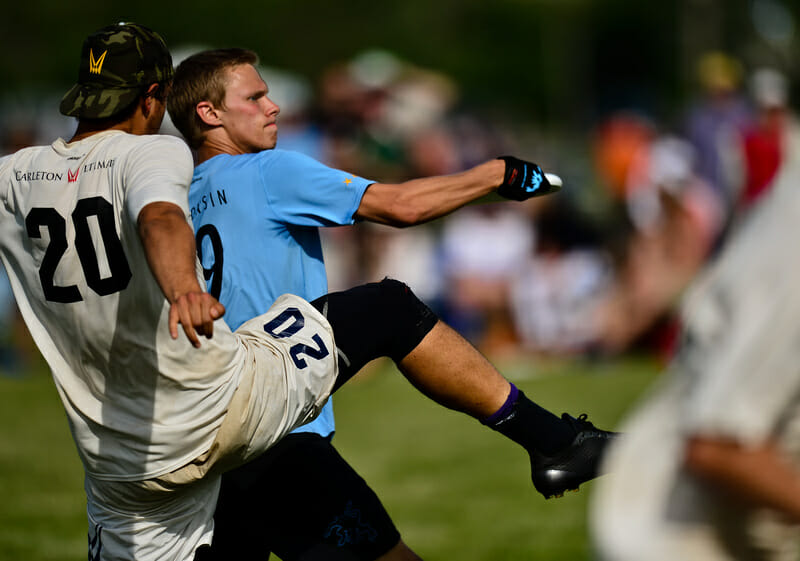 When North Central Regionals rolls around every year, it's tough not to look at the tournament as yet another battle in the ongoing war between the two powerhouses of Carleton and Wisconsin.
In 2015, with both CUT and the Hodags once again serving as the only real registers on the national scene in a two-bid region, it looks like business as usual this weekend in Oshkosh, WI.
Stranger things have happened in the North Central, though.
Like in 2011, when three of the region's teams made semis of Nationals, with Carleton beating Wisconsin 11-5 in one of the windiest title games in college history. Or in 2013, when Minnesota won Easterns and came into the postseason ranked #1 in the nation, only to finish sixth at Regionals in a baffling chokefest whose specter continues to haunt Grey Duck to this day.
While they've likely had stronger squads in the past, Minnesota might just have a better shot at making it back to Nationals this year. A few other colleges, such as Iowa or Luther, also have a legitimate chance at stealing one of the bids, due to the fact that Wisconsin and especially Carleton are far from the dominant behemoths they've often been in years past.
Here's a look at the teams vying for the two spots to the College Championships:
Wisconsin Hodags Primed for Repeat
If there's one team that's probably a lock to advance, it's Wisconsin. They're the only squad to amass more than a few victories over elite opponents. This list includes Arizona State and Tufts at Florida: A Warm Up Affair; Florida State, Auburn, UC Santa Barbara, and ASU at Stanford Invite; and Harvard and Florida at Easterns.
That's an impressive collection, especially when you consider that, with the exception of a very good Auburn squad, Wisconsin's only losses have been to top 20 teams.
After stumbling a bit at Warm Up, the Hodags have steadily grown with each tournament. Their defense remains one of the stingiest in the nation, with constant team pressure brought on every point, ensuring that Wisconsin will earn plenty of chances to break in every match.
Their offense is another story, albeit an improving one. While they continued to experience problems with resets and retention at Easterns when downfield cutting ran into problems, the Hodags still looked better than they did at their solid Stanford Invite performance.
The O line might cough up the disc a handful of times in most games, but reliable targets like Aaron Speiss and the 6'6" Craig Cox, along with a slippery handler in Avery Johnson, lead a big army of guys that know how to compete and regroup when their focus starts to wane.
Unless one of the other colleges has their best tournament of the season, expect Wisconsin to make it to finals and likely defend their regional title.
CUT Still Trying to Click
Despite their wealth of talent, Carleton just hasn't managed to live up to more of their potential this season. With crafty handlers in Justin Lim and Sol Yanuck, solid cutters in Alex Trautman, Natan Lee-Engel, and Sef Van Kan, and great all-around athletes like John Raynolds and Jesse Bolton, one would think that CUT would have already made quick work of all but the best teams without much trouble this year.
For whatever reason, though, it just hasn't happened. Part of the trouble has been injuries, which continue to plague the team heading into Regionals.
They've dropped to most of the elite squads they've faced this year, including more beatable opponents like UCSB, Texas, ASU, Georgia, and British Columbia. Wins over Massachusetts and Michigan at Easterns, however, point to a team on the rise.
Moreover, with a program like CUT and a coach like Phil Bowen, you just can't ever count them out from a spectacular performance. After a subpar 2014 regular season, CUT surged back in the postseason, nearly winning their pool at Nationals.
Although the circumstances are thankfully much different this year, don't be surprised if Carleton starts putting more of it together and at the very least holds onto the second bid they helped earn.
Minnesota Looking To End The Curse
It's been a rough few seasons since Minnesota's impressive quarters showing at Nationals in 2012.
They looked unstoppable near the end of the regular season in 2013, then curiously lost to Iowa at Regionals and fell three spots short of qualifying for the College Championships. Last year, they came into the tournament ranked ninth in the nation after solid showings at Warm Up and Easterns, but then lost to Carleton in both the semis and the backdoor game-to-go.
What's worse, each of those last two years, they've arguably had more talent and experience than they do in 2015, which helps explain their underwhelming results this year despite being on the doorstep of greatness a few times. Had close matches with UCSB, Colorado, and North Carolina gone the other way, Grey Duck might be looking at a Regionals with more clear hope.
Yet, it's entirely possible that the lowered pressure could play to their advantage instead. Rather than coming in with an expectation of qualifying, Minnesota's underdog status and years of frustration to avenge might just catapult them back to the show.
Ben Jagt has been a beast all year and has a real shot at earning Player of the Year for the region. Soham Shah and a number of other Grey Duck handlers have a scary arsenal of high-release flicks and other sneaky tricks at their disposal. And if baller handler Josh Klane can play and stay healthy, he's certain to drop countless eye-popping plays and make everything a little easier on the rest of the team.
If they can come out focused and manage to hold leads better than they have in the past, Minnesota has a good shot at finally being on the favorable side of an upset this time around.
Iowa Seeking Spoiler Status
Iowa may not have the big name prestige of some of their regional peers, but they're no stranger to big games. After making it to semis of Nationals in 2011, IHUC have been buzzing around the elite level, sneaking back in two years ago and coming close in the intervening years.
Their results so far this season seem to indicate a similar outcome in 2015. Despite being ranked #30 in the USA Ultimate rankings, they've lost to most all of the big names they've played, like UNC, Texas, and North Carolina-Wilmington, as well as more questionable teams like Virginia Commonwealth, Georgia Tech, Purdue, and Kansas. Harvard is their only impressive win.
But they've beaten all other lower tier in-region squads at least once, including Luther, Iowa State, Wisconsin-Milwaukee, and Minnesota-Duluth.
It seems unlikely that they'll have enough juice to best a whole handful of these, as well as one of the top three seeds, at one tournament, but it's not entirely out of the realm of possibility.
The Longshots
It's pretty improbable that any other team but the top four will advance, but a few other squads are sure to put up some good fights.
Iowa State is ranked #34 by USAU, has a few decent wins over Cal, Tulane and Luther, and managed to win Midwest Throwdown. The tournament wasn't very high level this year, but it's a solid victory nonetheless.
Having successfully qualified for the College Championships a few times in the last five years, Luther knows how to show up come postseason. Their best victories are only over North Carolina State, Georgia Tech, and Cal, but they've also bested Iowa, Iowa State, and Wisconsin-Milwaukee already this year.
A handful of nice wins over VCU, Georgia Tech, Cal, and Southern Florida bode well for Wisconsin-Milwaukee. But they'll need one of the program's best performances in recent history to make it out of the region this year.