In a true Ohio Valley slugfest, Ohio State and Pittsburgh came down a single point to decide who would win the region.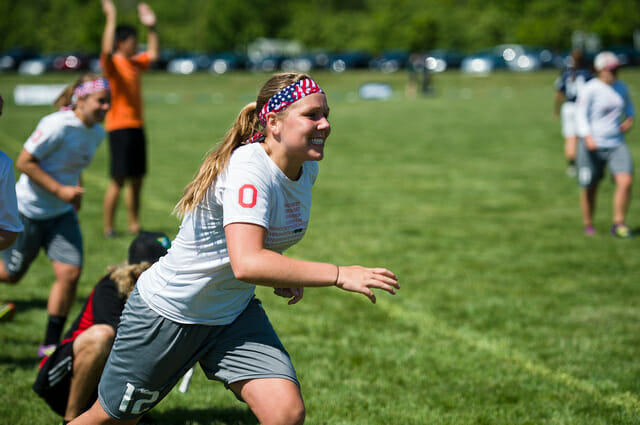 WESTERVILLE, OH — Although the defending National champions Ohio State won the Ohio Valley Regional final 11-10, Pittsburgh Danger lived up to their name.
Pitt started the game with an upwind break. And then followed it with another break. And then a third. Ohio State Fever has always been prone to slow starts in their first game, but that day of all days, this trend was particularly hazardous.
Knowing this, Fever used their warm up time to scrimmage instead of doing the usual cutting drills. But nevertheless the defending national champs were down three points into the game and had yet to cross the opposing endzone line.
Looking at the past few Regionals, however, perhaps this shouldn't be a surprise: the tournament hasn't exactly been competitive for Ohio State and Saturday wasn't any different as they rolled through West Virginia and Pennsylvania. Their zone was effective: only one point was scored against them in the first two games. The third game against Penn State was tougher, with Crisis staying in it until halftime, but Fever capitalized on their lead to end it 13-6, and they finished Saturday with a total of 43 points scored to 7 scored against.
In the other pool, Pittsburgh's day looked much the same. With a 15-2 win against West Chester and a 15-0 win against Case Western Reserve, their handlers were skilled in zone offense. Their second game against Carnegie Mellon, however, was closer. The Money Mellons came back from a 4-1 deficit to make the game interesting, and Danger had to step it up, eventually winning in soft cap 13-8.
This win meant when Pittsburgh went into the final on Sunday, they had already fought for a game, and they knew the final was going to be even tougher. On the other hand, Ohio State had had a relaxed Saturday. They were unprepared for Danger's determination.
OSU started out on offense against Pitt, but Danger gained the upwind break score easily. The second point was more hazy. Both teams had a number of turns, mostly off hucks just past receivers' hands. Fever came back in the next few points, but the wind and field conditions continued to affect play. Consistent gusts were enough to alter less-than-perfect throws, and the numerous hucks often drifted out of bounds. After a rainy Saturday, mud patches in the field caused many players to not only slip in the middle of a cut, but often left them scrambling to get back on their feet and catch up.
After Pittsburgh's initial run, Fever scored five out of the next six points to go up 5-4. Sadie Jezierski was everywhere for Ohio State, throwing her body around on both offense and defense in apparent disregard for her recent ACL tear and recovery. OSU handlers Stevie Miller and Jenna Galletta were invaluable as well, putting up hucks whenever possible to get Fever down the field.
But Danger had a few tricks up their sleeve, with Carolyn Normile matching Miller and Galletta huck for huck and earning at least half of Pittsburgh's assists and scores in the final. Katelyn Loughery was also huge for Pitt, and seemed to be wherever Normile wasn't.
After a beautiful one possession score to tie it at 5-5, Pittsburgh kept it on serve and traded points with Ohio State for the rest of the game. Each point, every player on the field seemed to be running their heart out, while the sidelines screamed, cheered, and ran to stay with the disc. Both teams were fighting hard for the Ohio Valley title, and when Fever took half 8-7, it was still anyone's game.
The downwind points seemed almost easy. Pitt and OSU both excel at the long game, and cutters sprinted toward the endzone whenever there was even a slight chance for a put. Yet the wind carried many of these hucks out of reach or out of bounds, and there were many chances to get the upwind point. Fever's 4-man trap zone stifled Pitt's offense going upwind, and Fever's Emily Steedman seemed like a magnet for the disc in the last few points.
Fever had trouble when Pitt threw their zone as well, with tight downfield defense throwing off their poppers' timing. Strangely, Danger only played zone defense a handful of times, despite repeatedly causing turns and flustering the Ohio State handlers.
Soft cap blew at 9-9, making it a game to 11. Fever shoved it up the line in a nerve-wracking point to make it 10-9 just before hard cap could sound. Knowing a Fever score meant the end, Pittsburgh made short work of the point, sending a breakside huck to the back corner for a streaking Linda Morse to tie the game at 10-10.
It was double game point with the pride of both teams on the line. Ohio State received downwind, and the huckfest continued. Neither team wanted to lose ground, so the disc went up whenever the defense closed down any good option. Pittsburgh played excellent endzone defense, but they couldn't make it up the whole field to convert. After a turn 20 yards away from a Danger score, Galletta picked up the disc and boosted it once again, this time to Katie Backus who managed to snag it out of the air and send Fever to Nationals, claiming the title of Ohio Valley champion yet again.
Pittsburgh went on to beat Penn State 10-5 and take the second bid to Nationals. If there were any doubters out there, their extremely close game with OSU proves they deserved the second bid, and that they will have some great games in Milwaukee. Despite the final game coming down to the wire, both Ohio State and Pittsburgh showed a lot of spirit. Tied at 8 with soft cap approaching, Jezierski caught the disc for a score, but a pick was called. Instead of fighting for a reset, as may be expected at such a pivotal moment of the game, the call was quickly rescinded after the Pitt player decided she didn't have a play on the disc.
After such a close game and with both OSU and Pitt moving on to Nationals, it will be fun to watch for a possible rematch in Milwaukee.