Six great teams. Just five bids. Who will be left out at Northwest Regionals?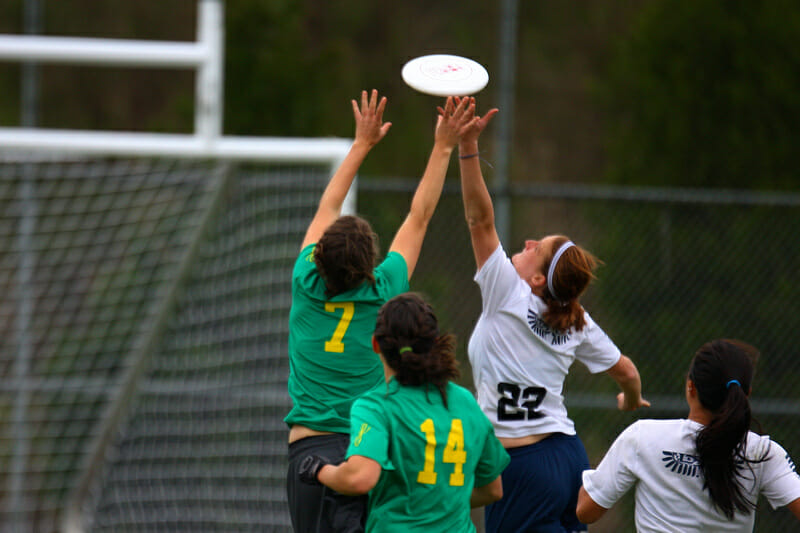 The Northwest continues to be the most dominant region in the women's game with the largest number of bids in the country. With six notable teams vying for five spots to Nationals, the women of the Northwest will be looking to assert their dominance before the big show. The winner will likely claim the #1 seed at the College Championships and the runner-up — and even the third place team — could also claim a spot atop a pool in Milwaukee.
"In 2012, sectionals and regionals were two of the best tournaments all season. These games were gritty battles between the country's top talent game after game," said Oregon's Jesse Shofner. "This year feels like a return to that type of competition. We are looking forward to Regionals this weekend to play some high level ultimate in the most stacked region in the country."
Couldn't have said it better myself.
Tournament Profile
Date: May 2-3
Location: Walla Walla, Washington
Bids Available: 5
Oregon
The USAU top-ranked women's team in the country has looked close to unbeatable this season. Oregon Fugue won every game of every tournament they've played since January, minus a lone, albeit significant, loss to UBC in the de facto finals of the Northwest Challenge in March. They have asserted their dominance in the region with athleticism, a deep roster, and incredibly strong defense.
Oregon began the season by dominating at Corvallis' Colluvium, with their closest game coming against region rivals Western Washington University, ending in a 14-9 victory. They were challenged for the first time at President's Day Invite, but ended the weekend beating Stanford in a competitive 15-11 game to win the tournament.
The Northwest Challenge is the only time Fugue has wobbled this season, losing to UBC 12-9 in the "final." UBC played terrific defense and challenged Oregon to maintain possession, resulting in visible frustration from some of Fugue's top players. Oregon was missing some key pieces — namely scoring machine Olivia Bartruff — that weekend, so expect to see them at full strength at Regionals. They avenged their UBC loss at Cascadia Conferences.
Oregon benefits from a deep roster full of experienced players and big playmakers. 2015 Callahan nominee Bethany Kaylor is a threat as both a handler and cutter, on offense and defense, and can dominate from any position on the field with smoothness and precision. Hayley Wahlroos, Ultiworld's 2014 Freshman of the Year, has continued her rise as one of the game's breakout young stars. Not only does she have phenomenal throws and is a key offensive player, she also demonstrates the confidence of a much older player, allowing her to make game changing plays. That's not even speaking of high flying Shofner, Bartruff, Ashley Young, freshman Ella Hanson, and breakout Kaitlin Brunnik.
Coming off of this season, with this roster, Oregon is ready to dominate the region.
British Columbia
The UBC Thunderbirds are also coming off an excellent season, and are currently ranked just below Oregon at #2 (or #1B, depending on your perspective). Throughout their past few tournaments, they've only suffered losses at the hands of UCLA and Oregon. They did, of course, defeat Oregon at the Northwest Challenge, and looked like a team that was ready to make a name for themselves in a big way.
UBC came into the Northwest Challenge as a team that had had a solid season so far, but had not quite proven themselves as a top contender, though there was no doubt they were a talented team.They ran the table, going 7-0 throughout the weekend and destroying Virginia and Stanford 15-10. They also felled Oregon 12-9 in the unofficial final. In one weekend, they were able to prove their worth as a contender for the national title.
UBC also has a very strong squad, including a rookie class coming into their own and beginning to define their roles on the team; a powerful group of handlers, perhaps the division's deepest; and a number of individual stars. Mira Donaldson has proven herself as an elite offensive player. Victoria McCann, last year's runner-up for Rookie of the Year behind Oregon's Wahlroos, works very well with Donaldson and has continued to grow as a cutter. Despite losing to Oregon at Conferences, UBC will not doubt be looking to capitalize on their performance at the Northwest Challenge and turn that into a College Championships #1 seed and, they hope, a title.
Washington
Last year, Washington Element managed to bounce back from an uneven season and came into Northwest Regionals as the top ranked team. This year, they're coming into Regionals ranked third, and fifth overall in the country, but seem to have thrown off the funk that plagued them last year. At Northwest Challenge, they dispelled any of the lingering doubts that followed them after last year's performance, going 5-1 against fellow college teams, and taking down a number of big names.
Element benefits from a roster filled with experiences undergrads and grad students, as well a number of players who excel in their specialized roles. Their individual versatility leaves something to be desired, but they work very well as a team, and good chemistry cannot be taught. Like the rest of the top teams in the region, Element is aware there are only five bid for six teams.
"From the outside, I'm sure five bids seems like a lot," said Cami Canter in an email to Ultiworld. "But at the end of this weekend, one team that could compete at Nationals and win games will be going home, and a bunch of player's college seasons and careers will be over. That drives us, the chance to extend our season and play as Element 2015."
Whitman
After finishing at the bottom of the 2014 College Championships, Whitman is ready for another go. The Whitman Lady Sweets have been steadily building a name for themselves; after years of development, they went to Nationals in both 2013 and 2014. They consistently have a talented team, but lack some of the confidence to go up against the most dominant teams in the region. That said, they're sitting comfortably at 12th in the nation, and are coming off a dominant first place finish at Big Sky Sectionals, where their closest game was still won by six points.
The Sweets are working with experienced and talented players who haven't necessarily been playing as a team for very long, which means they have some things to refine. Both Julia Bladin and Claire Revere are capable of dominance, but rarely do their gamebreaking bursts coincide. This could also be an opportunity for them to rise to the occasion as a team and challenge their biggest rivals in the region. They've played a number of very close games against their Northwest brethren, and have the potential to net some big victories.
Victoria
The Victoria UVixens tend to be a bit of a mystery to the rest of the country. This was certainly true at the Northwest Challenge; their 2-5 performance at Stanford was the only time they'd been seen in action so far this season, and there was a question of how well they'd be able to compete with the top teams at the Northwest Challenge. They also went 2-5 at the NW Challenge, but they put up some tough games and beat Western Washington to solidify their position as fifth in the region.
Kate Scarth and Lexi Omand are significant playmakers who merit national attention and help ground the team in solid talent. But players like Naomi Redmond and Corinne Dunwoody give them the additional firepower needed to stack up in a powerhouse region. As the fifth team in a region with five bids, the UVixens are where they need to be, and will have opportunities to up their game this weekend. There may come a time where they'll have to choose between gunning for an upset or protecting their chance to qualify.
Western Washington
Rounding out the top teams in the Northwest, Western Washington Chaos has had ups and downs this season. They played their first competitive tournament of the year at Stanford Invite, and looked a bit unsure, while also being bothered by injuries. Chaos has a solid core, and Abbie Abramovich continues to be of critical importance to the team, but they suffered a big loss with Tiffany Phan being out of commission for the rest of the season after being injured at the Northwest Challenge.
Regionals could be a chance for them to pull it all together, though. "Last year, six bids ended up making for a very anticlimactic Regionals. We were able to coast off our results from earlier that season," said Abramovich. "This time with five bids and six very talented teams, every game is going to be a battle. We've been working hard all year and are looking to put it all together in Walla Walla. With that said, we're defining success in our way this weekend and won't let any outcomes drag us down."
Doing it their own way is a hallmark of Chaos's mentality, and if they can dictate the play in Walla Walla, they may find an outcome that lifts them up.