See what happened at the inaugural Beach Championships.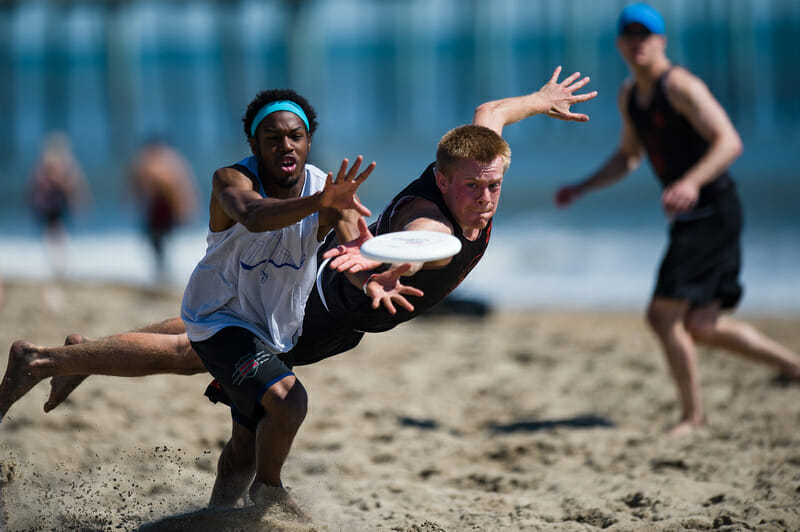 Although much of the national attention was focused on College Regionals this weekend, there was a new milestone set in Virginia Beach: the first-ever Beach National Championships.
The tournament did indeed feature many elite players, but in its first year, some of the teams had a bit of a pickup feel. Here is a quick look at what happened in each of the major divisions.
Men's
Top seeded AND THE WARHAWKS, a Boston & New York combo team featuring players like Josh Markette, Chris Mazur, and Dan Heijmen, rolled through Sunday competition after some tight games in pool play and easily defeated #2 seed Humiliswag (included players like Jonathan Helton, Jon Neeley, and Will Neff) 13-7 in the final. The #3 and #4 seeds — Right Coast (Raleigh) and Yetis on the Beach (Ann Arbor) — held seed to reach the semifinals.
Women's
In perhaps the best matchup of the weekend, Skeeahreet (Boston — mostly Brute Squad players plus Fury's Anna Nazarov) defeated The Mussels (Seattle — mostly Riot players plus Scandal's Opi Payne and Fury's Cree Howard) 13-12 after both teams laid waste to the rest of the competition.
Mixed
Far more surprises cropped up in the Mixed Division, where the two finalists were the #3 and #6 seeds. Point Break (Los Angeles) defeated No Tsu Oh (Houston) 13-11 after Point Break beat a stacked OPig team from Arlington in the semifinals.
Men's Grand Masters
After Old Country (a Boston-area team featuring Jim Parinella) won pool play, they came up short in the final against Alchemy (North Carolina), losing 11-13. Alchemy finished second in pool play, and lost by one to Old Country on Saturday only to avenge that loss in the final.
Mixed Masters
#1 seed Swamp Rats (North Carolina) cruised to the final where they beat #2 seed Over The Hill (Washington D.C.) 13-10 in the final.