A deep and dangerous Pool B may be the toughest at the tournament.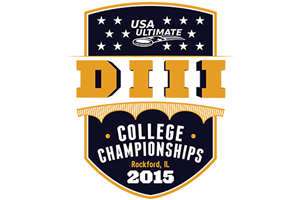 Disclosure: The author plays for Brandeis University.
Pool B may be the toughest pool of the bunch at the DIII College Championships this weekend. It features the number two-seeded team in Brandeis, two semi-finalist teams from the 2014 DIII College Championships in Claremont and Carleton College, and a strong 14 seed in North Park. All of these programs have had historical success at the DIII national level, and this year it will be a tough battle for each team just to advance from the pool.
Brandeis
TRON took the first bid out of the deep four-bid New England region this year. Their record currently stands at 24-4 overall on the season, thanks in large part to their depth. They have at least five players represented in each college year, and that has helped them keep fresh legs and advance deep into tournaments.
Graduate student Stephen Gross has been one of the key playmakers this year for Brandeis, as have captains Noah Newberger and Clarence Lee and seniors Jonathan Schlussel and Rohan Narayanan. Like many DIII schools, the DIII College Championships falls on commencement weekend for Brandeis. This year, however, the TRON seniors were able to work with the Brandeis administration to have a TRON-seniors-only commencement take place the week before Nationals. As a result, all but one senior will be able to attend Nationals this year.
Newberger said that TRON's success this weekend would depend on the players' trust and discipline in their offensive and defensive schemes. "If we trust our offensive system, man defense, and handlers to maintain possession through long points then we'll go deep. It comes down to our mental strength on Sunday to stay disciplined and push through a lot of tough games," Newberger said.
Carleton College
While Carleton GOP had mixed regular season results, in true GOP fashion, they began to peak during the series. Carleton went 11-6 in the regular season, and then 9-0 at Conferences and Regionals.
Like Brandeis, GOP has great depth. That does not mean they do not have go-to players. They lost Brandon Taitt and Daniel Barter from last year's squad, but return Matt Godfrey and Anders Berglund, and newcomers Ian Fischer, Rob Yeagle and Devon Manber have provided GOP with what Godfrey called "youthful energy."
Godfrey emphasized that past years results at DIII College Championships have no effect on their play this year. "Once the year ends GOP immediately forgets everything that happened that year," Godfrey said.
Claremont
The Braineaters will look to avenge their semifinals loss last year at the hands of Bentley. Claremont was up 12-7 in that game, but Bentley staged a great come back and defeated the Braineaters 15-14. Claremont returns nearly everyone from last year's team including 1st team all-region player Alex Cloud and sophomore Jordon Lim. New to the Claremont squad this season though is a coach in Adam Bronstein, an arrival from the Seattle ultimate scene.
Claremont had a short regular season this year, attending just one tournament in the Stanford Open. While they went 3-3 at that tournament, they went 5-0 at Conferences to earn a berth at Nationals.
Like GOP, Claremont has a long history of playing well at DIII Nationals. If Cloud can get rolling early, Claremont will be a hard team to contain.
North Park
The Lost Boys enter the DIII College Championships as the 14 seed, but their play may suggest that they deserve a higher seed. They attended some high quality tournaments in DIII Midwestern Invite and DIII Easterns, and while their results were not ideal at Easterns, they gained experience playing some top DIII teams. Coach Cam Hodgkinson believes this experience will help them heading into this weekend.
"Playing high quality teams, we have an idea of where our team needs to be and where other teams talent levels are coming into Nationals. If we had no idea of what to expect from Nationals caliber teams, I believe we would be at a severe disadvantage, but knowing what to expect coming into the weekend is very beneficial," Hodgkinson said.
North Park missed three or four players for most of the their regular season tournaments and never had a full team until the series. The key returners for North Park include Tom Williams, Timmy Krumland, and Eric Dahl. Their newcomers Brad Johnson and Scott Nitche have made impacts as well. Unlike many teams, the Lost Boys play better in windy conditions. Their handlers have shown their comfort in throwing in the wind and their zone defense is obviously more effective.