All five teams in Pool A have realistic shots at advancing out of the pool.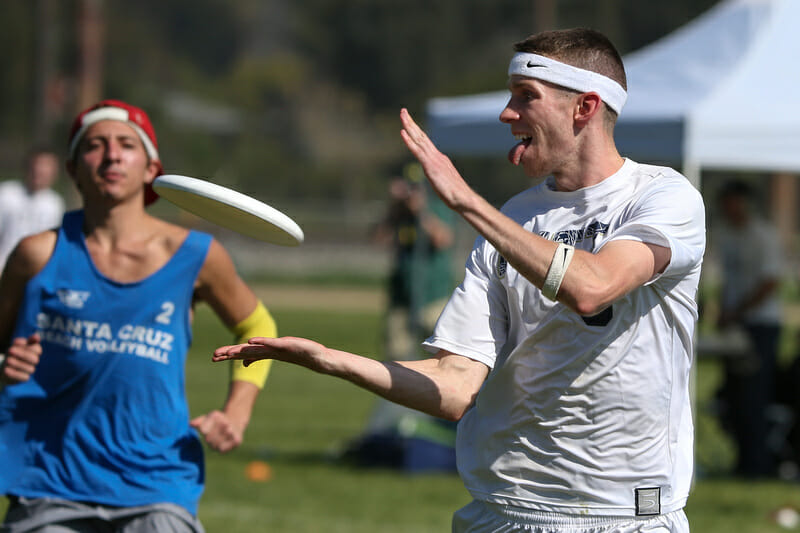 Disclosure: This post is brought to you by Ultimate Central. All opinions are those of Ultiworld. Thanks for supporting the brands that make Ultiworld possible!
The top seed in Pool A — always the #1 overall seed — has not lost a game in pool play since 2011. With the odds-on favorite Pittsburgh again claiming the top seed, it doesn't look likely that that trend will get reversed this year.
But an often uninteresting Pool A should have some exciting storylines this year, as all four of the teams below Pittsburgh have a real shot to advance to the bracket. Here's a look at the competition brewing in the first of four pools in Milwaukee.
#1 Pittsburgh
It's become clear over the course of the season that Pitt is the clear favorite to win the 2015 national title. The names are familiar: Pat Earles, Marcus Ranii-Dropcho, Max Thorne, and Trent Dillon will be hard to handle for any team not just in Pool A, but in the entire competition. The team's offense often performs near perfect, and the defense can stifle even the best of cutters. Some advice for the other Pool A teams: to come close to beating the favorites, you will need a swarming defense and a boisterous sideline.
Pitt's two biggest scares of the year both came at Easterns from UNC Wilmington and Florida State. One thing those two teams have in common is an intensity and swagger that opposes the "business" mindset of Pitt. The team from Pool A that best fits that bill could be Wisconsin, but they'll need some things to fall their way.
Wisconsin did give Pitt a run for their money back in February at Warm Up thanks to a very good defense. But Pitt has come a long way since then and will be well-prepared for Wisconsin's various defensive looks.
#8 Georgia
Georgia is back at Nationals after a short-lived absence. The biggest question mark for this team is their youth and mentality. Georgia lost every double game point they played in this year, and came close to not qualifying by only squeaking past Auburn at Regionals. They still have two powerhouse players in Elliot Erickson and Sam Little that can compete with anyone.
The younger group of talent isn't as young in experience as a typical freshman, either. Sebastian Di Francesco and Nathan Haskell both played U-19's, and Gino Mattice has been dabbling in the Atlanta scene since 2011. Considering that, Georgia is a strong contender for quarters, but not a very strong contender for winning Pool A. Last time they saw Pitt they suffered a seven point loss. They'll have to hold tough just to keep their #2 spot in the pool.
#12 Wisconsin
There have been moments this year when Wisconsin has shown the best man-to-man defense the college game has to offer. They've slipped up occasionally in the year, as well, with losses to Washington, Auburn, and Florida. Daniel Stuligross is the Hodags' Callahan Nominee, and he could will his team forward during pool play.
Avery Johnson, Craig Cox, and the rest of the Wisconsin offense has been steadily improving as well, but they still can't score at the efficiency of some of the top schools. That said, more time outdoors this Spring will surely have helped the team, but the pure offensive talent isn't there for Wisconsin as it has been in years past.
There's no question about it, though: the defense is the real deal and will threaten all of the teams in the pool. Stuligross will lead the way as they try to win the break battles in pool play.
#13 Texas
It seems strange to say that Texas TUFF almost didn't qualify for Nationals. Wash U had a 7-4 lead in the South Central's 3rd place game, before Texas turned it on and broke seven times in a row to grab the last spot out of the region. Chase Cunningham is a hard cover for any team, but Texas still has struggled to flash depth when they need to this season. The team's regular season results are lackluster, for sure, but there are some solid results mixed in, including a win over UMass and close games with Oregon and Pitt.
Texas has to feel good about their chances to make it into bracket play. They should match up well with Georgia, as TUFF's strength remains its towering height. That should serve as a foil to Georgia's potent deep game.
It's worth noting, as well, that Texas stomped Wisconsin back in February at Warm Up, 13-8. Expect a tighter game that could go either way.
#17 Auburn
Regardless of how they got here, they're here now, and ready to work.
Auburn could turn into a classic example of why seeding doesn't matter, and how the right pool can make your weekend. And they're in the right pool. Auburn has lost double game point contests with Pitt and Georgia, and they've beaten their pool competitors Wisconsin and Texas. Of course, now, the regular season goes out the window, but the Nationals format could help Auburn here. They'll be able to pour a lot of energy into each game, knowing they'll get a long rest with just two games per day.
For those that haven't had a chance to watch Auburn this year, the thing that sets them apart is their energy. They don't lose the game they're in until their opponent scores that final point. They eat, breathe, sweat, and grind as the underdog. And they will win one of these games.
Predictions
1. Pittsburgh: sweeps the pool, with a slight scare from UGA. (4-0)
2. Georgia: They take care of the rest of the competition, and show that their youthful depth is an asset, not a drag. (3-1)
3. Auburn: Here's where it gets tricky. The bottom three teams tie (1-3). Auburn beats Wisconsin, Texas beats Auburn, Wisconsin beats Texas. Auburn will advance on point differential because they play Pitt and Georgia close.