An already dramatic Southeast Regionals became the focal point of the entire nation on Monday night.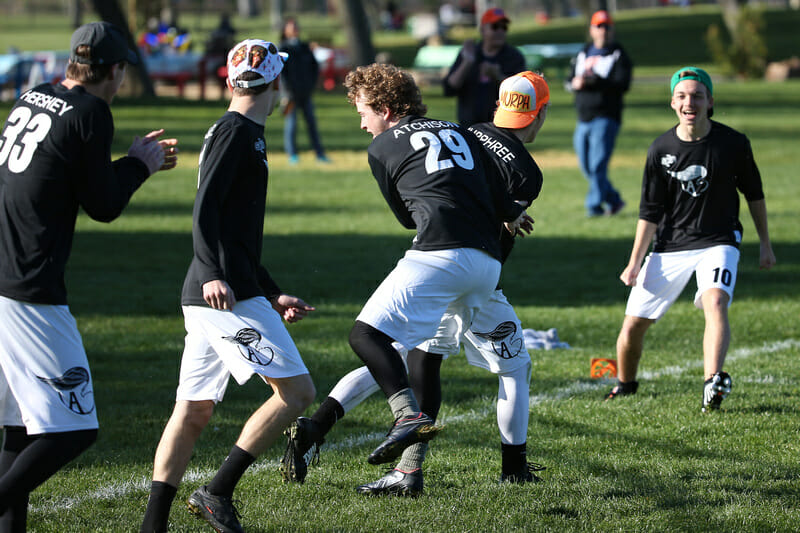 Chance Cochran hits Pat Dougherty on an around blading flick and that's game. Tulane is going to Nationals.
They erupt, as the first Gulf Coast team to go to Nationals since the mid-nineties and the first Tulane team in school history to snag this monstrous achievement. In their weekend wake, they've taken down powerhouse Georgia twice. The depleted Georgia squad will not try to stave off another Gulf Coast foe, and prevent a similar collapse to the one in 2014. Could a Conference that hasn't sent a team to the big show since Bill Clinton really send two in the same year?
Auburn has just taken out bid-earner Florida. The defense was on fire in that game, and it will have to start rolling again. Georgia gets up big early, and trade for a 9-5 lead late. Georgia looks like they've got it wrapped up. Senior Evan Boecking hits captain Garris Bugg for the first break. They break again, before a UGA response brings it to 12-9.
Time is not on the side of the underdog. An Auburn hold sets up one of the weirder Regional moments in recent memory. After a UGA turn, Auburn gets a chance to break to bring the score to 12-11. They put up a shot and the Auburn receiver toes the line: the call is in the hands of the observer. As the orange shirt signals out, the fans in the back of the end zone (mostly Regional champions Florida State) explode. They thought he was in.
Seconds later, the hard cap horn blows, and this point doesn't matter now. To be fair, Auburn would have had to break twice to win that game, but you never want the metaphorical midnight clock to come in the form of a cap horn.
Auburn is gracious in defeat, and Georgia has a new found respect for the teams west of them.
Fast forward to Monday night. Bugg is in the library studying for a tough finals week, when he gets a call from John "Rhodie" Martin, the Southeast Regional Coordinator. Martin tells Garris that Tulane isn't going to Nationals, and that he'll figure out what that means for them. Nothing concrete yet; the information is still developing.
Magical words from Twitter of all places:
Garris' phone is exploding with "group messages that are filled with all caps messages, tons of questions, and smiley face emojis." But of course, these guys are teammates too. In a few weeks, the Alabama based men's club team Southern Hospitality will host their tryouts. Last year SoHo had Evan Walter (Tulane), Pat Dougherty (Tulane), Evan Boecking (Auburn), Garris Bugg (Auburn), Blake Galloway (Auburn), Eric Sjostrom (Auburn), and Drew Galiger (Tulane). Needless to say the two teams are familiar with each other on and off the field. Bugg feels for the Tulane side: "It's hard to imagine."
We now know that it was the actions of one that ruined it for the Tulane side. The team that finished towards the bottom of the Gulf Coast Conference a few years ago had risen to a program peak with a third place Regionals finish and a Nationals berth. No more.
That said, Tulane will not let their work go to waste. Evan Walter is now a premier player in the region, and he has at least one more year of college ultimate. Chance Cochran is a legitimate All-Freshman candidate, and will only get better in time. So in the wake of what was a shocking 24 hours, the story has now evolved into a sad but hopeful story for the Gulf Coast's premier programs.
Meanwhile, Florida State won its first-ever regional title this past weekend, solidifying Peter van de Burgt's candidacy for coach of the year. FSU was unchallenged until the final, when they faced a UCF team that was able to benefit from the early upset of Georgia.
FSU won the finals 15-13, and will look forward to a possible quarterfinals national appearance or beyond. Central Florida made their way to the finals in different fashion, with scares against Georgia Tech and Tulane in the bracket. Florida needed a win against Auburn to advance to the game-to-go. But they couldn't recover from a few early breaks from Auburn and they suffered a 12-10 defeat to knock them out of Nationals contention.
Georgia, in short, did what they had to do. After an early loss to Tulane, they showed resilience and toughness that may have been absent at last year's Regionals. After a narrow defeat in one of their games to go, they were given another opportunity. Late Sunday, they were able to avoid the upset from Auburn, and won in hard cap 12-11.
After all that, the Southeast will be well represented in Milwaukee. Florida State will undoubtedly be the most fearsome of the four, but each of the teams utilizes an aggressive defense that can scare any powerhouse on any day. Despite the fashion in which they were selected, Auburn will have points to prove in a few weekends, and they may even be favored in some of their consolation games.
As for Tulane, the rise of smaller collegiate programs only helps the sport, but the recent wrong-doing by the still-unnamed individual leaves their Nationals dreams dashed this year. But they'll be back.