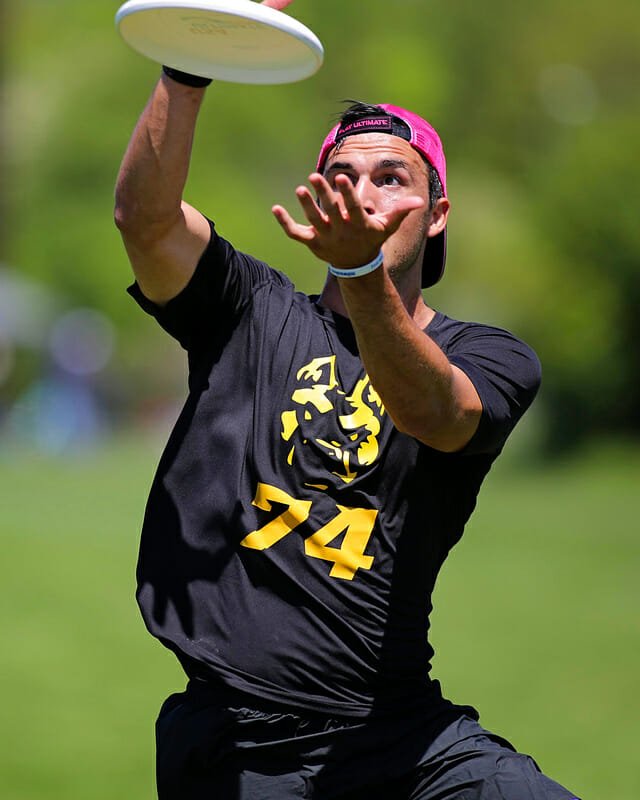 UCF remembers well their blowout loss to Pittsburgh in the 2013 National Championship final. UCF still features plenty of starters that played pivotal roles in that game: Jeremy Langdon, Brawley Adams, and Alex Bullock, among others.
Today in quarterfinals, UCF finally exorcised some demons in a nearly flawless 15-9 win. "We wanted a little revenge," said sophomore standout Michael Fairley.
Pittsburgh started on defense, and came out with an aggressive mindset. It was clear from the beginning that Pitt wanted to play UCF's game and beat them at it. They wanted to be loud, aggressive, and energetic, not the typical style you see from Pittsburgh. Early on, it worked. Trent Dillon got wide open on an iso cut, and when he caught the goal he gave a look to the UCF D-line that was palpable from the sidline. But you can't do that to UCF and get away with it.
Pittsburgh had taken advantage of the Dogs of War's only turn, and UCF wasn't able to force errors, even though the defense was tight.
"They've been our biggest mental hurdle in our programs history by far. If theres any team that beats us better than anyone else, it's Pitt," said UCF coach Andrew Roca after the game. This time, they were prepared for the challenge. The Dogs of War spent all of last night strategically preparing for Pittsburgh, figuring out their matchups and how they were going to run their offense. They weren't scared of the team that seemingly had their number.
Defensive pressure from UCF forced an O-line turn from Pitt. Pitt hadn't faced a team that takes advantage of opportunity quite like UCF. Brawley Adams hit Jeremy Langdon for the first break to put the game back on serve. A Pat Earles backhand huck sailed too far the next point, and UCF had another chance. Alex Bullock hit Michael Fairley, and UCF went up a break. Andrew Roca threw his clipboard into the air in celebration — papers go flying.
Nick Kaczmarek told his sideline that Brawley Adams is a "shooter," a big thrower. Brawley accepted his title with open arms, vocally making sure the Pitt sideline knew to listen to their coach. Brawley hit Langdon again on a huge flick bomb. He would finish with five assists.
Off their next O line turn, Tyler Kunsa would do his very best to stop Adams. Brawley shrugged off the foul, showing that even Kunsa's physical presence wouldn't be enough to stop UCF from converting. UCF rattled off five straight breaks, and took half 8-3. In the first half, UCF converted five out their six break opportunities.
It's hard to make a second half surge to come back, when the offense you're trying to break only turns it three times. It's even harder to come back, when you get broken out of half. "The halftime talk wasn't anything special, just keep the energy up," said Andrew Roca. Tight defensive pressure forced a turn, and Adams hucked for the goal. Adams would huck again for their second straight break out of half, with Fairley skying Marcus Ranii-Dropcho on the other end. Trent Dillon threw a long goal for Pittsburgh to hold, but the UCF sideline stormed the field anyways. At 10-4, with the Pitt sideline silent, the game was already out of reach.
Marcus Ranii-Dropcho attempted to will his team back into it, with three goals and one assist in the second half. But the UCF offense was too consistent. After an initial struggle with a loose Pitt cup, Bullock ran the offense down the field while showing off their short game. The national powerhouse was out of ideas. A Pitt parent noted: "Every time they score, it's like they won the national title."
This was a game-changer for Pitt, and their frustration showed. On the final point, a third Team Misconduct Foul for Pittsburgh put UCF on the attacking brick. An isolation cut from Alex Bullock was too much for Kunsa who was forced to foul hard. As a repeat offender, Kunsa was given a Player Misconduct Foul. After the disc was reset, Kunsa fouled hard on the mark, warranting an ejection from the observers. Jeremy Langdon got the last three assists for the UCF offense.
"Until this tournament we were a big question mark, but hopefully now we're an exclamation point," said Andrew Roca.
UCF got huge contributions from their younger players, allowing their offense to rest when they needed it. Andrew McKelvey came up huge in covering the Pitt offensive stars, especially Max Thorne. Jeff Shapiro got a layout D that was another nail in the coffin for Pittsburgh. Fairley was clearly a big contributor as well, finishing with two goals and two assists.
UCF will face UNC in the second men's semifinal tonight at 9 PM EST, for a chance to return to the finals.
Statistical leaders: Jeremy Langdon (UCF): 2 goals, 4 assists, 1 D; Marcus Ranii- Dropcho (Pitt): 4 goals, 1 assist.