A recap of Saturday's action in Columbus.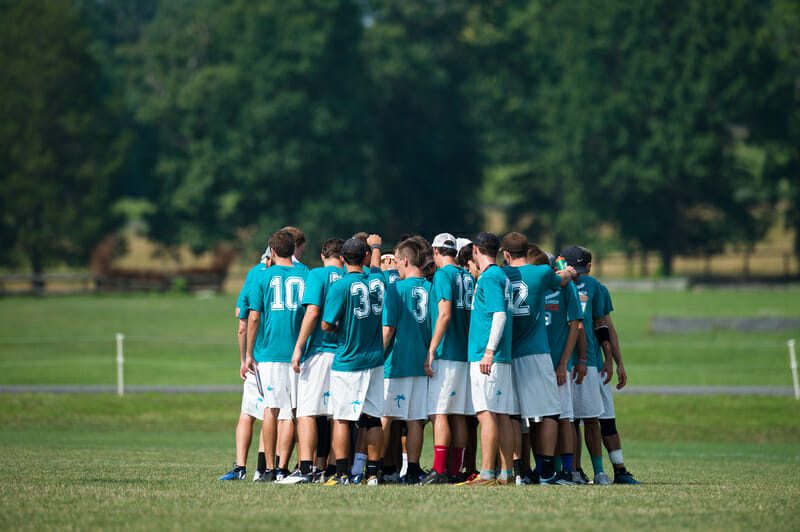 Here's a look at what happened on Saturday around three divisions at the Elite-Select Challenge in Columbus, Ohio. See the championships brackets here.
Men's Division
Florida United got one of its biggest wins in years over Seattle Sockeye and Philadelphia Patrol had a strong 3-0 day to highlight the opening day of play at the Elite-Select Challenge.
Florida United got a bye into quarterfinals with an undefeated Saturday, including an 11-10 nailbiter win over Sockeye. Florida looked confident and aggressive, putting up frequent hucks to their big downfield receivers. Both teams were missing some key personnel in the game, but Florida United was simply the better team and dictated the game's pace and style.
They will face Michigan High Five, who won comfortably over everyone except Austin Doublewide, in the quarterfinals. It could be one of the better matches of the quarters round.
Patrol was the other big story on Saturday, as the resurgent Philadelphia team that looks a lot more like Southpaw than the fractured teams we've seen in recent years came out red hot on defense. They started the tournament with seven straight breaks to take half over Kansas City 7-0 before putting the team away 13-4. Their offense barely saw the field until their game against Minneapolis Sub Zero.
That game was a bit more of a slog, with both teams looking a bit sloppy in the afternoon heat. Patrol's defense is clearly a step above the offense right now, though some missing personnel (as is the case for most teams at the tournament) will plug some holes later this year.
The other two pools offered few surprises, with Chicago Machine and Austin Doublewide easily rolling to 3-0 days.
After a slow start, Prairie Fire found some footing and surprised Sub Zero, who finished a disappointing 1-3 on the day and did not reach the quarters. They did not benefit from a tough draw, getting a tough Prairie Fire team and well-underseeded Patrol team in their pool and then Sockeye in the prequarter crossover.
Prairie Fire rookie Brett Matzuka was as good as advertised, running the offense in a quarterback-like role. Their dreadful start didn't drag them down as they bounced back to win three straight over Sub Zero, Utah Powderhogs, and Denver Inception. They will face Machine (filled with some of Matzuka's current Chicago Wildfire teammates) in the quarterfinals.
Garden State Ultimate rounds out the bracket. They got a hard-fought win over Phoenix Sprawl in prequarters, 9-8, to get a shot against regional rival Patrol on Sunday morning.
Women's Division
The top two seeds, Denver Molly Brown and Quebec Iris, looked dominant on Saturday with easy 3-0 days and byes to quarters.
Los Angeles Viva may have been the day's biggest surprise, surging from the 12th seed into the quarterfinals with a strong win over Chicago Nemesis in prequarters after a 2-1 showing in pool play.
Although the Toronto Capitals and New York Bent swapped places in the bracket, there were few other surprises. Pittsburgh Hot Metal got a good early win over Seattle Underground, who had a slow, sloppy start before looking dominant the rest of the way.
We could be in for a Canada semifinal, as Iris and Capitals are on the same side of the bracket and should both be favored to win their semifinals in the morning over Underground and Viva, respectively.
Bent and Hot Metal could be the most compelling matchup in Sunday's first round. It should be an evenly balanced match. Molly Brown will be a big favorite against Raleigh Phoenix.
Nemesis has to be disappointed about missing the bracket after losing o heartbreaker to Hot Metal on double game point before falling to a motivated Viva.
Mixed Division
All four pool winners went undefeated as surprises were at a minimum in the Mixed Division on Saturday.
The struggles of Oregon's Administrators were perhaps the most notable story on the day. The #3 seed brought a slim roster and didn't win a game in pool play before squeaking out a 12-11 win over Omerta in the consolation bracket.
Philadelphia AMP had a slow start and almost lost to RUA but looked good the rest of the day, Los Angles 7 Figures won their three games easily, New York 7 Express took advantage of the Administrators' tough day, and Austin Cosa Nostra dominated in pool D.
Boston Pleasuretown is the lowest seed through to the quarters after a 2-2 day. They got wins over Illinois' Prion and St. Louis Thoroughbred to advance.
Washington DC Ambiguous Grey, Madison NOISE, and Cincinnati Steamboat also advance.