India won its first-ever game as the Open Division wrapped up pool play.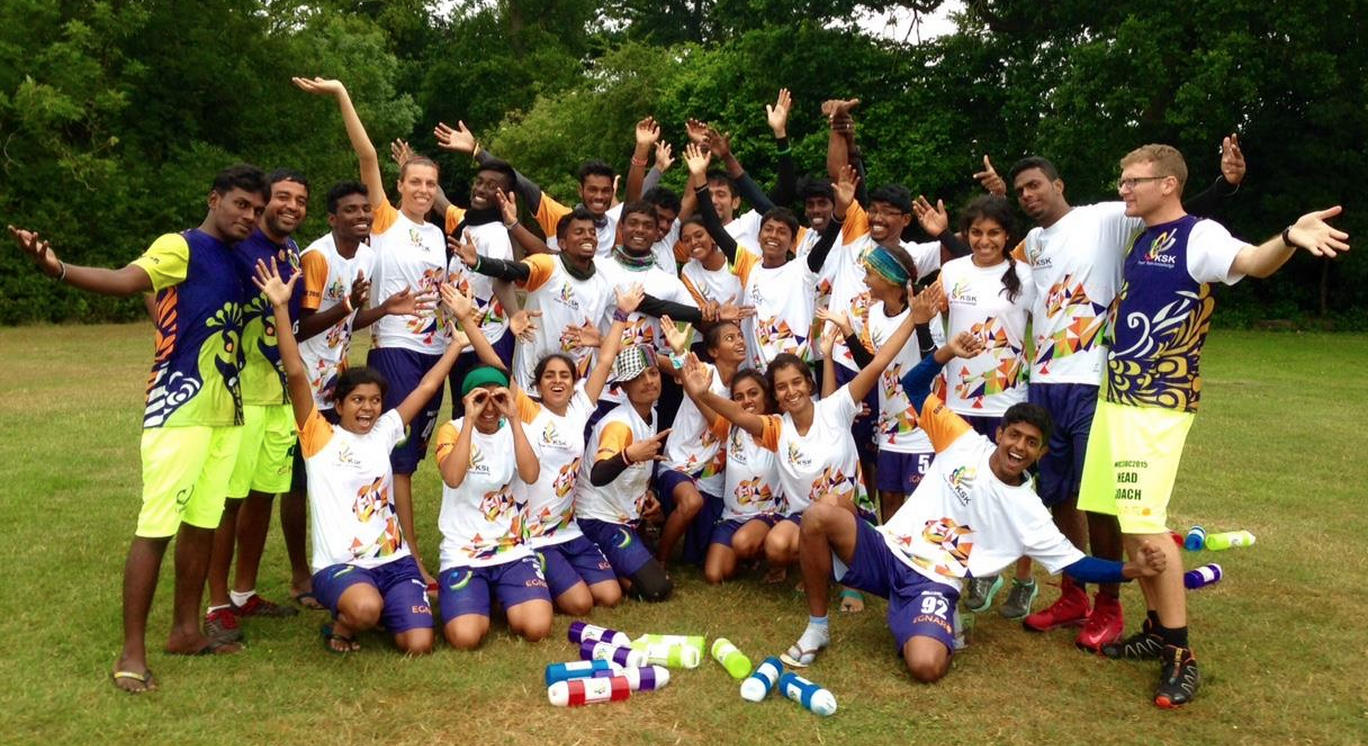 Day three of U23's was a bit of a checkpoint for the divisions. The men finished up pool play and will head into power pools tomorrow. The women finished half of their round robin games and should have a good sense of where they stand. Mixed will finish up pool play tomorrow, and some power pool spots will be up for grabs. On another wet and cool day in London, there was no shortage of action on the international stage.
Open Division
Pool C was decided today in a tight contest between Austria and Ireland. Both teams flashed a similar small ball style and ferocious man defense. Five lead changes in the first half highlighted how evenly matched the squads were. In the second half, the Irish began trying to open up their deep game and found trouble. Three hucks sailed long, giving the Austrians all the opportunities they needed to take the lead. A Florian Moik Callahan for Austria finished the Irish off, 14-10. "To be honest we didn't play very well," said Austrian captain and standout handler Tom Mitterer after the game. "Our team really struggled against the zone, but we played much better in the second half."
Austria has seen an enormous amount of success, especially for a team that threw itself together so quickly. "Winning the pool is unexpected," said Mitterer. "We had a very short preparation for the tournament. We knew we would have chances against all of the teams, but we didn't know where we'd end up." And after a strong pool C performance, they're not done. They've been placed in the United States' power pool, but the sky's the limit. "We're still getting better," Mitterer said. "Every game we play here is like another practice."
I asked Mitterer what makes his team so special; his response was surprising. "The Austrians are a bunch of idiots," Mitterer said while laughing. "Anyone who's played with us will tell you that."
On a more serious note, he continued on to say that the Austrians all came from different styles of play. Each player has his own way he thinks things should go, making them a handful for the coaching staff. But Mitterer sees this as a blessing, not a curse. "It works out well. Everyone has their own ideas to bring into the team, so we find a good mix," Mitterer said. Time will tell if their hodge-podge philosophy can carry them into the bracket.
With the power pools set, some teams will finally see their first real contest. Pool F pits Germany's aggressive defense against the consistent Canada offense in what could be a game to remember. The US men have showed no signs of slowing down, but Austria will use their newfound confidence to give it their very best.
All in all, the level of play is ramping up in the Open Division.
Mixed Division
The Mixed division saw two exciting match-ups on day three. First, Australia pulled off the upset over Japan in truly exciting fashion. Late in the game, Australia pumped up their energy by singing "Waltzing Matilda" during a Japanese timeout. After a marathon of a zone point, Australia broke to take a 14-12 lead. A Japanese huck from Shohei Noguchi sailed a bit long, and Australia capitalized. They closed out the win 15-12.
After the game, Aussie captain Tim Copland was happy with the week so far. "We've got a lot of experience in our coaching staff," said Copland. "Theres also a lot of returners."
Australia Mixed has three players who played in Toronto in 2013 with the mixed team, along with two players from the 2013 men and one from the 2013 women. Needless to say experience is a strong suit. "Ultimate in Australia is growing to the point where we can support three teams now," Copland noted.
The winning team wasn't without their quirks. The Aussies invented a game that all spirit award winners play at the end of each round. Assistants place Vegemite, a popular toast spread in Australia, on both sides of clear plastic wrap. Players from opposite teams are challenged to lick the Vegemite off as quickly as possible, for a prize. "It tastes terrible," said Copland. "It can get very sensual very quickly." Such is the culture of our magnificent game.
In the second to last round, India notched their first ever win as a program over Ireland. The game was fast paced, but India was faster. They utilized downfield athleticism and trust throws that had been developed in multiple training camps since January. "I can't describe it," said India captain Zahra Kheraluwala after their historic victory. "At every point we've been challenged, and nothing's been easy," said Keraluwala. "It's been a roller coaster ride, but it's great experiencing it with these people." Ultiworld will have more on India's remarkable journey after the conclusion of U23 worlds.
Things are beginning to take shape in the Mixed Division, and as teams finish up pool play on Wednesday, the US will await a challenge from one of the top teams.
Women's Division
Canada has been one of the most dominant forces in the women's division and they destined to be headed for a medal. Contributions from Mira Donaldson are big, not to say that they don't have a solid and deep squad. "I'm happy with the way we're building chemisty," said head coach Tasia Balding. "It's sometimes challenging at first, but in the first few days we've risen to the occasion."
Canada has only been a unit for the past week, similar to the U.S squads. That could be a reason for Canada's challenging starts. After a rough game against Colombia Monday evening, Tuesday morning was little different. Great Britain had an impressive showing against the favorites in the first half, but Canada soon found their stride. "There's not always a realization of what the other team is capable of," said Balding. "With our format, we don't have the luxury of getting to ramp up throughout the week." It's true; the women all will play each other before being immediately seeded for semifinals. That makes faster starts important for Canada moving forward.