It was more about the showcase than the final score in Portland.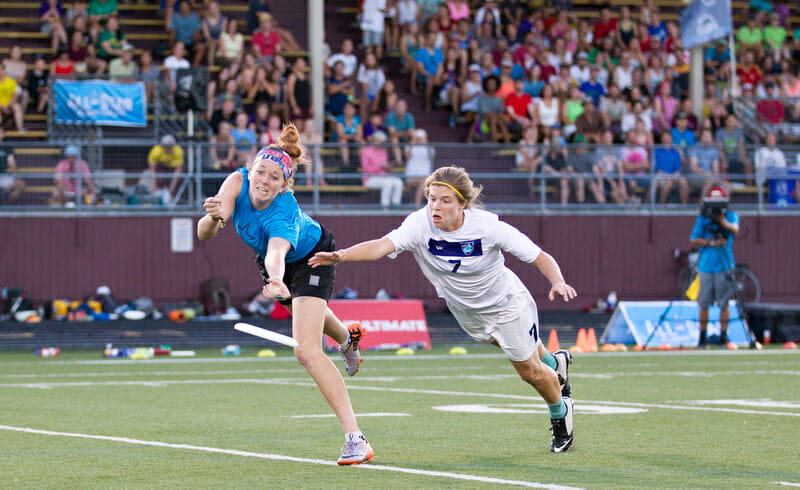 Arriving at Milwaukie High School, the first thing you noticed was the sheer amount of people attending this women's game. The local Portland ultimate community showed up in full force to support the home team. Even though they did not win, Schwa showed the potential they have to become a top Nationals contender one day.
The All Stars gave Schwa a high level game in front of the largest crowd they've ever seen. The game was significant for women's ultimate in Oregon on many levels.
I caught up with Lisa Pitcaithley after the game, hoping to capture some of the team's insight into the event. She shared a few of the positive impacts resulting from the tour so far. One of the most memorable, of course, was Lauren Sadler's SportsCenter Top 10 appearance.
Despite the air conditioning breaking down in the van, the All Star team looked like they had traveled to the game in luxury. They had great spirit, kept a positive attitude, and brought a fantastic game to the field. Schwa didn't just hand them the game, however. The All Stars were forced to adjust to Schwa's pull plays and deep game in general.
Adjusting to these factors elevated their game and contributed to their win. The best thing we saw from both teams was their defense. The All Stars played that type of defense where bidding wasn't even necessary. As Lou Burrus pointed out in a classic article, why layout when you can prevent your man from getting the disc in the first place? With great defense and consistent connections in offensive flow, the All Stars won comfortably.
Schwa, on the other hand, had some revealing flaws in their offense. Jenny Tibbals helped explain one a few of Schwa's most significant struggles. With seven players out (with two key players playing for the All Stars), Schwa struggled to connect in their usual style of play. Schwa plays a speedy, attacking style offense and takes big chances. They just didn't have the coordination to pull that off to their normal ability. Instead, Schwa earned their points with their defense and had two especially promising points coming out of half.
The All Stars finished the game with a final score of 15-8.
One final promising thing I observed was the high youth attendance at this game. There was a youth showcase game beforehand and they stuck around to watch some of the best women's ultimate they'll ever see. It was awesome to see youth players (even the boys!) approaching these women for autographs on the field post game.
I can't tell you how many times I've seen crowds disperse before a women's game. Sure, there was support, but this is something more. Things are changing and I hope they continue to positively impact the growth of women's ultimate. Thank you to the All Stars and Schwa for playing this game. It illustrated in a small way what could happen on an even larger scale one day.