With two bids, the Southwest's game-to-go already looks intriguing.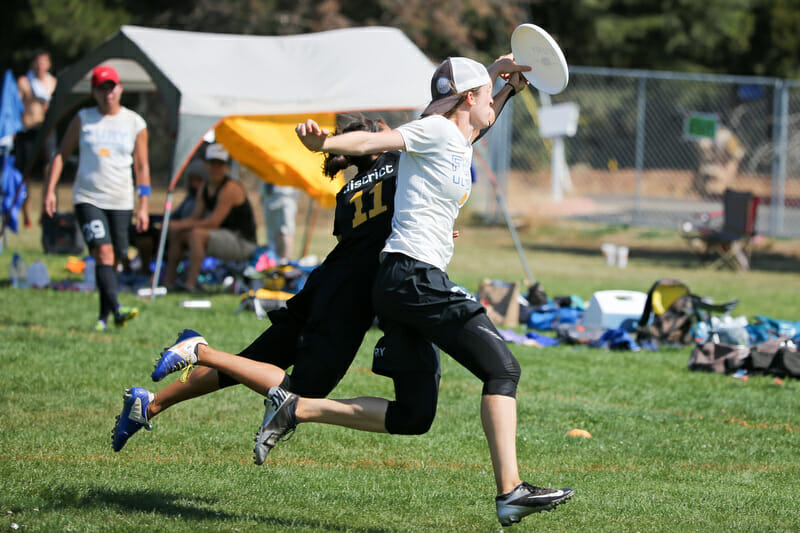 If there's been one region in the Women's Division over the last few years that no bookie would even bother taking bets on, it's the Southwest.
Since the club restructuring in 2012, when San Francisco Fury left the Northwest to become part of the Southwest with the rest of California and Arizona, the regional champion has been pretty much a no-brainer. Previously, Northwest Regionals used to be a fireworks show, with Fury squaring off against Seattle Riot in what was basically a national title game preview, along with Vancouver Traffic in the mix to add further intrigue.
But with each passing year, the apparent cakewalk of predicting the finish at Southwest Regionals becomes trickier, and this weekend's eight-team showdown in Morgan Hill, CA might prove just that.
With a ravenous San Francisco Nightlock tired of being thought of as Fury's B-team, and a handful of other squads looking to throw wrenches into the mere idea of a foregone conclusion, Southwest Regionals just might be a surprisingly close affair this time around.
Here's a look at the field this weekend.
Tournament Profile
Date: Sept. 12-13
Location: Morgan Hill, CA
Number of teams: 8
Number of bids to Nationals: 2
Fury: Business as Usual
Many teams in Fury's position as one of the best teams in the country would find the task of "giving up" a weekend to go down to Morgan Hill and play a pool of teams — the best of which Fury beat 15-0 in last year's Regionals finals1 — as annoying, perhaps even boring. But one suspects Fury's just happy for the chance to play some ultimate together.
Though most likely unsuspenseful, Fury's performance this weekend will be anything but perfunctory, as they'll use these invaluable touches together to put all their pieces in place on their way to Frisco.
One of the more exciting things to look for this weekend is if first-year coaches Sam Salvia and Kevin Cissna choose to roll out some new and/or modified defensive and offensive schemes to give them some in-game experience before Nationals.
Nightlock's peaks keep beating Fury within the realm of possibility, but also suggests Fury isn't playing at theirs. With the mental presence it takes to continuously perform at Fury's level, getting the job done shouldn't be a problem.
Thus far, only Riot has beaten Fury this year (twice). While other teams have given them scares, no one here has, with Viva coming the closest at the wind-laden Pro Flight Finale, 10-6. (Nightlock's losses were at 6-15 and 4-9 at US Open and PFF, respectively.)
While results matter much less than the process for Fury, they'll be going to Nationals after this weekend nonetheless. Whatever sorts of confidence Fury gains from beating teams they should — though they probably wouldn't say "should"— will be joined by the further developing of chemistry, reason enough for Fury to play with full force.
Nightlock Looking to Keep Rising
Nightlock's season has been a fun one to follow.
Blowout wins over Washington D.C. Scandal, Madison Heist, and Raleigh Phoenix sit right alongside tough losses to Toronto Capitals, Atlanta Ozone, and their own blowout defeat at the hands of Phoenix a month after their initial triumph.
It's tough to know what to make of some of those results, particularly anything that happened at the ridiculously windy Pro Flight Finale. But taken as a whole, this much can be confirmed: Nightlock continues to be a program that looks stronger and stronger with each passing year.
They've finished higher at Nationals every year since their inception in 2012, culminating in their tied-for-seventh finish last year that put them in the Pro Flight for 2015 and ensured they'd get plenty of reps against elite competition this regular season.
Though they've been pretty handily beaten in almost every match they've played against the main title contenders — save for Scandal — that may not mean as much as it seems.
They've lost a few key parts such as Marika Austin and Steph Lim, are sorely missed. But adding rookies like Loryn Kanemaru (Fury) and Natasha Won (Polar Bears) to an already solid core featuring names like Bree Cahn, Rachel Habbert, Claire Sharman, and Marisa Rafter means that they'll have no problem bringing plenty of weapons to every opponent they face.
Nightlock remains a solid pick for quarters and maybe even semis at Nationals, if they can put it together for long enough in bracket play down in Frisco. A solid performance against Fury in the finals this weekend would do wonders for their momentum.
But before then, they'll need to survive a Southwest Regionals that looks a bit more contentious than it has been in the last few years. With Los Angeles Viva and San Diego Wildfire both making it into the top 20 and just missing the bid cutoff, Nightlock will likely be tested a few times this weekend by a team not named Fury.
And if they're not careful, Nightlock might be looking at a game-to-go situation with a little more intrigue than they'd like — and maybe even the unthinkable if they don't take care of business early and soundly.
Wildfire on the Cusp
With only the preseason warm-up of Eugene Summer Solstice and the always tough Colorado Cup under their belts, it's been a fairly sparse season for Wildfire. With roughly month-and-a-half gaps in between their three major tournaments — not including Sectionals — it must have been tough for San Diego to find ways to make practice more productive than just repeated self-scrimmaging.
But their recent dominant showing at SoCal Sectionals would suggest they had little trouble finding ways to grow as a team.
Though they've been decimated by every truly elite contender they've played so far this year, Wildfire has at least played lower Nationals level teams like New York BENT and Seattle Underground close.
This would suggest that although a full upset of Nightlock or Fury doesn't seem too likely, Wildfire should have the firepower to surprise those two squads and give them a much closer game than they might've been expecting.
Viva Hungry for the Upset
In a season where Viva has had their best chances of reaching the potential of their high-level possibilities, LA's women get a final shot to prove themselves this weekend in Morgan Hill.
Last year, Viva fought hard past Wildfire to earn a shot at a Nightlock freshly bageled in the Regional final to Fury. Viva's result ended the same, as Nightlock cruised to a 12-6 trip to Nationals.
This year, after cleaning up at their hometown tournament, LA Invitational, Viva went on to go winless at the Pro Flight Finale, eliminating any lingering possibility of earning the Southwest a third bid. Then they lost 10-7 to Wildfire in the SoCal Sectionals final.
Viva must be frustrated. Whether they shed it or use it as fuel, LA must figure out a way to persist in high-stakes situations.
They've beaten Philadelphia Green Meets Go and Chicago Nemesis, but that was much earlier this season. It's going to take a lot for them to upend a rising Nightlock, and it's going to have to start with their performances leading up to the game-to-go.
Viva needs to be more consistent if they want to give themselves the best chance they can against the region's clear No. 2. Not only are they going to have to beat Wildfire and the field, they're going to have to do so with confidence.
---
Albeit in part because Nightlock was resting players for the ensuing game-to-go. ↩