Blackbird came out on top of the Southwest for the second year in a row despite a rocky regular season.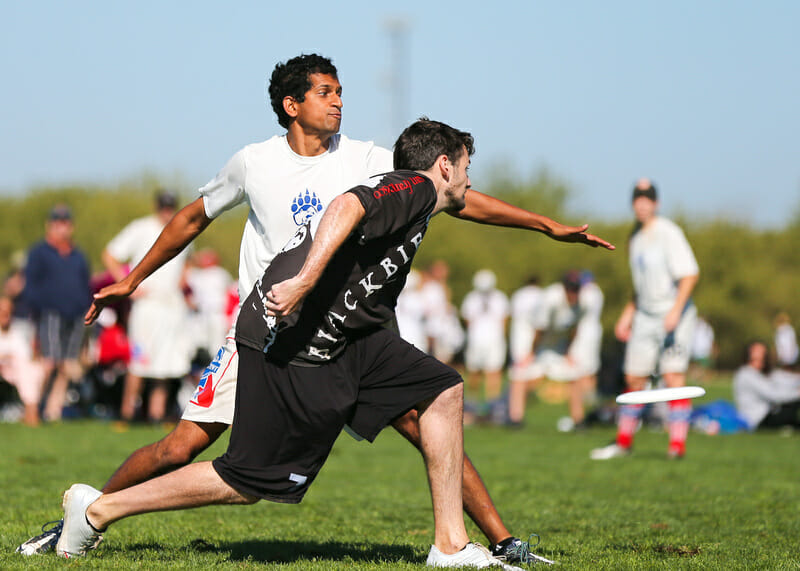 MORGAN HILL, CA — Despite their somewhat murky regular season, San Francisco Blackbird, for the second year in a row, finished atop the stacked Southwest with a 15-6 drubbing of San Diego Dorado in the Regional final.
"Playing a tournament like this is like a mini-Nationals," Blackbird captain Nick Slovan said. "We were happy to have our full squad, and we've been building all year and had some up and downs, but we really came together."
One might be tempted to think by the 15-6 score that Dorado was resting for their second game, but that is not the case.
San Diego started the game pumped up and their continuation cuts were clicking. But Dorado's athletic, huck early-and-often game ran into trouble when matched up against the most athletic team in the region (and perhaps the nation).
Led by two of the best throwers in the region in Justin Norden and Mac Taylor, Blackbird's offense looked impeccable. There was hardly any wind at the thankfully overcast Morgan Hill dust fields (teams were expecting 95+ heat), giving Blackbird free reign to throw quick and devastating inside breaks over and over.
San Diego tried to huck themselves back into the game, but unlike in their semis win over San Francisco Mischief, Dorado's deep game was off against Blackbird. However, it was clear that even when Dorado's deep shots looked good, Blackbird was simply too skilled, athletic, and experienced for Dorado.
Amanda Dauphinee, Lauren Casey, and Remy Schor were absolute menaces for the Dorado women to try to guard, let alone get open on. The 2011 and 2012 champions took half 8-2 and didn't look back.
Fittingly, the game ended on an full-field inside-out bomb Taylor threw to a streaking Barrs Lang, who skied for the score and the win.
It was a convincing cap on a strong weekend, where Blackbird won all of their games by at least four points, including a solid 15-11 victory over San Francisco Polar Bears in the semis.
After falling in the final, Dorado waited to see who would win the slugfest between Mischief and Polar Bears, the two teams who had earned the Southwest its bids.
A Title Contender Eliminated
PBR came in having to grind out a 13-11 win against the tough Los Angeles 7 Figures. Mischief, however, was fresh off a 15-4 cakewalk over first-year team Chico Playtpi, who appeared to be too tired after their double game point comeback win over San Francisco Groove the round before.
Yet, even with Mischief's extra rest, it was PBR who came out more focused and aggressive.
Clay Miller's salesmen-worthy fakes and patience centered the Polar Bear offense down the stretch, while An-chi Tsou and Morgan Paulson caught everything thrown their way and distributed the disc with precision.
On the Mischief side, it was Sean Ham and Kevin Smith working in tandem as wily cutters, receiving numerous gifts of pinpoint throws from Chuck Cao and Matt West.
The best match-up of the game was undoubtedly PBR's Sam Adamson on Mischief's Ham.
Late in the game, Ham skied Adamson for a D and then roofed him on the other end for the huge bookends and Mischief hold to make it 13-12.
But only a few points later, the game tied at 14s, as everybody—even San Francisco Classy, who set up a trampoline and boombox field-side—was whispering to ask if it was double game point (the game turned out to be to 16), Ham cut under toward the sideline and Adamson went for it, getting the wrap-around D on a great no-call by Ham. It was a risky, great play, as the experienced and ruthless Ham could have easily burned him deep had the disc not been put. But it paid off, as PBR secured the break on the ensuing possession.
Mischief held on the next point, leaving PBR to receive on DGP. Though an initial near-D would fortuitously land in Miller's hands, PBR looked efficient and confident marching it up the field before Miller hit Eric Greenwood up the line for the right to play Dorado.
Despite coming in ranked No. 4 in the country, Mischief failed to make Nationals for the first time since 2011. The most consistent, dominant team in the Southwest lost twice this weekend, when they'd only lost four times all season.
Mischief's weekend started slow on Saturday morning, as they let teams far below their pedigree notch double digits on them. Mischief was often out of sync, and they often turned it over multiple times on offensive points. Their frequently mature demeanor was occasionally disrupted by rushed decisions and holding the disc for too long.
In a season where Mischief looked like legitimate title contenders, they got usurped in their own region and will have to wait until next year to once again test their potential.
Perennial Finishers PBR Get It Done
As tired as they looked, PBR's close win over 7 Figures must have helped them somewhere, even if it forced them to run a lot more than they would have liked.
Veteran Robert Gormley helped them get their first block and break as he led the D-line to take half 8-5 on a quiet Dorado in the game-to-go.
San Diego put up some great throws as always, but despite the fewer games played, they lacked the energy and urgency of PBR to want to win the game. Between overly casual hucks and top throwers getting hand-blocked, a certain confidence was missing from Dorado.
Polar Bears, however, had been there before. Despite turning over nearly half of their roster, PBR has continued to stay relevant this year. They fought their way through some elite teams for the chance to go back to Frisco, and they took it.
Ethan Falat, a first-year San Jose Spiders player, had a monster of a game, racking up at least five blocks, including one point where he had two and then busted deep for the bookends.
PBR's offense played mature, patient trust ball, especially in the red zone. Comfortable moving the disc laterally, PBR waited for a chance to slip in deadly accurate I-Os. They comfortably won the game-to-go 15-6, earning a trip to Nationals for their sixth year in a row.
It was Dorado's second year in a row of losing in the game-to-go in as many year's existence.
San Diego, while having a mercurial regular season, certainly outperformed their former selves this weekend, given the two-bid situation.
When their huck game is on and they have energy, they are hard to keep up with. They can have difficulty reacting to a team when they don't get to dictate the pace of play, but they're on the rise and will surely be deep in the bracket again next year.