What weirdness will emerge from Pool B?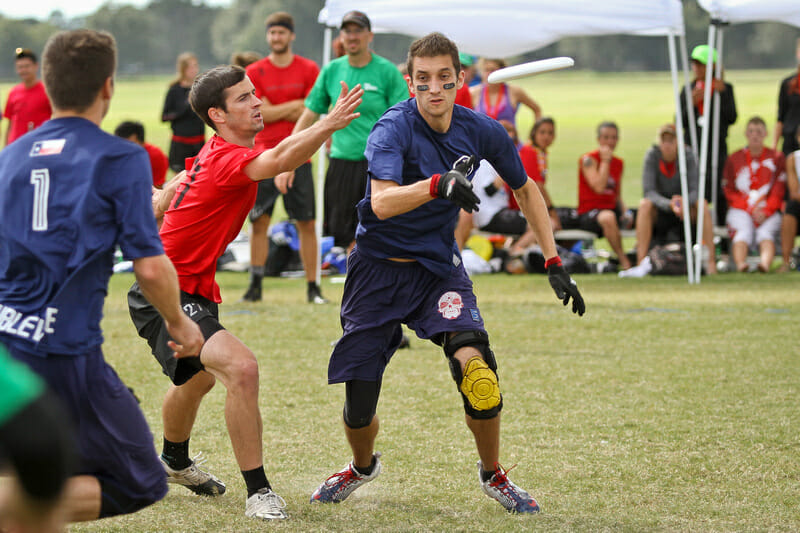 This could be a weird one.
Each pool at Nationals always has a defining characteristic. This year, Pool C is the pool of death. Pool D is the old guard vs. the young guns. Pool A is the competition to see who can lose least embarrassingly to Revolver. But Pool B…it could be a weird one.
Each of the four teams slugging it out this weekend bring to bear something a little strange, a little unorthodox, that is going to make for an interesting Thursday and beyond.
Doublewide might be the most talented team in the country, but it is not easy to see exactly how all of the pieces come together. Ring of Fire is a team that semi-inexplicably seems to play their best in big games, or at the very least convinces their opponents to play their worst, regardless of what previous results and performances would have you believe. Rhino is a team that is impossible to pin down, as they seem just as likely to end up in the semifinals as they are to drop all of their games. And last, but certainly not least, you have Sub Zero, kings of the weirdo hill. They play the game with a contagious sense of mischief, and oh yeah, they showed up last year looking like this.
It really is hard to parse exactly how this one will shake out. Doublewide certainly seems to be the favorite, but have been very inconsistent all year. Rhino put themselves in the semis conversation by knocking off Sockeye at Regionals, but were the 7th seed last year and lost all of their games in pool play. Ring is a returning semifinalist who, based on their results, might be generously ranked as high as they are. Sub Zero somehow managed to beat Doublewide and Ironside while losing to PoNY, Temper, and Prairie Fire, and to reiterate, showed up to Nationals last year looking like this.
Suffice it to say, we should expect the unexpected from Pool B teams this weekend.
#2 Austin Doublewide
After missing out on the semifinals the past two seasons, the 2012 National champions have reloaded this year with a roster that belies the notion that Texas is a lone star state. All-everything superstar Kurt Gibson is back, along with his running mates from 2012: Kiran Thomas, Kevin Richardson, and Tim Gehret.
In addition to the decorated veterans, Austin's youth contingent has blossomed into one of the best young cores in the league. Will Driscoll and Chase Cunningham make for a terrifying ambidextrous monster on offense, while Dalton Smith, fresh of a college season in which he and his A&M crew lit people on fire for five months, has been a key part of the Doublewide defense since his rookie season in 2012.
Despite the inordinate amount of talent on the team, they didn't have the kind of resounding success you might expect in the regular season. They had trouble all year putting a complete tournament together, and not making the finals of any regular season tournament is surely a disappointment for a team with its eyes set on a title.
But if you dig a little deeper, you can see a potential juggernaut emerging. While certainly inconsistent, Doublewide's good moments have been very impressive. This year they have beaten Johnny Bravo, Sockeye, Truck Stop, and High Five. That is four out of the top six seeds at the tournament, which is the most impressive collection of scalps any team will bring to Frisco.
In several ways, 2015 Doublewide is starting to resemble the 2014 champs, Johnny Bravo. Just as their regional rivals did last season, Doublewide added a bunch of talent (including centerpiece Kurt Gibson!) to the team but got off to a bit of a slow start before turning it on at Regionals.
If Doublewide is hoping to replicate the success of Denver's 2014 dream team, they will need to have an identity in place for when things start to go wrong. Last season when the going got tough for Bravo, they let Jimmy Mickle and Gibson dominate the disc and win their matchups off the front of a punishingly effective vert stack. It was something of a more conservative, grinding approach than you might expect from a team with Brodie Smith, Bart Watson, and Brett Matzuka at its disposal, but in the biggest moments it gave Bravo the best chance to win.
Don't be surprised if during your average points, plan A, B, and C for Doublewide involves letting their superior athletes make a play.  This team has the mix of playmakers and huge throwers, bolstered by the acquisition of Brandon Malacek, to hurt any team downfield. But when the chips are down, what will the plan be? Let Muffin jack it to Driscoll? Grind with Gibson and Gehret?
We'll soon find out.
#7 Portland Rhino
Heading into Regionals, Portland Rhino looked like a team that could maybe get a few key wins at Nationals and return to the Pro Flight in 2016. After dethroning #2 ranked Seattle Sockeye to finally take the crown in the Northwest, the bar of expectation has risen. Rhino has always been on the outside looking in as a semis contender, but this year that could change.
Much like Doublewide, most of Rhino's big off-season moves involved the return of key players from past Rhino squads. Eli Janin, Chase Sparling-Beckley, Matt Melius, Riley Meinershagen, and several other key contributors to Rhino's past success have come back to the green and yellow this season. Their experience, knowing what it takes to win big games, has helped put Portland in the position to take the next step.
That isn't to say that many of the young Rhinos (calves, apparently) haven't done some winning of their own, as Rhino will deploy a large contingent of the Oregon Ego team that made a thrilling run to the championship game of college Nationals this past May. That experience could prove to be invaluable if Rhino find themselves in the later round of the tournament this weekend, as the fresh legs of college kids are a huge asset for a team with so many veterans.
On the field, Rhino isn't likely to do too much tactically that will surprise opponents. In general, their success comes from the fact that they just execute their game plan exceptionally well. In classic Oregon ultimate style, Rhino will look to spread the field and let their high flying cutters go to work. It should not be understated, this team has blazing speed on its roster. If any team has a weak link on their D-line that cannot match the pace of Portland's blistering attack, you can bet it will be exploited.
Before their season re-defining performance at Regionals, Rhino's results this year have been a mixed bag. They scored a nice win over Truck Stop at Colorado Cup and notched two wins over the Ring team seeded below them in this pool, but never seemed to put a whole tournament of consistent play together. Losing handily to Doublewide early this season isn't a great portent for the team, and a sloppy loss in the wind to Ironside at Pro Flight prevented them from picking up momentum heading into the series.
Portland's season thus far makes it difficult to predict exactly where they will finish. Remember, they came into Nationals seeded 7th last year and lost all three of their games on Thursday before coming out of nowhere to stun Sockeye in pre-quarters. If their up and down results carry over to this weekend, we could see something similar.
When it gets down to crunch time, it will be fascinating to see who the team relies on to step up in the big moments. Will young captains Dylan Freechild and Jacob Janin roll the dice with the exciting talent of some of their younger players like Connor Matthews and Adam Rees, or will they rely on the old guard to come through in the clutch like they have in the past? Knowing exactly who they can count on to come on and stem the tide if their opponent rolls off a couple breaks will be crucial.
#11 Raleigh Ring of Fire
Quick stat that will win you a bar bet (if you hang out at bars populated with ultimate players): The only teams to make semis at least two times in the last three years are Revolver, Ironside, Johnny Bravo, and… Ring of Fire. Not Doublewide. Not Sockeye. Ring.
And yet, the Raleigh squad never seems to get mentioned in the same breath as the others on that list. Heading into every season even teams like Machine, GOAT, and Chain all seem to get brought up as potential semis contenders before Ring does. If Ring of Fire can return to the semifinals this year, it's hard to imagine that will continue.
Perhaps one of the reasons Ring's success tends to be overshadowed is because it just seems so improbable. In 2012 they went from the 10th seed all the way to semis after dismantling Sockeye in quarters and in 2014 they finished dead last in their pool on Thursday before proceeding to blow away Machine and Chain Lighting in bracket play.
You may look Ring's results this season and (reasonably) claim that they have no chance of repeating their success from last season. That is your common sense talking, but since when has anything about Ring ever made sense?
If you are down on Ring's chances, the 5-7 record during the regular season with the only one real quality win on the certainly helps your case. So too does that fact that they got blown out by Southeast upstarts Florida United in the finals at regionals. But something to remember about any Mike DeNardis-coached team is that nothing matters until Nationals.
That point has to be front and center for anyone taking a glass half full perspective on Ring's season.  There is an extremely recent example to support the theory that DeNardis and Ring have been slow playing (or since it is Carolina, maybe slow cooking?) the season thus far: UNC Darkside.
The UNC college team featured many of the same players and of course the same coach that will suit up for Ring this weekend, and before they romped through Nationals in May were a shadow of themselves all through the regular season. Come Nationals, however, they unveiled new defensive schemes and an offensive identity that bamboozled their opponents all tournament.
We could very well see something similar to play out this weekend, and at the very least expect some wicked defensive looks that Denardis and his staff have been cooking up all season.
Another argument in favor of Ring's chances this weekend is that they are essentially the same team as the 2014 semifinal squad that came within an absolutely bananas 20 minute double game point of reaching the championship. Christian Johnson was the most notable departure but Mark Lin has done nicely sliding into his spot on the O-line, and the leap forward that young players like Justin Allen, Terrance Mitchell, and Jack Williams have made should provide Ring with more firepower.
Just like last season, Ring should be able to play an adaptable style with their Swiss Army knife of a roster. They have some crazy athletes in Allen, Ken Porter, and JD Hastings that that can match any team stride for stride, throwers in Jon Nethercutt and Jared Inselmann that can bomb away with the best of them, and of course the spine of Ring's personality, the Carolina goon squad on defense that isn't afraid to make their presence felt.
A mediocre regular season has Ring seeded down in the bottom half of the tournament, but if history has anything to say about it, we should be in for a surprise or two from the Raleigh team this weekend.
#14 Minneapolis Sub Zero
Coming in as the 4 seed in the pool, but #1 in the hearts of many ultimate fans, is the team from the land of a thousand lakes, Sub Zero.
The team's reign atop the North Central region ended this season after a loss to Prairie Fire in semis forced the team to wade through the backdoor bracket at Regionals in order to secure a bid. This loss, combined with a mediocre regular season, has Sub Zero seeded comfortably near the bottom of the barrel.
There is some reason to hope for Sub fans out there, however, as an impressive performance in the wind at the Bro Flight Finale showed that when the team's ducks are in a row they could play some very effective ultimate. Notably, they scored a convincing 13-9 win over Doublewide that weekend, the only team in Pool B to take down the top seed this year.
When things are going well for Sub Zero it is because their set plays are on point. Usually operating out of the vert stack, Sub loves to let stud handlers Simon Montague and Grant Lindsley put breaks out into space, looking to create room for quick continuation hucks on the break side.
The offense in general has been the strong suit for Sub, as Nick Stuart along with his former Carleton teammates Montague and Lindsley are about as a good a top three offensive unit as any in the country. This trio will do a disproportionate amount of the heaving lifting for the Sub O-line, and if teams want to stop Minneapolis's offense, it starts with knocking one of those guys off his game.
Defense has been another story this season, as the D-line for Sub Zero just hasn't looked quite like an elite unit. They aren't forcing turns or converting breaks at a level you would expect from a team looking to make a deep run at Nationals. The wind at Bro Flight helped the defense out and generated a few extra turns, but if conditions are calm this time around in Frisco, it could be a long tournament for the defense.
Losing Eric Johnson to Bravo certainly doesn't help the cause, as last season he was able to cross over to the D-line and instantly inject some menace into the defense. For a team that relies on its best players to do a lot of the work, his loss really resonates.
Sub Zero was able to add some young speed and height in the form of Conor Kline and Ben Jagt, who both had great tournaments at the college championships this year,  and if Sub makes some noise this weekend expect these two young players breaking out on the club scene to be a big part of that story.
Looking Ahead
It's hard to project pre-quarters matchups for the Pool B teams, partially because of the volatility of the teams in the pool but also because Pool C looks to be just as much of a toss-up. Without a clear boogie man to avoid or a weak link to prey on, all of the Pool C teams would present a seemingly formidible challenge.
Look for the Pool B teams to use Thursday to gain some momentum and confidence heading into the elimination rounds. This will be particularly important for Doublewide. If they are seeking to emulate Johnny Bravo's success from last season, they will need to take care of business on day one and establish themselves as the dominant title contender that their roster and pedigree suggest they are.
If there is any strategic positioning and/or sandbagging from this pool, it may come in the form of a battle for third place as opposed to second. There is no telling who the pre-quarters matchup will be, but finishing third means avoiding Revolver until the semifinals, which I'm sure every team at the tournament would like.
Something goofy is going to come out of this pool. Whether it is Sub shocking everyone and grabbing second place, Rhino either winning the whole pool or losing every game by five, or the tantalizing prospect of Ring and Sub-Zero engaging in a mustache battle for the ages, something memorable is going to happen.
Get excited, because we don't have long to wait for whatever it is.