Catch up on all the action from day one in the Mixed Division!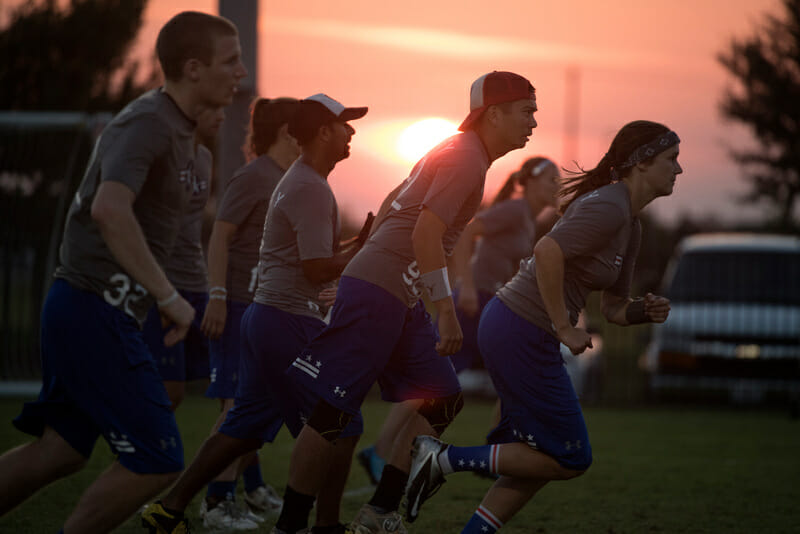 Thursday provided plenty of excitement in every pool of the Mixed Division and even offered a few top seeds getting upset by lower-ranked teams.
Here's a deeper look into how it all went down.
Pool A: Mixtape Looking Unflappable, Defending Champs on Shaky Ground
When a team is throwing high-release flick hucks against the two-time defending national champion, and completing them with sick layout grabs in the endzone, you know they're playing with no fear. And there's nothing scarier than a team with no fear, especially when that team is loaded with talent and executing even the most puzzling of looks.
Seattle Mixtape is about as unpredictable an ultimate team as they come. That is, it's tough to know what to take away from them, because they like to do things that pretty much no other team would even think to try.
It's tough to gameplan for them, then, because if you force them to take something they just might do it, just not in the way you might expect. Either that or they'll throw a trust ball to someone who doesn't even look open—and hit that cutter in stride.
They trounced both New York 7 Express and Madison NOISE, then came back from a 2-5 deficit to stomp the World champs.
If they play anywhere near the way they played today, you can expect them to return to the title game. Except this time, they'd be the favorite.
As for the overall one seed, they've been looking quite unlike their usual postseason pedigree.
Minneapolis Drag'n Thrust opened the day by letting NOISE take half 8-6 on them, not regaining the lead until 12-11 en route to a somewhat embarrassing 13-11 win. Then they barely edged out No. 13 seed 7 Express by the same score. Knowing that, Drag'n Thrust's total disintegration against Mixtape makes a lot more sense.
To be fair, maybe Minneapolis is playing the long game and quasi-tanking pool play as a means to work out some kinks before bracket play. That admittedly doesn't make much sense. But it feels like there has to be some reason why the most dominant team of the past two years can barely handle two squads that don't have a single win against a top ten team.
Perhaps that reason is just that this isn't their year.
Rounding out the pool, 7 Express and NOISE made some splashes and indicated that they have a right to be here this weekend. But it seems unlikely that either will be able to make it to quarters tomorrow.
Pool B: CLX Eyeing First National Title, Ambiguous Grey Rocks Two Upsets
Ames Chad Larson Experience is playing like a team that's really tired of still not having won a national championship. And if it's true that this might be their last season together, they are without question executing like a squad that wants to go out on top.
Their breakmark game is one of, if not the, best in the nation. The amount of hucks they connect on in stride with nary a play made by the trailing defender is astonishing. And they somehow manage to routinely create a great deal of separation on both their unders and out cuts.
Also, similar to Mixtape, they play with a kind of confidence that can only be matched by maybe one or two other teams.
Take their double game point point against a surging Atlanta Bucket. Though they turned it initially, once they got it back they took little time taking yet another deep shot downfield to a cutter who was really only open by about two steps—and the disc sailed right into his chest. No biggie.
CLX seems like a lock to win their prequarters match against Boulder Love Tractor. But once they do, they'll have to play the winner of Drag'n Thrust and Blackbird in quarters, thus possibly getting an early chance at revenge for their semis loss last year. Should be a real scraper.
Coming out of nowhere, Washington D.C. Ambiguous Grey stormed out of the gate and upset both Bucket and New York Metro North. Though they got crushed 15-8 by CLX, there's good reason to think that they are a quarters-capable team, especially since their second place finish in the pool earned them a prequarters match-up with Seattle Birdfruit.
There's probably no other team today that dumped and swung the disc more freely than Ambiguous Grey. Such patience opened up a lot of easy scores for them, particularly in the red zone.
If they can keep it up they'll get a chance to face off against Mixtape in quarters for a clash of styles that should be intriguing to watch.
Despite their slow start and 1-2 finish, Atlanta Bucket picked up a good amount of steam as the day went on and finished their last game nearly upsetting the pool's top seed. Atlanta-area veterans like Dylan Tunnell, Asa Wilson, and Maureen McCamley wrecked defenses all day, though were not without the expected trying-to-do-too-much turnovers.
With the draw of a San Francisco Polar Bears team that struggles to defend and open their own deep game, Bucket may be able to salvage much of today's failings with a clean prequarters win Friday morning.
New York Metro North rolled out hot and came very close to toppling CLX at 15-17, but got worse and worse as the day went on. Maybe opponents came upon a scouting report that said Metro North relies on their deep game to get things going or maybe the New York squad just feel victim to diminishing returns.
Either way, they'll need their best game of the tournament to upend Northeast Regional champs Boston Wild Card in prequarters.
Pool C: Wild Card Steamrolls, Polar Bears Barely Holds Seed
Boston Wild Card might have the most dynamic and well-practice vert stack in the division. Despite the various poachy and junky looks that opponents tried to stymie them with, Boston routinely managed to find the holes and punish those poaches.
They broke the mark at will and made excellent continue cuts to the break side, exploiting a good majority of the situations where the receivers turned throwers had no mark.
When the downfield cutters struggled to get open (and even when they didn't), Wild Card had no problem generating movement in the backfield. And when defenses began to respect their uplines, they'd stop the cut midway and get a dump swing break with no mark and plenty of space to continue down the break side.
Just good fundamental ultimate that adjusts to shifting openings in the defense.
Much like CLX, Wild Card seems pretty fed up with being on the cusp of true greatness for a while and looks primed to finally break through and fight for their first championship.
Two wins and a second place finish in the pool would theoretically be a good day for just about any team, but something about the way San Francisco Polar Bears did so doesn't inspire grand confidence. Sure, their patience and disc movement looked good for much of the day. And they often played good defense, particularly on the unders.
But PBR's inability to routinely notch easy offensive holds in under ten throws, convert a high enough percentage of their break opportunities, and stop the deep game of their opponents points to future troubles perhaps as early as their prequarters match-up with Bucket.
As San Francisco's walloping by Boston illustrated, PBR is a much different team when defenders put great pressure on their unders and force them to play bigger than they'd like. When that happens, they have a tendency to get out of the rhythm of the main assets that make them so good: quick disc movement, great continuation cuts, and smart decision-making.
If they can't figure out how to better open up their huck game and make offensive possessions easier on themselves, they may be looking at another early exit in Frisco.
Seattle BirdFruit and Boulder Love Tractor both showed glimpses of greatness but neither seemed to be able to hold onto that greatness, except when they played each other (at least in the case of BirdFruit). Chances are neither will make it out of prequarters.
Pool D: The UPA Wins Out on Intelligence and Execution, Slow White Cleans Up the Rest
Well, the rumors were true. Despite their humorous name, The UPA is no joke.
The team from Chicago started the day with a quiet 11-10 universe point upset over San Francisco Blackbird. Then they upped the ante with a huge 15-10 clobbering of Boston Slow White, a team that almost exclusively lost to top five teams during the regular season. And if one was pressed to explain how The UPA did it, such an answer wouldn't be easy.
It wasn't with overt athleticism or crazy talent. Though they certainly have both of those—even if their average age is 34 and they only have two players under the age of 30 (both at 29)—that wasn't exactly what won those games for them.
If anything it was a deep wealth of ultimate IQ and an unreal execution rate. The number of hucks that managed to find their receiver regardless of how tough the angles were or how early the throwers put them was truly a sight to see.
And similar to Mixtape and CLX, the UPA played an inspiring game of trust ball where they would put everything from deep shots to break swings into tight windows, knowing that their receivers would take care of business and come down with it. Much more often than not, they did.
Based on how they're playing, Chicago is lined up for an outrageously exciting semis match with Mixtape that's pretty much guaranteed to be full of highlight reel plays and interstellar levels of confidence.
You obviously don't want to buy the cart before the old horse even really comes into the picture, but if The UPA can play even close to how they did today, they'll be rolling through bracket play and making USAU ever more nervous about the thought of having to repeat their former name over and over on an ESPN3 broadcast.
Boston Slow White looked like a team ravenous to return to the title game they once lost in two years in a row. When they played any team that wasn't named after a certain former association of players, Slow White came off as exceptionally focused and willingly to put in tons of work for even the smallest gains if it meant they'd be that much closer to winning.
They ran hard on their setup cuts. They ran hard on their unders. They even ran hard when they were clearing or cutting for a dump.
This team wants it. And if they can hold it together for two regional rematches in a row on Friday then they should have the momentum to make it back to that illustrious title game, this time even more bent on not accepting anything less than a championship.
For some reason, the Southwest Regional champs just could not find their rhythm today. From dropping a double game point finish to The UPA to barely winning another against the theoretically under-matched Philadelphia AMP, San Francisco Blackbird consistently struggled to live up to their potential.
Rarely did they complete more than two or three passes in a row without having to reset the disc and try again. Rarely did they maximize their deep well of athleticism and experience to their advantage, often opting instead to take unfavorable looks downfield or just straight up turning it on something they've done a thousand times.
It's tough to say whether or not they'll be able to put it all together in bracket play Friday, especially since for the second year in a row they'll have to go through Drag'n Thrust. If they can just manage to steal a win away from the overall one seed, however, there's a fair likelihood that they'll be able to ride that momentum to another shot at becoming the first three-time national champions.
Though they came close a few times, Philadelphia AMP just didn't have enough answers down the stretch to pull out any meaningful wins. They notched a 15-5 win over The UPA, but the game meant nothing as both teams had already cemented their finishes in the pool before the match even started.
And having to go up against the hottest team in the tournament when you can't even figure out how to make your vert stack work when opponents start throwing junk looks at you doesn't provide them with the best odds of continuing past their initial taste of bracket play.