With Nationals over and the winners crowned, it is time to take a moment to recognize the top performers in the Mixed Division this season. While the talent of the division reaches far beyond short lists, these players put together what we believe to be the best seasons in the Mixed game this year.
Players were selected based on both their regular season and postseason performances.
Disclaimer: As only one man tasked with covering an entire division at Nationals, I was only able to see so much. This is my list based on my admittedly very incomplete viewing of as much action as I could see at Nationals and during the regular season.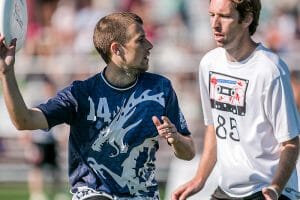 Austin Lien (Minneapolis Drag'n Thrust)
Make no mistake, Minneapolis Drag'n Thrust is stacked with talent. They have shown that even in the championship game, they can score easily without any of their main contributors on the line.
Still, the team is just completely different when Austin Lien is on the field.
His composure and assuredness with the disc affects the entire team, spreading a cool confidence amongst everyone on that point because they just know: there's a pretty good chance that if they have the disc, Drag'n is going to convert that possession.
Lien is a central handler with great dump cuts and a nasty arsenal of both arounds and inside-outs regardless of force, making it very difficult for marks to know what to take away. But most of all, it's just the vibe he creates when he's out there. It's the kind of vibe that basically boils down to an assurance that if everyone does their job and doesn't try to do too much, they're going to score. What more could you ask from a handler and a leader?
His twelve assists at Nationals don't really illustrate his full importance. Because whenever coach Jake Henderson put him on the D-line the threat of a break rose greatly and whenever Lien was on offense, a hold seemed imminent. And it doesn't really get much better than that at the elite level.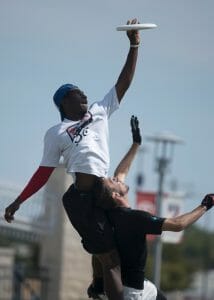 Khalif El-Salaam (Seattle Mixtape)
Straight-up: even if he had flopped for the entire rest of the tournament, Khalif El-Salaam's unreal performance at semis of Nationals (for the second-straight year) would have pretty much been enough to get him onto this list.
It's tough to find a balance between weighing bracket play at Nationals too heavily and leaning too much on performances at regular season tournaments amidst skeleton rosters and admittedly somewhat tempered competition. Luckily, El-Salaam brought the fire all season, so there's little question of him deserving this spot.
And a five-goal, two-assist performance in the second-biggest game of the year certainly doesn't hurt. Much like he has down throughout his tenure on Seattle Mixtape (formerly Ghetto Birds) the last two years, El-Salaam proved to be a beast when it mattered most: bracket play at Nationals.
Floater to the defender's side? No problem. Double coverage? Laughable. Down four in the second half? The bigger the challenge, the greater the desire.
El-Salaam's 10G/9A performance at Nationals does a decent job of illustrating his importance to Mixtape. But more than anything, for a squad that relies so heavily on energy and momentum, the 21-year-old provided plenty of team-igniting highlight reel plays (and adrenaline-fueled celebrations) to remind all of Mixtape that no deficit or opponent is any match for a group of friends that love playing and competing together so much that they're never out of any fight.
He provided that reminder all season long, culminating in his superb performance in elimination play at Nationals. El-Salaam's leadership and determination helped prove to the rest of the country that Mixtape's 2014 fantasy run was no fluke. It was just the start of an era.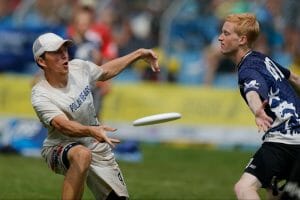 Greg Marliave (San Francisco Polar Bears)
In ultimate, workhorses tend to get overshadowed by the highlight reel stars. When ballers like Jimmy Mickle and Lisa Pitcaithley are out there threatening to be on SportsCenter seemingly every other game, it's tough for the unsung heroes to garner the credit they deserve.
That's where guys like Greg Marliave come in. He's been the bedrock (along with fellow co-founder An-Chi Tsou) of San Francisco Polar Bears since their inception in 2010 and a big part of the reason they've managed to be so successful every single year of their existence, regardless of roster turnover.
And it pretty much all comes down to work. Few, if any, in the division work harder than Marliave. Even if it's something as basic as a routine dump cut, he puts in the work to set it up and do it right. That foundation of solid fundamentals and relentless effort is the main reason why PBR has made Nationals every season they've been together as a team, despite being in the brutal Southwest. Because Marliave and Tsou (as well as other mainstays like Daniel Naruo and Clay Miller) never fail to grind that tireless work ethic into everyone who becomes a Polar Bear.
Marliave tallied 11G and 9A at Nationals, consistently displaying his versatility even within a system that relies on each of its components to succeed. Throughout 2015, he exemplified the focused intensity that has become a staple of Polar Bears and will surely continue to define the program for the foreseeable future.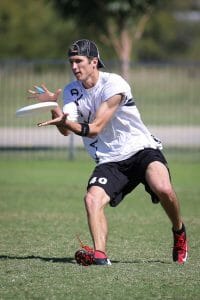 Mac Taylor (San Francisco Blackbird)
It may seem a bit curious to single out a player from a team that didn't make it out of prequarters at Nationals, but simply put: Mac Taylor is probably the toughest male matchup in the division.
After being one of the best Men's players in the world at his peak on San Francisco Revolver a few years ago, Taylor switched over to Mixed last year and immediately made a huge impact. Much of the trouble comes from the fact that it's nearly impossible to know how to play him. If you force him deep, he'll continually roast you for easy scores and at 6'3" will come down with most floaters. If you force him under, he'll split apart your defense with filthy I-Os and huge hucks.
Playing mostly on San Francisco Blackbird's deadly O-line, with the occasional points on defense for crucial break opportunities, Taylor gets a lot of free reign as both a central handler and main cutter in a system that's quite good at creating swaths of open space for cutters to go to work in isolation. And when he has plenty of freedom to take what the defense gives him, Taylor is a menace to guard one-on-one.
Since most teams are generally more scared of his athleticism and potential to wreak havoc downfield, Taylor tends to do most of his damage in the backfield, racking up 14 assists at Nationals. Though Blackbird got knocked out in prequarters by eventual champions Drag'n Thrust after blowing a late lead, Taylor helped San Francisco clean up in consolation and make it back into the Pro Flight.
Considering how much better he played in his second year on the team, there's no telling how much more dangerous he'll become as he continues to develop even more chemistry with his teammates.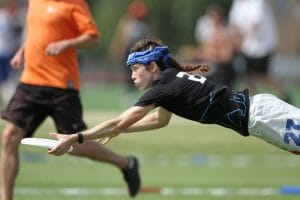 Morgan Paulson (San Francisco Polar Bears)
If you get a chance to watch any Polar Bears game, it's pretty much guaranteed that you'll witness at least one phenomenal play by starting O-line cutter Morgan Paulson. More than likely, you'll probably see about three or four. And what's more, after each one, she'll probably just pop right back up, dump the disc, and keep cutting.
When Paulson first joined PBR in 2013, she was mostly just a raw athlete with tons of talent and decent experience under her belt, but not a gamechanger or anything. In only a short amount of time under the tutelage of the program's leaders, she's become a monster.
Working in tandem with other exceptionally dangerous cutters like Tsou and Dulcy Docken, Paulson developed a tenacity and rising game IQ that transformed her into one of the gnarliest cutters in the division. She routinely comes down with hucks for scores after roasting her woman by a good number of steps. She makes layout grabs, even on under cuts, on the regular. And she almost never throws a turn or takes an unnecessary tough look downfield.
Paulson's 6G/4A stat line for Nationals belies just how difficult she can be to guard, particularly because she just never seems to stop working. As PBR continues to put together strong regular seasons and deep runs in October, you can expect Paulson to be at the center of their excellence—always hustling.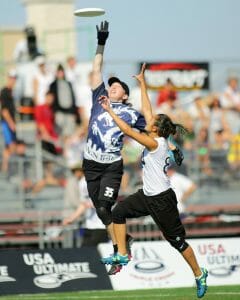 Sarah Anciaux (Minneapolis Drag'n Thrust)
Though their men receive a lot of credit for the team's success—and understandably so—a great deal of Drag'n Thrust's wealth of talent and experience resides in their women. And though, top-to-bottom, Minneapolis may have the best crop of ladies in the division, one in particular stood out this year, especially at Nationals: Sarah Anciaux.
With her signature gloves and quiet focus, Anciaux simply couldn't be ignored whenever she was on the field. Whether it be boxing out and coming down with a shockingly high percentage of jump balls or casually throwing laser I-Os for goals into spaces few others would even bother trying, she repeatedly demonstrated her exceptional skill in a great many facets of the game.
While other teammates such as Sarah Meckstroth and Claire Oakley rightfully attract a lot of attention, Anciaux further cemented herself this year as an explosive threat. Her 13 goals at Nationals alone (good for sixth overall) could attest to that.
Moreover, she dominated in a very system-based program in only her second year on the team. At only 26 and with the benefit of getting to play on the No. 1 Mixed team in the world, Anciaux is only going to get better as her already impressive career continues to unfold.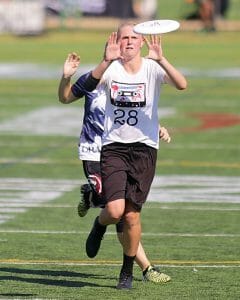 Claire Revere (Seattle Mixtape)
It's tough to single out one woman on a team that doesn't get enough credit for the talent of their ladies, but Claire Revere was just too good all season long to not make All-Club.
For someone who's been playing ultimate since the fourth grade and already represented the United States on the global stage twice before the age of 21, though, it's probably not too big of a surprise to see Revere stepping immediately into a starring role on a squad as high-profile as Seattle Mixtape in just her first year on the team.
Much of that can be attributed to her brilliant disc skills. Revere generally started in the O-line backfield and often served as the central handler. She was frequently charged with surveying the field and kickstarting the offense for a team that banks on big shots and a kind of trust ball to convert a good amount of their offensive possessions. Luckily, Revere had a diverse toolkit more than capable of rising to the challenge.
With a wide stash of inside-outs, huge bombs, and trusty arounds, Revere kept the Mixtape offense going even when they hit rough patches or struggled to build momentum with their deep game. Her modest 8G 2A stat sheet for Nationals definitely doesn't tell the whole story, as she was an integral part to Mixtape's second-straight run to the title game.
Revere serves as an excellent symbol of the fantastical heights that ultimate seems to be heading for as more and more kids start picking up a disc at an early age and come equipped with years of experience before they even make it to college. And considering she has considerably more than a decade of ultimate still left in her, one can be sure that Revere has a wellspring of additional inspiring play still to come.