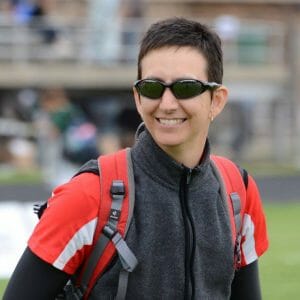 Mike Payne, a long-time board member for USA Ultimate, has resigned as President of the Board after four years in the role, USAU announced yesterday. DeAnna Ball, who was elected to the Board by USAU members in 2013, was chosen by the current board as the new President after serving as the Vice President this year. Henry Thorne, who was just re-elected for an at-large seat running unopposed, was chosen to become the new Vice President.
Despite stepping down from the Presidency, Payne will remain on the board to the end of his appointed three year term in 2016.
Payne told Ultiworld that the growth of his company Omada Health, a need to spend more time with his family, and the desire to continue coaching San Francisco Revolver all played a role in his decision to step down as president. "I found myself not having the time or passion for USAU leadership that I formerly had, which is a good sign for me to step aside and let others lead," he said. "I'll stay on the board to provide advice to DeAnna and Henry, who will be fantastic leaders!"
Here are some other notable board composition notes:
– Kevin Minderhout resigned his seat on the board effective immediately after being elected last year. Kathy Hendrickson, whose term expires at the end of the year, was appointed to fill Minderhout's at-large spot through the end of his term in 2017. Minderhout did not respond to a request for comment by press time.
– Dave Klink, running unopposed, was elected as an elite athlete representative.
– Audrius Barzdukas and Steve Mooney were each appointed to a three year term. There is good background about each appointee on USAU's website.
– Mary-Clare Brennan and Stephen Hubbard will both leave the board at the end of the year as their terms expire.