Bryant's meteoric rise has built them into a national contender.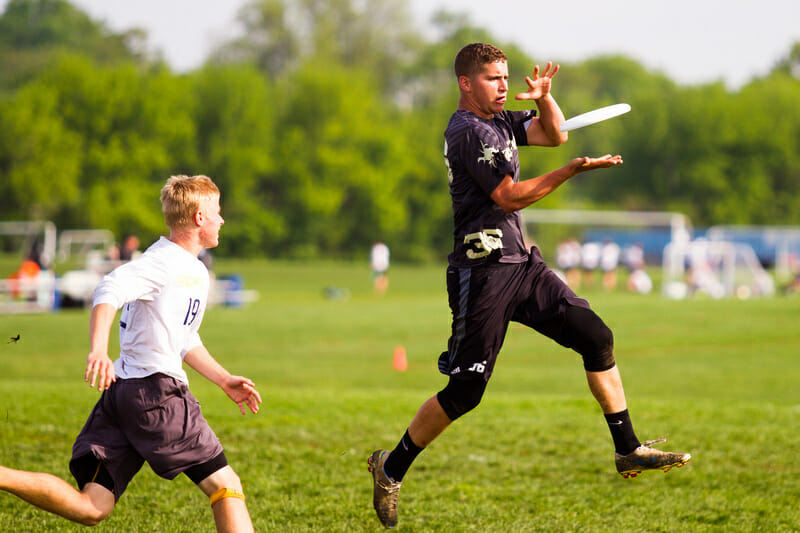 While the Bryant of basketball may be on the decline, the Bryant of college ultimate is on the rise.
Bryant Craze's Division III ultimate program has grown tremendously over the past three years. In 2013, the team failed to qualify for the D-III College Championships. In 2014, behind the leadership of Joe Scully, the team qualified for the tournament for the first time in program history, but placed tied for ninth place. Last year Craze again qualified for Nationals and fell just short of the championship game, losing a semifinal matchup to Brandeis University on double game point.
If that trajectory is any indication, fans should expect big things from Bryant this season. Coach Jim Bishop returns for another season to lead the team that many had not heard of until their recent breakout. Despite finishing near the top of the D-III scene last season, Bryant was not even listed in the April 2015 Ultiworld D-III Top 25.
Bryant in a Nutshell
Overall Indicators
T-3 at 2015 D-III College Championships
Won The Lobster Pot Tournament in late fall
Went undefeated in the fall
Positives
Return core of players from last year's team including 2015 1st team All-Region Jacob Garfinkel and captains Michael Bighinatti & John-Paul Saggal
Key newcomer Justin Kunkel has made an impact with his high school ultimate experience
Notched quality wins over Middlebury, Brandeis, Bentley and Bowdoin in the fall
Concerns
Graduated former captain Tyler Pardee
Have shown to be injury prone in recent years
Playing Style
In past years, Bryant almost exclusively used a zone defense against teams, favoring a four-person cup. They ran into trouble at times with this strategy during tournaments with little wind and as teams began to familiarize themselves with their defense and plan around it. Still, when Bryant's zone works, it is deadly. Typically when Bryant breaks an opponent's offense once or twice, they will rattle off a number in succession.
This happened in the fall at The Lobster Pot tournament against Brandeis. Craze utilized the windy conditions effectively and captured a series of breaks in both the first and second halves en route to a dominating victory.
Part of what makes Bryant's zone so effective is the team's size. Last season Bryant had 10 players listed at six feet or above. Their large cup tends to frustrate static offenses that rely too much on winning with flashy throws, rather than with outworking opponents.
In the fall, though, Bryant proved they did not need to rely on their zone defense to produce breaks. In The Lobster Pot finals against Bentley, Bryant used a zone defense to start the game, but played man defense for the rest of the game and defeated Bentley handily, 15-9.
The success of Craze this season comes down to depth. Last year Bryant relied on many of their players to play both offensive and defensive points. Garfinkel, in particular, seemed to play nearly every point for the team. This fall, however, Bryant proved their ability to win without Garfinkel as the team went undefeated while he studied abroad for the semester.
According to Saggal, "having a deeper bench" will be the key to taking the next step this year and reaching the Championship game at D-III Nationals. Saggal also noted the team's chemistry this year, but expressed concern over whether the players would be able to remain healthy for the entire season.
"Our biggest strength is creating a brotherhood," Saggal said. "[Our] biggest question mark is if our players made of glass can hold out for another year."
Likely Ceiling
D-III champions. Bryant's program has been growing over the past few years, and they now have the postseason experience they need to make a deep run at Nationals. Fall results always have to be taken with a grain of salt, but Bryant's domination is certainly a raw indication of team's potential.
Likely Floor
Quarterfinals exit. Bryant has the athleticism to compete at a high level, but the question is whether they have enough depth to make deep runs on Sundays of tournaments. As of now the team is expecting to attend High Tide and New England Open, where some of those questions may be answered.