New year, new Darkside.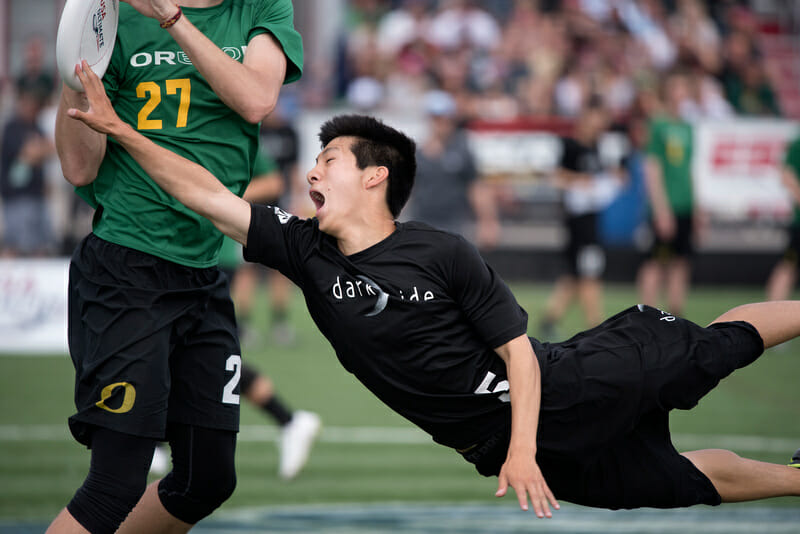 2015 was a good year for North Carolina Darkside, to say the least. They won their first National championship, Jon Nethercutt became the first UNC player to win the Callahan award, and they settled all family business by taking down every team that eliminated them from a tournament in 2014.
But with the calendar now squarely on 2016, it's a fresh slate and a fresh set of challenges for the reigning champs from Chapel Hill.
The last defending champion to fail to make quarterfinals the following season was the Florida team of 2011. That could be considered either a good or a bad sign depending on how you look at it, since there are definitely some similarities between this team and post-Brodie Smith Florida team. Much like the 2011 Gators suddenly found themselves having to play without one of the best college players ever, UNC lost its once in a generation superstar in Nethercutt, as well as Ben Snell, the Robin to Nutt's Batman.
An encouraging distinction for Carolina fans is that while Florida continued to run its system from the previous year to diminished results, the UNC brain trust is looking to start from scratch this year to build a system that fits its personnel. UNC knows that 2016 is going to be a very different year from 2015, but different doesn't necessarily mean worse: it can just mean different.
UNC is looking to radically change the way they play the sport on the field, while keeping their culture of growth and positivity together off of it.
It certainly helps that they have one of the best coaching staffs anywhere in ultimate to help shepherd them through the period of transition. Their most important returner is probably head coach Mike DeNardis, Ultiworld's Coach of the Year in 2015, whose work with Darkside, Ring of Fire, and the Raleigh Flyers has put him in the absolute elite tier of coaches in the sport.
Re-engineering Darkside this year after all of their losses is a puzzle placed before the feet of DeNardis and his staff, and seeing how they try to solve it will be one of the most interesting stories of the next three months.
The Basics
Coaching Staff: Mike DeNardis (Head Coach); Jon Nethercutt, Dennis Tarasi, Eddie Alcorn (Assistants)
Captains: JD Hastings, Aaron Warshauer, Dain Neilsen
2015 Results: National Champions, Atlantic Coast Champions
New Year, New You
North Carolina looks different this year, and not just because of the names on the roster: the team is physically changed from 2015. "We're a lot smaller this year. That's just a fact," said Nethercutt, stepping into an assistant coaching role this season. All but one of the players who started on the line for Darkside in the championship game last season stood at 6 feet or taller, while this year you'd be hard pressed to find even a handful of players suiting up for UNC topping that 72 inch threshold.
Defensively, size played a big part in UNC's game plan. Even a cursory look at their footage from last year shows that the team got a ton of blocks by baiting or forcing teams into launching hucks for Darkside's stable of tall defenders to gobble up. When you have superior athletes like Ben Snell, Tim McAllister, and Jimmy Zuraw back there, it's a good plan. But all of those players are gone this year, which has given coach DeNardis and his staff the challenge of reworking their defense around a new set of skills.
What they lost in height this year, UNC is seeking to make up in speed.  One of the fastest units in the country, Carolina's defense is spearheaded by senior captain JD Hastings and sophomore stud Nathan Kwon. Both are well under six feet, but more than make up for it with their quickness and dedication to getting all the little details right. "We've just got a bunch of guys who really feed on quick movement," said Hastings. "Our goal is just pressure, pressure, pressure. Use our speed to stop the action that leads to easy hucks, and then swarm on anything floaty."
As Hastings illustrated, without the same caliber of downfield defenders, UNC is shifting their focus this season and aiming to take away hucks at the point of attack. This all starts in the handler set, as Carolina aims to use their speed to frustrate opposing handlers into moving the disc laterally, not vertically, banking on their speedy defenders to be able to cover enough ground from sideline to sideline to stop continuation.
"If you can prevent hucks from going up, then you don't need to worry about how tall your defenders are," said Nethercutt. "Playing that kind of defense, without a ton of size, it's all emphasizing the little things. Really focusing on getting down on the pull and stopping action right away, using positioning to stop easy power position hucks, that's what we're emphasizing right now."
It's a sight to behold when Hastings, Kwon, and the rest of the UNC defense are flying down the field on every pull and taking up a swarming positon from the first throw. The handler covers flit between covering their man and disrupting the passing lane, needing the speed to essentially be in two places at once. It's a tall task to perfectly pull it off, but when it works, it's frustrating to play against.
While defensively UNC is trying to overcome a deficiency in height, it's the small matter of losing transcendent skill that they have to deal with on offense.
It's hard to overstate exactly how much Nethercutt meant to the offense last year. At Nationals, Nethercutt piled up 46 assists, the most of anyone at the tournament. What makes that number even more impressive is that UNC totaled 93 points at Nationals, which means that the Callahan winner was responsible for essentially half of the team's offensive production. Now they face having to replace all of that, without other big O-line pieces like Snell, Justin Moore, and Norman Archer.
It would be unrealistic to expect a player to step into those shoes and replace that kind of productivity, so instead of looking to replace Nethercutt and company, Darkside is looking to restructure how they view offense.
Even last year, with tons of veteran depth, Darkside still relied almost exclusively on Nethercutt and Snell to move the disc. Because of the range those two stars had with their throws, UNC could afford to essential reset their offense anytime one of those players had the disc without sacrificing efficiency.
Carolina simply doesn't have the ability to play at that level from a standstill this season. "This year we want to spread the ball out instead of airing it out," said Nethercutt.
Expect Aaron Warshauer, Vikram Sethuramen, and Matt Gouchoe-Hanas to be the big names on offense this year for Darkside, along with standout freshman Elijah Long. None of these players are setting the world on fire, but all have proven that they have the polish and high ultimate IQ to run an offense smoothly, and make defenses pay for any slipups.
That philosophy seems to be UNC's approach on offense this year. While they don't have players capable of making something from nothing the way Nethercutt or Snell could, there is just a competency across the board that allows Darkside to isolate an opponent's weak point and exploit it.
With good dump fundamentals, use of the break space, and opportunistic cutters, UNC doesn't have to blow away opposing defenses. By keeping the disc moving and the angle of attack shifting until the defense slips up, Darkside can capitalize and get their defense back on the field.
Involving everyone on the line in your offense means that every player on the opponent's defense is also involved, which allows UNC to find any weakness and exploit them. Darkside's offense is a moving target for defenses this year, as there isn't just one player to focus on stopping, you'll have to stop the whole line.
It still remains to be seen how well this will work against the best teams in the country, teams with defenses that might not present an obvious weak spot to attack. Beating the best of the best usually requires having a true superstar on offense. Darkside is hoping to subvert that notion this year.
Youth Pipeline
For Darkside's "spread it out" philosophy to work, they are going to need quality up and down their roster, with every player capable of contributing and knowing exactly how to operate in DeNardis' complex defenses. This is a tricky proposition for team in which 19 of the players on the roster are either freshmen or sophomores, and these young players will have to come along fairly quickly if they are capable of making the contributions the team will needs from them at Nationals.
For other teams, it would be out of the question to rely so heavily on so many young players, but one of the biggest reasons for Carolina optimism this season is the Triangle Youth pipeline flows through the veins of UNC.
While it may not have the same clout in the ultimate community as Seattle or Atlanta's youth scene, the Triangle's impact has been undeniable, and Carolina's victory last year is a testament not only to the team's growth, but the area's development as well. It's not a coincidence that the area's YCC team, Triforce, won their first U19 National championship in 2014 and the next year UNC won its first college title.
There are seven current Darkside players who were on that 2014 Triforce team, that was not-so-coincidentally coached by Nethercutt, and a handful more that came up in the Triangle youth system.
"It's a tremendous advantage to have these guys who come in knowing the terminology," said Nethercutt. "Knowing how we like to do things." Not only does it help to have rookies who can contribute right away, but it allows the team to start teaching and drilling more complex strategies from day one, which accelerates the team's growth and the development of the young players.
So far this season, North Carolina has really emphasized making their young players comfortable in big game situations. Against rival Wilmington in the semifinals of QCTU, the message to freshman from Hastings and the coaching stuff was that "it doesn't matter who you are playing against. Just go out and win your matchup, and trust that the team has your back." UNC lost that battle, but are hoping that by getting their rookies ready for prime time when Nationals comes around, they just might win the war.
Bright Future
"We're building for long past this May," said Nethercutt, as he reflected on the changes that have gone on at Chapel Hill since he first became involved with the team. In Nethercutt's first season, Darkside didn't make it out of Sectionals, and now five years later the team is in position to compete for national titles well into the future.
The championship last season did more for Carolina than add to their trophy case, it gave them an identity and a path forward for future Darkside teams to build on. The lasting impression of the 2015 championship team, a fun bunch of marauders, towel waving and disc shaving their way to a title, has created an atmosphere and a model for success that future generations of Darkside teams will seek to model. "Freshman are much more comfortable coming up to upperclassmen now for help and to learn. There is a great environment for growth around the team," said Hastings.
North Carolina are going to give their all this season to get back to the dizzying heights of 2015, but it's clear that regardless of this year's results, the program is on the right track towards sustaining their recent success. "I want my legacy to be a teammate that always had your back," said Hastings. "Someone who is always at the gym, and always at the track, but most importantly someone you can always go to for help. Someone who helped everyone get better." Based on the signs so far this season, it looks like Hastings', and North Carolina's, legacies will be secure for a long time.