It was a wire-to-wire Nationals performance from UNC Darkside.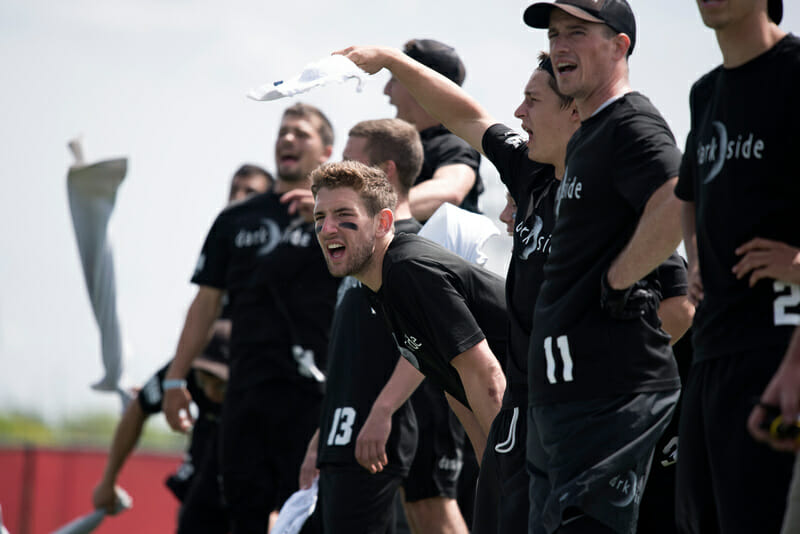 As Jonathan Nethercutt laid out and snagged the game winner on an inside out backhand from co-captain Ben Snell, Nationals suddenly made sense. North Carolina put a bow on a dominant tournament performance, leaving no doubt that Darkside was the best team as they defeated Oregon, 15-6.
"That capped off the season right there. Snell could've thrown it a little better," an elated, cake-covered Mike DeNardis joked after the medals ceremony. "But, of course, Nutt makes the highlight play to win the game. That's storybook, right?"
You've got the Callahan winner in Nethercutt, with every throw in the book, catching a goal from Snell, who one year ago watched from the sidelines with a torn ACL as his team lost to Colorado in the finals – all to win the first title in program history.
That's about as happy of an ending as you can get.
*
Finals pitted two very different teams against one another. It seemed like about the only thing they had in common was the fact that they each had a Callahan winner. There they found themselves in a winner-take-all game, vying for a national title.
While North Carolina was looking to fulfill a year-old prophecy, Ego was a Cinderella story. Oregon came in as the 15th seed with the smallest roster in the Men's division. They started in an 0-2 hole on Friday and had to climb out to save their season.
"I'm not entirely sure how we did it, honestly," Ego captain and 2013 Callahan winner Dylan Freechild said after the game. "A lot of grit. A lot of desire… Going down 0-2 wasn't good enough for us."
After avenging a day one pool play loss to Florida State in semifinals, here they were. A small, warrior squad with only 15 guys wearing cleats had come back from the dead.
UNC, the overall three seed with a full roster limit of 27 players, looked hot in pool play but really hit their stride in the bracket. DeNardis' crew rolled through elimination games, taking down Colorado, Central Florida, and, finally, Oregon, with a comfortable +20 point differential.
Finals featured some of the stiffest wind of the tournament, but both teams would have to play in it.
Ego got the first good chances to punch in an upwind break. At 2-1 after a UNC punt, Oregon worked the disc within range and sent a floaty shot to the endzone but couldn't come down with it. UNC held to tie it at two a piece.
The following point, Carolina would get its first break of the game upwind when Ben Snell got the disc in power position, causing the mark to lay out, and ripping a break backhand huck to Nathan Kwon.
It was all UNC from there. North Carolina would complete the break with a downwinder to make it 4-2 before going on to take half 8-4.
"There was one trap set that worked really well against them so we kept with it for a lot of the points just because the cross wind was so strong," DeNardis said of UNC's defensive strategy. "We tried to trap as much as possible and make them throw high risk throws into the wind."
The North Carolina junk looks gave free throws to the force side before clamping down and trapping. The UNC defense would sometimes look to man up on the dump with guys like Kwon or JD Hastings once the disc was trapped, causing Ego handlers to skip the closest handler with inconsistent success. That yielded a lot of Darkside opportunities.
Like the semifinal game against Central Florida, UNC shared the wealth, with 10 different players catching goals. Darkside will lose some top end talent next year but should feel good about multiple goal performances from sophomores Norman Archer (3) and Nick Macleod (2), as well as freshman offensive handler Matt Gouchoe-Hanas (2).
When receiving to go downwind, UNC wasn't fooling around with the disc. They punted the disc and would get the zone look they wanted. Early in the game it looked like North Carolina might be poaching themselves to death as Freechild's inside out flicks were able to slice through the cup, but that was quickly remedied by DeNardis and company.
While UNC was showing a few different pushing/trap zone looks before eventually crumbling to man at half field, Oregon's was going with the old "When you're invited to the biggest party of the year, you dance with who brought you." Man defense ruled the day in semis against Florida State.
"We think we've got better athletes than anyone else in the country and we think we can run them into the ground," senior handler cover Christopher Strub said after the game. "That's pretty much it. With zone there's too much gray area. We like it hard and fast."
Coach Jay Janin and his squad stuck to their guns and played man defense the entire game. Oregon was able to get some Ds with the wind, but UNC proved too big, too prepared, and too many, as it appeared Ego's small roster seemed to have finally started to catch up with them.
The O line of Oregon would also punt, though they had a harder time doing it because UNC had Ben Snell posted up and waiting for the deep shots at the back of their zone. Meanwhile, North Carolina was getting cleaner looks on huck punts because Oregon was running man-to-man the whole game. No centerfielder back there. No defenders in front of the thrower. Better shots.
Oregon would score in the upwind endzone only once, when Freechild found Trevor Smith at the force side cone, but they would never break.
At half time, North Carolina was loose. Like, silly loose. They had their guys playing Frisbee dodgeball, listening to Wobble Baby, and doing the dance from the video.
It's easy to dance and throw Frisbees at your buddies and be happy when you're up 8-4 and about to receive the pull out of half. Captain Justin Moore assured that sideline spectacles like this aren't just for situations like that. Staying loose and upbeat has been an integral part of the mentality for Darkside.
"This team towel squad thing has been hilarious," Moore said of UNC's goofy new trend of twirling white hand towels as a pump up mechanism. "Just keeping it light. Even when we get broken, it's not a big deal. One of the things that we preach beyond hard work and physical defense is positivity."
Moore's path to winning gold is pretty interesting. He is a 29 year-old fifth year captain who had played some pickup where you could "hit people" at a small college before starting his formal ultimate education – and eligibility – with Darkside in a graduate school program. Moore finished with two goals in the game, including this early backbreaker to complete the first break on a disc that Oregon's Colton Clark blocked.
Darkside players were into this game from the word go. Between every point, after every game, and at every movement of the game UNC players had some kind of cheer going. At 11-4, Oregon called a timeout and Carolina's bench rushed the field, towels blazin'.
We've seen games like UNC's towel squad before. Last year Colorado liked to toss around the pigskin between games. Stuff like that can release pressure and nerves. Mean mugging through a four day tournament takes a lot of focus and mental energy. Moore said that head coach Mike DeNardis had set up a few meetings between the team and a sports psychologist this spring and spoke highly of the experience.
It's unclear whether or not those meetings directly spawned the resurgence of the Daniel Bryan YES! chant, dancing to music mid-game, and the towel-related twitter account, but there's gotta be some method in there. Carolina was just having fun.
The second half wouldn't improve Oregon's fortune as unforced errors and UNC takeaways continued. As is often the case, Dylan Freechild stood out and played well in his final college ultimate game. Freechild tallied either a goal or an assist on each of Ego's six points.
The 2015 season for Oregon was a strange journey. They lost a crop of players early in the spring, stumbled big time at Regionals, and they dropped their first two games at Nationals. Yet somehow Ego was still able to come together and rally all the way to the title game.
"We all fucking love each other and we all work hard for each other," Chris Strub said after the loss. "That's all there is to it. We got in a rut and we all decided that we're not going to let each other down."
Strub, Mario Bundy, Connor Matthews, and everyone else on an outnumbered underdog Ego team put together a memorable semifinals victory over Florida State. From the brink of meltdown to where they ended up was no small feat.
***
"Hopefully a good one and hopefully a fun one. Lot of positive energy. Just having fun out there."
That was Jon Nethercutt when asked about what kind of UNC team people could expect to see in the finals. The Callahan winner and the Chapel Hill boys delivered.
Positivity. Energy. Fun. What other team in the country has those words on the masthead?
We'll never know if UNC would have been the best team in 2014 had Snell been available for Nationals. It doesn't matter. Without a doubt, Darkside is the best team now. And they had the most fun.
Mike Denardis reflected on his team's complete season.
"It's how we drew it up last year and we finally got to finish it this year."
If you enjoyed our Nationals coverage, please consider a donation to our tip jar.