The AUDL's deepest division could be ruled by an expansion team.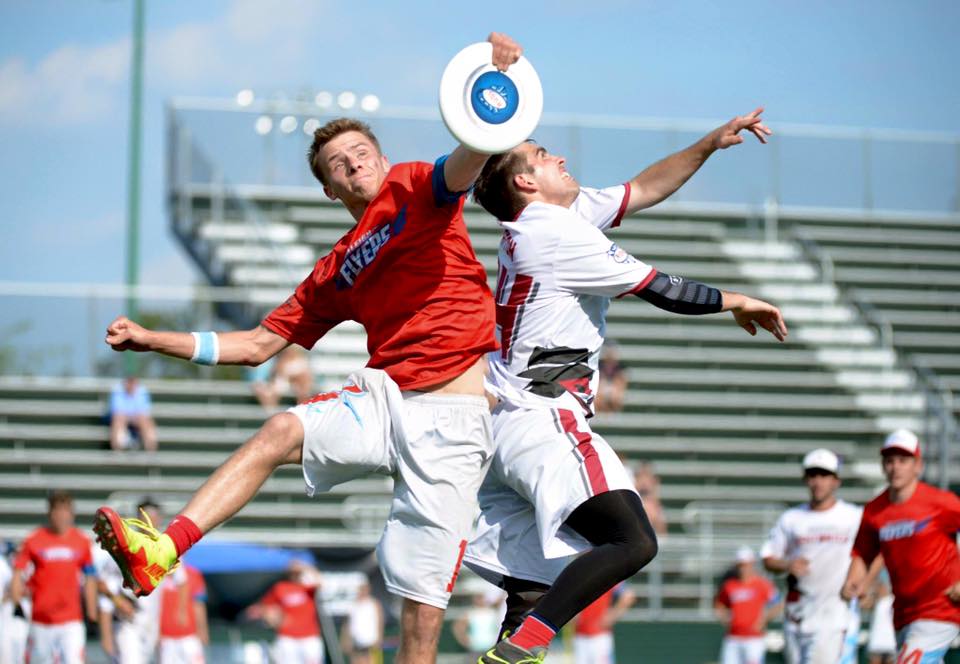 The AUDL South may just be the best division in the league, top to bottom. With seven teams, two championship contenders, teams that would be favorites to make the playoffs in some other divisions, and two other teams that can be very difficult to play against on the road, there are a lot of compelling matchups this year in the South.
The Championship Contenders: Dallas and Raleigh
Any conversation about the AUDL South has to start with the Dallas Roughnecks. Dallas is an expansion franchise, owned by Jim Gerencser, that brought in an ungodly amount of talent from all over during the offseason. Beau Kittredge, Kurt Gibson, Jimmy Mickle, Dylan Freechild, and Cassidy Rasmussen will all be playing with each other on both the USA National Team and Dallas this summer. This isn't a team that's only five deep either. The Roughnecks have some of the best players in Texas on the roster, and even brought Brodie Smith on board to boot. Why not?
The AUDL has never seen a team come together like this ever before. Neither has ultimate. The closest thing in recent memory would be Johnny Bravo in 2014, a year in which the Colorado club team brought in out-of-towners like Kurt Gibson, Brett Matzuka, and Brodie Smith to join the team. Johnny Bravo was already an elite program, though. The Roughnecks are a brand new team in a season with only one other expansion team.
Searching for rough comparisons in other sports is tough, too. If in 2010 the Miami Heat had not only brought together LeBron James, Dwyane Wade, and Chris Bosh, but also Chris Paul and Carmelo Anthony, then we would have something.
Of course focusing only on the five most notable names on the Dallas roster does a disservice to the rest of the team. All four Texas club teams are represented on the roster, with players from Doublewide, HIP, Cosa Nostra, and Plex on board. Dallas promises to have a fast paced, highlight friendly game. Many are familiar with Beau Kittredge's chase downs, Dylan Freechild's throw and goes, or Brodie Smith's bag of trick throws. What will be especially fun to watch is how they blend with other talents on the roster: who's not exited to see Matt Bennett's scoobers, Brandon Malecek's enormous hucks, or Matt Jackson's layouts?
The highlights will be aplenty, but the Roughnecks are also very unlikely to lose sight of the larger goal. This team was built to win a championship. There are several road blocks in the way though, and the Raleigh Flyers are certainly among them.
While Raleigh shares some similarities with Dallas (most notably a highlight friendly O-line), in many ways the Flyers are the anti-Roughnecks. The Roughnecks are star-studded with the biggest names in ultimate. They have five players on Team USA. The Flyers have plenty of talent, but they don't have the same kind of big names on their team. They don't have anyone playing on Team USA. Dallas looks flashy; Raleigh plays with a perpetual chip on its shoulder.
Last year, the Flyers made the AUDL final four, but fell to Madison in the semifinals 19-22. Raleigh fell behind 5-1 early, and was never able to get all the way back. During the regular season it was often the Flyers that best utilized the AUDL rule set to their advantage, knowing when to (and when not to) double team and effectively managing end of quarter situations on both offense and defense. But in Madison they were going up against a team that had been doing it for years. "I would not say the loss came from a lack of preparation or a talent gap. Experience is such a large factor in any kind of championship," said Raleigh head coach Mike DeNardis. "In terms of the AUDL, Madison has been around for several years and has experienced the final four before."
Now Raleigh has that final four experience, but just getting back there would be a serious accomplishment. The Flyers barely qualified for the final four last year, winning in double overtime against the Jacksonville Cannons. The South is full of challenges, and at times last year Raleigh struggled with both Jacksonville and Atlanta. Getting to the conference final is no guarantee.
DeNardis knows that Dallas presents a unique challenge, but isn't losing sight of the bigger picture. "Dallas will have some fantastic competitors on their team, but we don't yet know how the team will function once the pieces are assembled," he said. "With some of the components they have, I anticipate them to take a fair amount of deep looks and higher risk throws.  Regardless, they will no doubt add another strong team to the south."
The Playoff Contenders: Atlanta, Austin, & Jacksonville
When DeNardis says "another strong team to the South," he's not just paying lip service. Any one of Atlanta, Austin, or Jacksonville could make the playoffs, and predicting who will finish in what order is a fool's errand. The conversation has to start with Jacksonville, though, as the team that nearly made the final four last year.
The Cannons were a force to be reckoned with in 2015. Their height presented serious problems for both Atlanta and Raleigh. The Cannons started the season going just 1-3, dropping games to Raleigh, Atlanta, and Nashville. But they went 9-1 the rest of the way, closing out the regular season on a six game win streak. They came up just short in Raleigh against the Flyers, but it was a very successful season for Jacksonville.
This year the Cannons are undergoing most turnover than most playoff teams. The latest edition of their roster shows just 12 players returning. Even so, the Cannons still remain a major threat, and match up well against Austin and Atlanta. Jacksonville has a tough road ahead, however, with three two-game road trips on the calendar and Atlanta and Raleigh both making three appearances on their schedule.
The third playoff spot may get decided by the three game series between Atlanta and Jacksonville. If it is, that may not be good for Atlanta, which lost its last three games against Jacksonville last season. Simply put, the Cannons were better at making plays in the air. The Hustle tried to address that in the offseason though, and it's a new year.
Atlanta is bringing back 20 players from last year, so there shouldn't be many growing pains. In 2015 the Hustle had one of the best breakout players in the AUDL in Matt Smith, who scored 66 goals. One player that the Hustle are pointing to that could make a name for himself this year is Austin Taylor. "He's as springy and quick as anyone I've ever met," said Matt Smith. "And his throws are custom built for athletic dudes on a big field."
The Hustle look like they'll be better, and, like many teams in the South, it's hard for them to avoid circling Dallas on the calendar. "Everybody wants a piece of Dallas," said Atlanta coach Greg Swanson. "It's fun to play against some of the best in the world and there are a lot of guys in the Southeast that have something to prove after the region got snubbed by the Worlds selection committees."
Lost in the commotion of the new Dallas franchise is the Austin Sol. The Sol focused on primarily featuring local talent on their roster, so the team retains a distinctly Austin flavor. That community is no stranger to the ultimate scene, so the team should be competitive right away. However, as seen in Ottawa and San Diego last year, being an expansion team in a division full of returning teams can lead to a slow start.
The Sol have an interesting mix of veterans and youth, with a core of players from Doublewide and other Texas club teams, along with quite a few players that are still in college. The team doesn't lean so heavily on college talent that it will struggle to compete in the early goings, but the reinforcements will certainly be welcome. How the talent meshes will go a long way towards determining what kind of season Austin will have. "Our young players made the team because they showed great athletic and skill potential," said Austin coach Mike Natenberg. "We'll need our veteran core to balance solid disc movement with calculated risks so that our young talent can focus on making plays and retaining the disc."
One potential benefit Austin has this year is that many teams come to Texas for a two game road trip to play Austin and Dallas in the same weekend. With many teams gearing up to face Dallas, they can't afford to overlook Austin.
Maybe Next Year: Charlotte & Nashville
In the NBA, the Charlotte Hornets play in the East. If the Charlotte Express played in the East, we might talk about them as a team with sleeper potential to make the playoffs. As it is the Express play in the South, and it looks like that's most likely out of reach, but Charlotte sees itself as a playoff caliber team.
Last year the Express went 2-12, only beating the Nashville Nightwatch. But that doesn't tell the whole story of their season. Six of their losses came by three or fewer points, with some overtime losses ending in agonizing fashion. The Express were a very tough team to beat in Charlotte, but tended to fare considerably worse on the road.
This year Charlotte has 15 returners and adding on some exciting new players. "We, along with other North Carolina teams, pride ourselves on is being a faceless army," said Charlotte captain Shane Sisco. "We enjoy being surrounded by solid role players. But we have added a lot of young guys from the Cash Crop, Turbine, and BaNC systems that have yet to set foot on the AUDL field, and I know they're all chomping at the bit to prove themselves."
The Express open their season on Saturday night against Raleigh in a game televised on ESPN3. A win would be shocking, but it can't be ruled out. "Last year, [the Flyers] swept the series pretty handily," Sisco noted. "We gave them a close game in Raleigh to close out the season, but we felt like the little brother and it was something we wanted to change this time around. The season opener in Raleigh is going to be a big statement game for both of us." If the Express manage to win a few upsets at home, they might be able to push themselves into the playoff conversation.
Though the Nashville Nightwatch aren't likely to grab a playoff spot, and don't have any games on ESPN3, they know something about scoring surprising upsets. Last year Nashville managed to beat Jacksonville when the Cannons came to town. The game wasn't played in ideal conditions, but a win is a win and Nashville showed their potential.
This is a young team once again this year as they experience some roster turnover. Nashville is bringing back may of its top playmakers, though, and the team is excited about having a deeper, hungrier lineup. "One of our biggest strengths this year is an eager, talented group of supplemental players that are super committed and push everyone around them to do better at practice," said Nashville assistant coach Jason Chow. "Having a core group of players who aren't guaranteed to be rostered this season, but who run just as hard and work toward the same team-wide goals we have are really making a big difference in the quality of practice. It's huge for us."
Nashville doesn't have the same kind of upside as Charlotte, but the Nightwatch defend their home turf well. They got that win over Jacksonville last year, and in one of their games against Raleigh, Nashville lost by just one point.
Outlook
With two expansion teams and many other moving pieces, the South is probably the hardest division to predict. It's safe to say that the Roughnecks are the frontrunner, but after that things get murky. Raleigh should be a step above the rest of the division, but Jacksonville closed last season extremely strong. Atlanta should be better this year, but the Hustle didn't match up well with the Cannons a seasson ago. Then again, Jacksonville is going to have some different personnel this year, so those may not be fair comparisons. When Dallas visits Raleigh on April 30, it will be must see. And the final playoff spot could come down to one of the last games of the season, when Jacksonville visits Atlanta on July 10.
Projected Standings
Dallas (11-3)
Raleigh (9-5)
Atlanta (8-6)
Jacksonville (8-6)
Austin (6-8)
Charlotte (4-10)
Nashville (3-11)