What a day!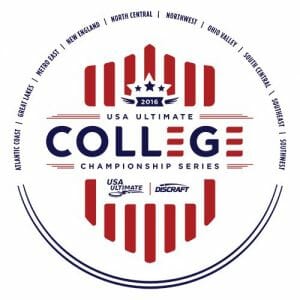 Regionals Saturday was epic and set up a tremendous #SuperSunday for tomorrow. Two teams — Stanford (W) and UCLA (W) — qualified for Nationals today; the remaining 38 teams will qualify tomorrow. Here's a breakdown of today's action.
ATLANTIC COAST
Men's
2 Bids
Finals: UNC v. UNC Wilmington
Still Alive: JMU, VCU, Virginia Tech, South Carolina
Both North Carolina and UNC Wilmington advanced to the final, which will take place tomorrow morning at 10:30 AM. Wilmington was dominant today; UNC had to escape a tough game against Maryland, 14-12.
VCU played well in the 2nd place bracket to set up a match against JMU tomorrow morning. South Carolina edged out George Washington and will face Virginia Tech.
Women's
1 Bid
Quarters: Virginia v. Georgetown, Maryland v. Delaware, UNC Wilmington v. Liberty, UNC v. George Washington
The top seeds mostly took care of business today, although #10 seed UNC Wilmington upset #3 seed Delaware 11-10 to earn a good spot in the bracket.
GREAT LAKES
Men's
1 Bid
Quarterfinals are in the morning.
The top seeds — Michigan, Purdue, Notre Dame, and Northwestern — all went 3-0 to get a bye into quarterfinals. The second and third place teams played prequarters this afternoon; scores have not been reported for those games.
Women's
1 Bid
Games were a mess as many were decided by the flip due to high winds and rough conditions. Top-seeded Michigan went 4-0, but even they played a tight game (7-5) against the 8-seed Purdue.
METRO EAST
Men's
1 Bid
Quarters: Connecticut v. Princeton, NYU v. Rutgers/Yale, RIT v. SUNY Albany/SUNY Binghamton, Cornell v. Waterloo
The top four seeds all went undefeated in pool play and earned byes into tomorrow's quarterfinals. Connecticut and Cornell were particularly strong and got easy wins on Saturday.
Women's
1 Bid
Quarterfinals are set for the morning — not all scores are currently reported.
Cornell got a big 11-10 upset win over Connecticut to win Pool A as Ottawa cruised in Pool B. UConn and Princeton finished in the second spots as eight teams advance to quarterfinals.
NEW ENGLAND
Men's
2 Bids
Finals: UMass v. Harvard
Still Alive: Tufts, Brown, Northeastern, Vermont, Boston College, New Hampshire
5 seed Tufts upset 4 seed New Hampshire to reach the semifinal, but fell 15-5 to UMass. The favorites — UMass and Harvard — won their games comfortably and set up an exciting final for tomorrow morning.
Women's
1 Bid
Pool play continues tomorrow before breaking to quarterfinals at 11 AM. 
Despite a rocky regular season, Dartmouth was very strong on day one of New England Regionals. Princess Layout got a huge 13-5 win over the tournament two seed, Northeastern. In the other pool, Vermont took care of business with a 3-0 day.
NORTH CENTRAL
Men's
3 Bids
Pool play continues tomorrow before breaking for semis and the third place bracket.
Minnesota and Carleton went undefeated on day one to secure the top seeds heading into semis tomorrow. Carleton annihilated Wisconsin 15-5 this morning on a cold, rainy, windy day in Cedar Rapids, IA. Luther upset Iowa to earn a berth in the semis and Wisconsin handled business the rest of the day after the Carleton loss.
The semis should be Minnesota/Wisconsin and Carleton/Luther.
Women's
1 Bid
Quarters: Minnesota v. Iowa, Carleton v. Northern Iowa, Iowa State v. Nebraska, Wisconsin v. Wisconsin-Milwaukee
Terrible weather at Regionals didn't do much to shake up the seeding. Convincing performances from Minnesota and Wisconsin in pool play set them on a collision course for a great finals matchup. Wisconsin defeated four seed Carleton 15-3; Minnesota beat three seed Iowa State 15-8.
NORTHWEST
Men's
3 Bids
Semis: Oregon v. Victoria, UBC v. Utah
Still Alive: Western Washington, Washington, Whitman, Winner of Oregon State/Montana
Washington lost to UBC and then get stunned by Victoria to miss the semifinals and face a long road to Nationals tomorrow. Utah also got a big upset win over Western Washington, 11-10, to earn a spot in semis. Oregon and UBC will be big favorites in the semis tomorrow and there should be some thrilling games down the stretch in the backdoor bracket.
Women's
5 Bids
Semis: Oregon v. Washington, Whitman v. UBC
Still Alive: Everyone. Five bids for an eight team region!
Oregon and UBC went undefeated today, but there were plenty of tight games. UBC beat WWU by one and Washington by two. Ultimately, though, every game went to seed.
OHIO VALLEY
Men's
2 Bids
Finals: Penn State v. Case Western Reserve
Still Alive: Lehigh, Ohio State, Pittsburgh, Ohio, Cincinnati, Pennsylvania
Surely that was a typo, you might think. Surely Pittsburgh is in the final. Nope. Lehigh delivered the stunner of the weekend with a 14-12 upset over the dominant Ohio Valley program in pool play to steal their spot in the semifinals. Pitt will now be forced to fight through the back door to get to Nationals.
Case Western eked out a 14-13 win over Ohio State in the semis to land a finals berth. Penn State had an easy 14-7 win over a flat Lehigh team.
Oh, by the way, Lehigh called it:
Women's
2 Bids
Finals: Pittsburgh v. Ohio State
Still Alive: Penn State, Akron, West Chester, Case Western Reserve
Some close calls, but Pitt and Ohio State made it to the final tomorrow, as expected. Pitt had a two point game against Cincinnati and OSU beat Case by just one point in semis.
SOUTH CENTRAL
Men's
2 Bids
Semis: Colorado v. Kansas, Texas v. Texas A&M
Kansas got the big win of the day, 12-11 over Colorado State, to set up a semifinal matchup with top-seeded Colorado. On the other side of the bracket, Texas and Texas A&M got comfortable wins in prequarters and quarters.
Lots of teams remain alive in the backdoor bracket.
Women's
3 Bids
Pool play continues tomorrow morning before breaking to semifinals and the third place bracket.
Texas and Colorado went undefeated on day one at Regionals and locked up the top seeds for the semifinals.
SOUTHEAST
Men's
3 Bids
Finals: Georgia v. Auburn
Still Alive: Florida State, Tulane, Florida, LSU
It was a wild day in the Southeast, perhaps as expected. Florida lost in the quarterfinals to Tulane on an epic double game point (video forthcoming). Central Florida also lost in the same round, to Auburn. They then lost on double game point to Georgia Tech to get knocked out of Nationals contention.
Georgia was the best team of the day, looking comfortable as they beat Florida State in the semifinals. Auburn also looked good, if not as impressive. LSU/Tulane and FSU/Florida get things started in the second place bracket tomorrow morning.
Women's
1 Bid
Quarters: Central Florida v. Alabama, FSU v. Georgia, Georgia Tech v. Auburn, Florida v. Vanderbilt
UCF and Florida went undefeated in pool play and look destined to meet in the final tomorrow afternoon. Florida's 10-8 over Florida State was the win of the day in the region. UCF remains the heavy favorite to take the lone bid to Nationals.
SOUTHWEST
Men's
1 Bid
Quarters: Stanford v. UCSB, Cal v. UCSD, Cal Poly SLO v. UC Santa Cruz, Chico State v. UC Davis
Chico State got a big upset over UCSB, 12-10, in pool play to earn the two seed in bracket play. Top seeded Stanford had an easy road through Saturday, as did Cal Poly SLO and USCD. Mostly chalk today — some exciting matchups tomorrow!
Women's
4 Bids
Finals: Stanford* v. UCLA*
Still Alive: USC, UCSD, California, UC Davis, SDSU, Arizona State, Cal Poly SLO, UCSB
Stanford and UCLA qualified for Nationals this afternoon by reaching the final. Both teams were very strong on day one. Many teams remain in the hunt for a bid, with USC, UCSD, Cal, and UC Davis still in the second place bracket.