High-flying, shoot first offense against physical, grinding defense.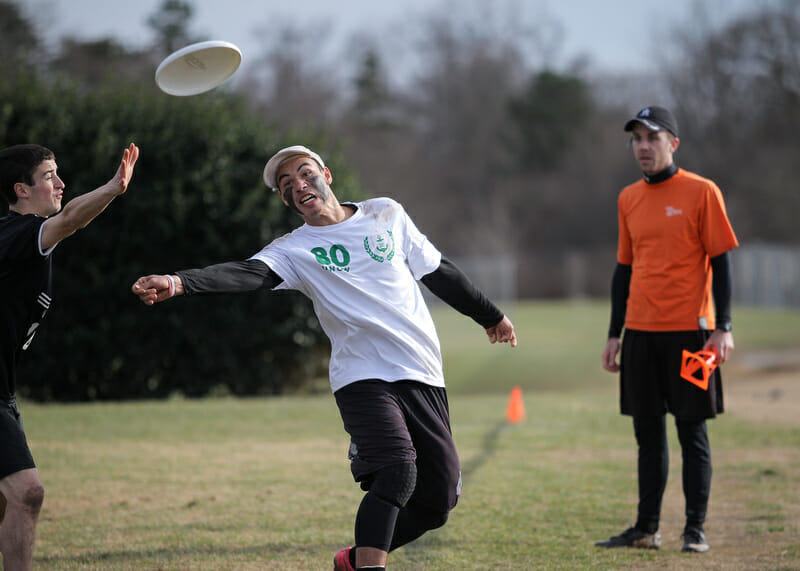 You can watch UNC Wilmington take on Wisconsin LIVE on Friday at 2:30 PM Eastern right here on Ultiworld.
Not only will Friday's matchup between UNC-Wilmington and Wisconsin be the likely battle for first place in pool C, but it also pits the Seamen's and Hodags' biggest strengths against each other.
All season long, UNC-Wilmington has been striking quickly thanks to the impressive throw-making abilities of their handlers, especially Xavier Maxstadt. 'X' gives UNCW's defense an explosive offensive attack with his ability to put the disc on a dime.
This deep strike against Pittsburgh illustrates just how talented Maxstadt is – throwing in the rain and against a flat mark, Maxstadt is nevertheless able to fit the disc in between three defenders and hit his "open" cutter for a goal.
https://gfycat.com/MilkyFittingGemsbok
Because UNCW can complete a number of high-difficulty throws, this gives them the confidence to attempt them on a regular basis. These throws have a very small margin for error, like this hammer, which needs to be placed into a very small window to be completed.
https://gfycat.com/ComplicatedBrilliantIndochinahogdeer
If the Wilmington throwers don't hit their spots precisely, or if their execution slips by even a little bit, a highlight-reel throw becomes a turnover. This forehand through the teeth of UMass' zone defense has to fly through a narrow window between two defenders, and have a very precise shape in order to break back to the receiver. Given the speed it has to be thrown with in order to get it by the defense, the slightest mistake by the thrower would turn a defense-breaking throw into a turnover.
https://gfycat.com/NiftyObviousBighorn
UNCW's aggressive deep-throwing plays right into Wisconsin's wheelhouse. Wisconsin's man defense is regarded as possibly the best in the country, and the Hodags stack their defensive line with tall, athletic defenders that can track down deep passes and elevate to get blocks, smothering opponents' deep looks.
https://gfycat.com/WeepyImaginativeAnemoneshrimp
Wisconsin's defenders are talented enough that they can make up ground and create a block even when they are initially out of position – if a throw is anything but perfect, the offense is leaving the door open for the Hodags to make a play.
Wisconsin also looks to smother opposing handlers' deep-throwing lanes with their marks and with help defense in front of the thrower. Here the Hodags put a flat mark on a thrower in the middle of the field, and also send a poach defender to put extra pressure on a potential deep throw.
https://gfycat.com/PeacefulEarnestBedbug
No matter who they are up against, and no matter what defensive scheme they are using, UNCW is still going to take their shots down the field. Wisconsin shouldn't expect to deny all of these throws, but they may not have to. A big, flat mark will force opposing throwers to release farther away from their body in order to get around the mark, altering their throwing mechanics. An extra defender in the area will force Wilmington's throwers to change the shape of their deep throws to bend them around the defense. Wisconsin should look to disrupt Wilmington's deep throws just enough to get them slightly off target, giving their athletes an opportunity to make a play.
Wilmington will still connect on some of these throws, and will feed off the emotion from notching some emphatic breaks. But if Wisconsin can commit to the strategy, ride out these emotional swings, and execute consistently for the entire game, they just may be able to give themselves enough break opportunities to knock off the pool's top dog.