North Carolina advances to the quarterfinals for the fourth consecutive year.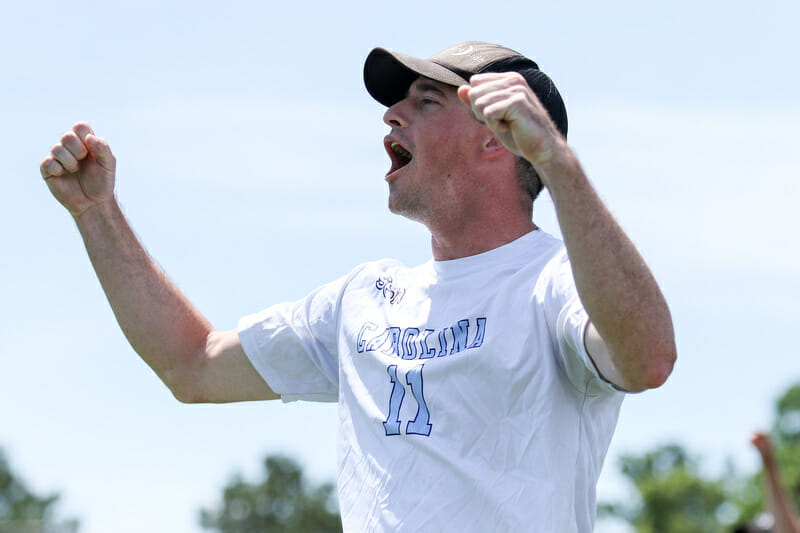 This article is presented by Spin Ultimate; all opinions are those of the author. Please support the brands that make Ultiworld possible and shop at Spin Ultimate!
North Carolina is familiar with this scenario. Regardless of what the team loses to graduation, they have had one consistent piece: Head Coach Mike Denardis. This year, Darkside expanded their coaching staff to an unreal level. Ben Snell, Jon Nethercutt, and Denis Tarasi have all played a role in North Carolina's success this week. With that level of coaching, every game is a valuable experience. Every game becomes an opportunity to improve, and their improvement has gotten them back into the quarterfinals for the fourth consecutive year.
Before the game, Mike Denardis was confident his team could manage their stamina, despite having just finished a hard fought game against Colorado Mamabird. "We feel good," Denardis said. "Playing three Nationals games in a day is tough, but we've trained for this."
Michigan landed in this game because of an upset over Harvard, led by their playmakers Sam Greenwood, Alex Russomanno, and Noah Backer. Against Harvard, the three dynamic throwers ran a small ball offense that utilized the full width of the field.
In an attempt to nullify the smooth Michigan offense, North Carolina started their game by running zone. The Magnum backfield was calm and collected, easily breaking through all the way to the end zone. UNC's offensive points were quite the opposite. Sloppy, multi-turn points eventually led to a Magnum break. Neither team earned many blocks throughout the game. The game-changing breaks came when a small set of defensive handlers could take advantage of a short field. And early in the game, Michigan had a plethora of break chances. They would capitalize on one, with the first break of the game giving them a 3-2 lead.
With the game tied at four all, a rare mistake from the Michigan offense punished them. Noah Backer missed a dump throw in space, and a short field gave JD Hastings an easy upline goal and Darkside regained the lead.
With Darkside up 6-5, a game-changing moment gave the momentum to Darkside. Vikram Sethuraman came up huge when he handblocked a Michigan huck, making the defensive play of the game. Sethuraman gave his team a short field, and JD Hastings and Nathan Kwon wouldn't let it go to waste. They bounced back and forth into the end zone, taking a 7-5 lead.
Sethuraman was forced into more points due to some light cramping from UNC big man Aaron Warshauer. "We tried running with them more," Sethuraman said after the game. "We have a lot of shorter quicker guys and they looked tired." After switching to cover Sam Greenwood, Sethuraman had his hands full on both offense and defense. Despite that, he would finish with two goals and two blocks.
An 8-6 halftime lead wasn't enough for Darkside. They continued to make adjustments to counter the plans of Magnum. "We noticed every pull play [Greenwood] would come under, and I played under him after that," Sethuraman noted after the game. UNC also switched from running their zone for the whole field, to a quicker transition into man defense. Transitioning quickly broke up Magnum's set play and forced them into some improvisation.
A misplaced huck was eaten up by Nathan Kwan, who ran the offense for a Darkside break and the 12-9 lead. Sethuraman wasn't done with his big game; a huge sky gave Darkside a 14-11 lead, and was the final nail in the coffin.
UNC advances to the quarterfinals with a 15-12 victory.
Looking Ahead To The Aetos
UNC plays Auburn Sunday for the second time this season; the Aetos knocked off Darkside 13-12 at Tally Classic. UNC was however missing a key piece for that matchup: coach Mike Denardis.
"From what I watched on film, they ran a lot through their handlers," Denardis said looking ahead. "Ryan Landry is an incredible player." As dominant as Landry is, he's only registered five assists and five goals in the tournament so far. His stat line is a result of Auburn playing a deep roster and spreading the wealth. In Auburn's matchup against Minnesota, the O-line and D-line sets rarely overlapped. Only in the late stages of the contest did Auburn resort to playing players consistently both ways. Auburn loves to spread the disc around, and their persistent energy could give problems to a UNC team that relies so heavily on their top players.
"We've grown leaps and bounds since then," Denardis said in reference to their first meeting. While the plan on how to stop the red hot Auburn tomorrow is still up in the air, the plan for tonight is simple. "Eat. Ice bath. Get to bed by 9:30."
Some coaching decisions aren't so nuanced.