A tactical change locked up the potent Whitman offense.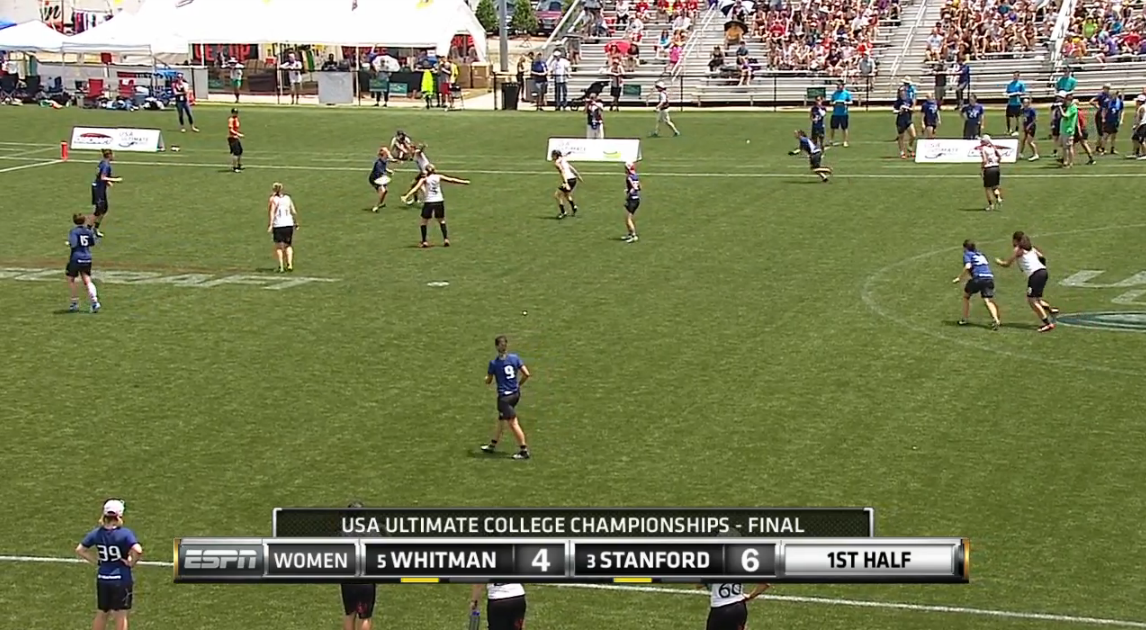 This article is presented by Spin Ultimate; all opinions are those of the author. Please support the brands that make Ultiworld possible and shop at Spin Ultimate!
Whitman was locked in at the start of the National Championship game, just as they had been throughout bracket play. An early break and the easiest of offensive holds had them up 4-2 and looking sharp. But a defensive adjustment from Stanford quickly and irreversibly shattered apart the Whitman offense and Stanford rode it out to an eighth National title.
Stanford began the game by playing person defense, but quickly shifted tactics after two effortless Whitman scores. The Superfly defense experimented with a few different looks over the next few points before throwing a four person cup. The switch flipped the script of the game. After getting zero break chances in the game's first three Whitman O-line points, Stanford got 10 over the next three – and scored the break on each of them.
"We started in forehand…and they were just so fast," said Stanford coach Robin Davis of the game's opening points. "We were like, 'okay, we've got to do something else…we'll try our more conservative zone.' We played that inverse cup and they kind of walked through that, too. It was like, 'Okay! What's next on the list? Let's try something else.' We came back with our four person force middle. It was kind of our old-school, standard zone."
Other teams had thrown zone at Whitman this weekend, including both UBC and Virginia in quarterfinals and semis, and Whitman shredded both of them. Often, the team would be able to find Claire Revere over the top, hugging the force sideline to kick-start fast breaks once of the front of the zone had been beaten. But Stanford completely took that look away from the Sweets with the force middle and Whitman struggled to find another way of sparking their patented quick-strike offense.
"We've been able to beat poach sets in zone…just moving it sideline to sideline," said Whitman coach Ben McGinn. "They did a really good job of flattening out our swings or even making us push back which made us look off those passes a lot, so we were unable to get quite sideline to sideline. They were really tight in the middle, but the size of that cup in particular didn't allow us to get it side to side, so it made us have to take a lot of throws and eventually to take a few risky shots that paid off for them."
The zone made it incredibly difficult for Whitman to find much of anything downfield. It appeared at times as though the Whitman handlers were hesitant to attack through the occasional holes in the cup or attack over the top of it in anyway. The team would swing the disc back and forth, often losing yardage in the process, but were unable to do so quickly enough to get Stanford out of position.
The time that Whitman was able to get a through beyond the front four, there was rarely a second option to keep the disc moving and the zone on its heels. Superfly simply set its zone again and continued to frustrate the Sweets' offense.
Whitman eventually did manage to get more of a foothold against the zone after the initial break run when Stanford first started using it. But even then Whitman really struggled to get any consistent flow against it, and never did figure out how to strike for quick scores to gain sort of momentum. In short, Stanford's zone gave them complete and total control of the game.
Part of the reason for Stanford's ability to maintain its impressive defense throughout the whole game was in the way it rotated its roster for defensive points. "We tried to get in fresh legs," said Davis. "We had to play our starters on O, but then on D we got in a lot of rookies." At one point, every player in the cup was a freshman. Stanford's ability to keep the defense fresh played a huge role in limiting the looks that Whitman gained against it.
McGinn attributed the "stout" Stanford defense as the reason Superfly emerged as champions; anyone who watched the game would say the same thing. Stanford was the first team all tournament to figure out a way to limit Whitman's speed and big throwers. That it took them a little while to figure out how to stop their opponents should take nothing away from the fact that they did, especially considering that they did so in so emphatic a fashion.
The moment Stanford switched to the game's definitive defensive look, it completely changed the course of the game. Davis and Superfly managed to find a way to halt one of the game's most potent offenses long enough to take a lead and then limit them enough to hold onto it. The Stanford club owes their number one finish to an expert tactical change and a perfect execution of team defensive strategy. A lot of different factors go into a team winning a game and a tournament, but chief among them for Stanford in the 2016 Nationals final was their game-changing zone defense.