The award goes to...
Disclosure: This post is brought to you by Nike Ultimate Camps. All opinions are those of Ultiworld. Thanks for supporting the brands that make Ultiworld possible!
Ultiworld is pleased to announced the third annual Ultiworld Player of the Year. The award criteria can be found here — we considered both regular season and postseason performance in our selection of awards. Though the input of Ultiworld reporters is weighed heavily, final decisions for awards were made by the editors.
2016 College Men's Player Of The Year
John Stubbs (Harvard Red Line)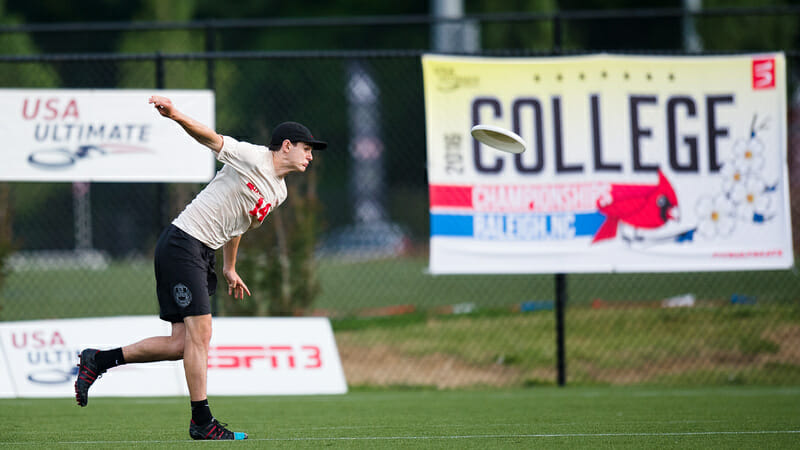 This season, John Stubbs threw us back to what has recently felt like a bygone era of college ultimate, where one or two star players can carry a team to a deep run at Nationals. Depth is all the rage these days — and rightfully so (take a look at who won Nationals) — but there is something special about watching a single player simply dominate a game regardless of defender, strategy, or tactics.
When John Stubbs delivered his jaw-dropping performance in the first half of the semifinals of Nationals — three goals and five assists — that's exactly what we saw. Utter domination of an elimination game under the lights and in one of the most electric atmospheres you can find in the sport.
You might think it simplistic to select Stubbs for Player of the Year after such a game, but his performance this year went far beyond that transcendent half. He obliterated Oregon — first to hand them their only loss of the regular season, next to knock them out of the prequarters at Nationals with five goals, four assists, and a block.
Then he went up against a scorching hot Georgia team and had to play against the stifling defense of POTY shortlister Sam Little. 3 goals, 3 assists, 1 block, and a 14-13 win.
It's not just the stat lines — it's the volume of points played, the unstoppable motor, the full toolkit from throws to skies to defense. He was a top three player during the regular season and then delivered one of the finest Nationals performances we've ever seen from a single player.
No doubt he was helped by playing alongside Mark Vandenberg, who, this weekend, showed off why he should be considered the college game's best pure handler. But Stubbs was what made the team tick, taking the hardest matchups on defense before turning around and skying a pack on offense. He played nearly all of Harvard's points, usually resting only two to three points per game.
It's not exaggerating to say that he took a team that might not even have qualified for Nationals without him and took them to the finals of the College Championships.
Stubbs finished #1 in goals at Nationals with 26 (Minnesota's Ben Jagt and UNC's Aaron Warshauer were tied for 2nd with 23) and #3 in assists (26), behind only his teammate Vandenberg (30) and Minnesota's Ryan Osgar (27).
Runner-ups: Jeff Babbitt (Massachusetts), Ben Jagt (Minnesota)